This Designer Remembers Mom By Creating A Special Place In Her Memory At Home
Ram Lopez-Vito Bucoy shares style pointers from his late mother, and gives advice on how to make a dedicated space in mom's honor
Celebrating Mom is an annual tradition, but how does one make a place in her memory when she's no longer physically with us? So many Mother's Day traditions are tangible: the tablescapes that come with the fancy feasts, the presents and the trips. When mom has passed on, what can one do to honor her memory at home?
Designer Ram Lopez-Vito Bucoy shares some insights on this. "Being the only boy, anyone who knows me knows that my mom has always been the love of my life. She was my backbone. My mother, Marie Stella Valderrama Lopez-Vito - Bucoy was a fashion designer in Zamboanga, and our home was constantly evolving as a kid. The home she and dad built 38 years ago was her creative canvas.
She always treated our home to be an experimental space, moving furniture and art around every few months and taught me to take pride in the home. Whether it was as simple as displaying fresh orchids from our garden, changing new throw pillows and matching it with a new rug, or going all out and wallpapering our living room, my childhood home was constantly being beautified by my mother," he recalls.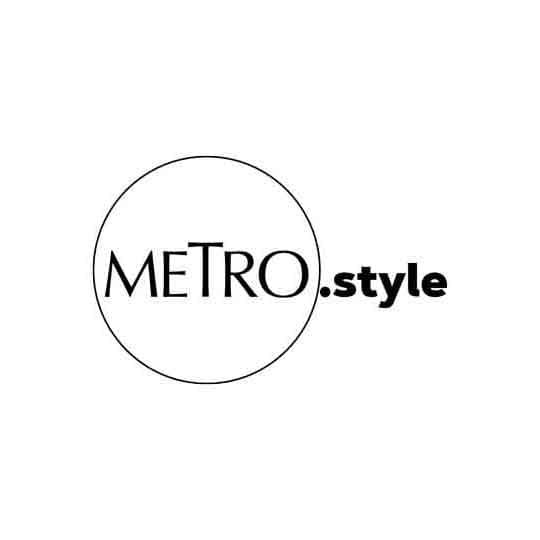 Interior designer Ram Lopez-Vito Bucoy as a baby being cradled by his mom, Marie Stella Valderrama Lopez-Vito - Bucoy.
With these memories of growing up, Ram does the same to his apartment to this day. He sees it as a canvas, ready to receive his experiments on styling and grooming a home that he would later adapt with the homes of his clients. "Twice a month, I move things around just to freshen up the space. [My mother's] love for being surrounded by beauty definitely inspired my love for design and is a big reason why I finally pursued a career as a decorator," he shares
"From her I have learned the devotion to family and work, to human relationships, and professional goals. Beyond design and the sense of beauty, she showed practical sense, of her capacity to rapidly solve problems, to make decisions, and to find solutions," Ram continues.
He shares style secrets he learned from his mom:
1. My mother used to tell me, " how you dress your space is like dressing yourself. Make sure you always have something fresh; a nice orchid, ferns or some fresh-cut flowers add life and easy-to-change colors to the room." I always use that secret when working with clients from studying their design personality down to the final touches.
2. Express yourself and never follow trends. My mom has always been a big fan of the Breton stripes, knits, classic crisp white dress shirts and chunky colored chokers, which she proudly displayed in her wardrobe and in the design of our home. From an early age, she encouraged us to express our own individuality. She was like a toned down version of Iris Apfel. Always layer and don't be afraid to be bold.
3. Individuality Matters. My mom was a fashion designer and one lesson that really stands out and sticks with me is her emphasis on custom-made home furnishings. I've custom-made everything from fixtures to cane furniture that filled entire room. There is joy in creating something for a client that is one-of-kind and made specifically for his or her home. I have always believed individuality is its own luxury.
4. Embrace color. Mom taught me to not be afraid of color! I always push for tangerine and fuchsia colored sofas and cushions to clients and I love that they love it too. It can't always be grey and white. Trust me, it's fun!
5. Also, my mother always taught me that you don't need to have a lot of money to have great style. When we were young, my mom would sew yards of batik fabric and turn them into luxurious duvet covers and throw pillows, and she also turned beautiful patterned fabric scraps from her clients into stylish dinner napkins.. I suppose that's where I get my DIY gene.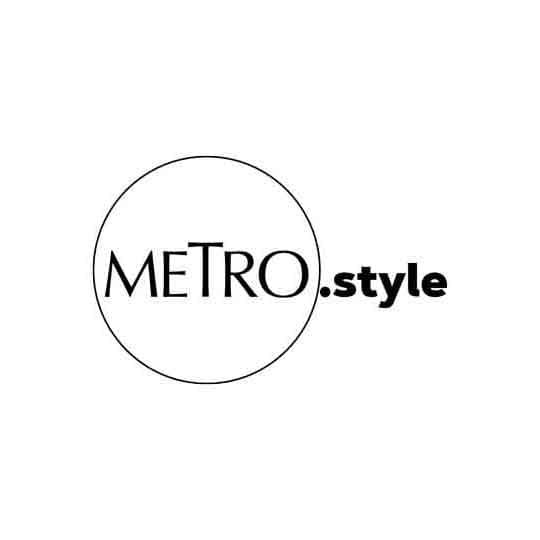 Ram's mom, Marie Stella Valderrama Lopez-Vito - Bucoy , advised him, "How you dress up is how you dress your space. Individuality matters. Express yourself." | Courtesy of Ram Lopez-Vito Bucoy
At home, Ram honors the memory of his mom via a shrine which he creatively assembled on a bar cart turned into a side table. Not being a fan of altars, Ram has chosen this alternative way to express his love for her, and to keep her memory. It's a small space that tells a story. There, he proudly displays photos of his mother and things that remind him of her. Ram makes sure that fresh cut flowers from the garden or the flower market always brightens up this special place in his home.
Celebrate the memory of mom at home this Mother's Day. Carve out a special place to honor her and the traditions she has passed on. Ram gives advice on how this is done:
• Choose a special place in your home or area that you can dedicate to your mother. It can be a console or a side table.
• It is imperative to clear your space of any negative and pre-existing energy before dedicating it to such an important purpose. Use palo santo or sage and remember to take this step with positive intention.
• Instead of the usual altar, I love creating vignettes that tell a story. Only keep pieces that remind you of your mother and keep the rest of the clutter some place else.
• Arrange each of the items you chose in a way that makes sense and is nourishing to you. Ideally, you'll be leaving them in this location, so take care to ensure they're set up so that they won't fall or cause problems (don't leave candles burning when you're out!).
• Fresh flowers. Trust me, they make a big difference plus they make a room smell really good.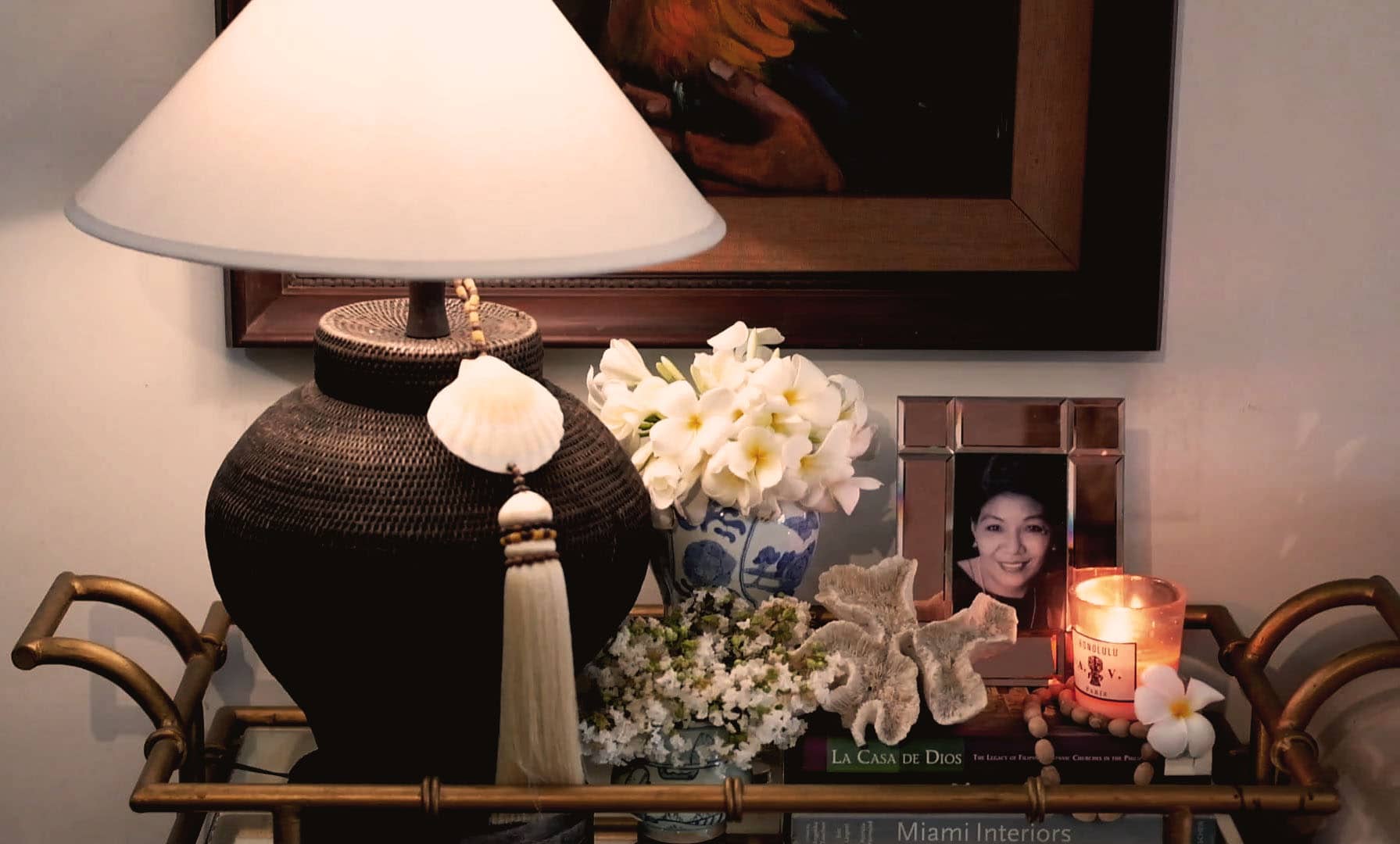 A Place to Honor Mom's Memory
A Place to Honor Mom's Memory