Top Interior Design And Art Pros Pay Homage To Contemporary Filipino Style
Gavel&Block by Salcedo Auctions stages "art+design" with vignettes by Ivy and Cynthia Almario, Jonathan Matti and Stephanie Frondoso
Gavel&Block, the subsidiary of the country's premier auction house Salcedo Auctions, was created to cater to a burgeoning contemporary audience - design savvy individuals looking to start or enhance their personal collections. As such, its forthcoming art+design auction presents a unique opportunity to discover pieces that reflect their unique taste and style.
The May edition of art+design will feature vignettes styled by Manila's top creatives : interior design powerhouse, sisters Cynthia and Ivy Almario, alongside curator, writer, and artist Stephanie Frondoso. The auction house's creative team, for their part, will create a section in the spirit of top interior decorator Jonathan Matti's singular style.
These vignettes offer refreshing points of view on the many decorating possibilities using the offerings of Philippine contemporary art, vintage furniture and European decorative accessories that are up for grabs in the auction. They speak of how old and new come together, and how East and West mix in an eclectic array of tasteful options. For those who are new to collecting, and even those who have amassed quite a bit, but are tentative about how their pieces go together, these expertly-crafted displays inspire.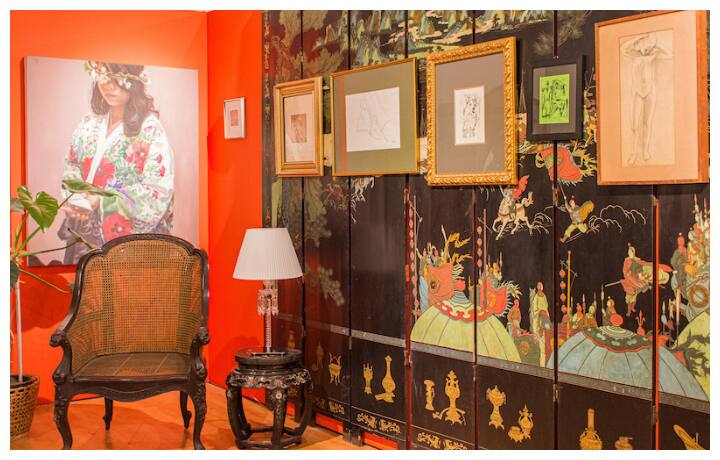 Photo Gallery
Photo Gallery
Interior designer Jonathan Matti's ability to blend a heady mix of art, decor, and furniture from various genres shape an exciting contemporary Filipino aesthetic. The auction house pays homage to Matti's singular style with a vignette featuring pieces chosen from the sale's expansive and eclectic room list to convey Matti's take on luxury.
Sisters Ivy and Cynthia Almario are pedigreed interior designers, who are kept busy running their design studio, Atelier Almario. Their impeccable taste and decorating savvy will be on view as Cynthia and Ivy create a special space to express their imagination of the contemporary Filipino mood.
Curator, writer, and artist Stephanie Frondoso credits her extensive travel experiences for helping shape her perspectives in both art and design. Creating a vignette for Gavel&Block's upcoming auction is in keeping with Stephanie's successful interdisciplinary practice - the perfect canvas for showcasing her mettle as she continues to push the boundaries of her professional undertakings.
She offers her some insights on three of the most covetable pieces in the auction in her point of view.
"The abstract Zobel lithograph is one of the more special pieces in the vignette. To be able to acquire this piece would be a unique entry point for collecting work from an important artist and patron of the arts, whose contributions to Philippine art history and culture are undeniable. Gazing at his work here, one would never tire of its mastery in line and movement and would make me either feel energized with ideas or also restful with its minimalist style and monochrome palette," the curator says.
On the other hand, "[t]he Ossorio lot is a great opportunity to acquire his work at an accessible price. Filipino-American artist Alfonso Ossorio has been largely unknown amongst local collectors until relatively recently. I wouldn't be able to afford his paintings and sculptures, but this piece would still be a unique acquisition because it is a printer's proof: the preliminary print or prototype that is approved before the editions are made. Thus, the printer's proof is deemed to be of greater rarity than the editions," she offers.
Finally, this art expert reveals, " Two years ago, I was able to acquire 2 Ofelia Gelvezon-Tequi prints from Salcedo Auctions, which I have enjoyed looking at in my workspace throughout the pandemic. I was pleased to see another Tequi print on offer this year from Gavel & Block. This print displays her mastery of the color viscosity technique, using inks with different viscosities to allow the application of multiple colors in one print. As one of the pioneers in Philippine printmaking, and the first woman to be named a CCP Thirteen Artist Awardee (1972), a prime sample of her work would be an important addition to my collection."
Among the lots going under the gavel are works by National Artists H.R. Ocampo, Vicente Manansala, Arturo Luz, Federico Aguilar Alcuaz, Abdulmari Imao, Cesar Legaspi, and Larry Alcala. The line up also puts on view the works of modern masters Juvenal Sansó, Mauro Malang Santos, Romeo Tabuena, and leading contemporary Filipino visual artists such as Emmanuel Garibay, Jigger Cruz, Olan Ventura, and Lao Lianben.
The online auction also includes an assortment of fine Baccarat and Lalique crystal, porcelain sculptures from the Spanish luxury brand Lladró, antique furniture, sterling silver, rare books and maps, limited edition prints, and other valuable collectibles with a design focus, as well as religious and ethnographic pieces.
Now on its second edition this year, Gavel&Block art+design auction responds to the public's desire for thoughtfully selected objects that inspire aesthetic pleasure and convivial thoughts and conversations. There is indeed always something for everyone in this forthcoming sale who appreciates the valuable and the beautiful.
The Gavel&Block 'art+design' auction will take place online on Saturday, May 21, 2022 at 11AM. Register to bid and browse the catalogue at salcedoauctions.com. For inquiries, email info@salcedoauctions.com or phone +632 8 8230956 | +63 9171075581.
Photographs Courtesy of Salcedo Auctions