Mixing, Matching And The Art Of Outfitting A Space In Contrasts Rule In This Live And Online Auction
'Finer Pursuits,' Salcedo Auctions' major June auction highlights how great art and collectibles will always fit in a collector's space
It's all about mixing, matching, and finding the perfect story behind each piece in your collection at Salcedo Auctions' major auction Finer Pursuits which takes place this Saturday, 26 June at 2pm. Though the pieces in the sale can generally be described in broad, easy terms like 'antique,' 'modern,' 'contemporary,' and 'emerging,' they were curated with the intention of showing collectors and enthusiasts how well contrasting pieces can go together.
Case in point, the physical preview for the sale is set up in such a way that visitors will find stunning 19th century ivory religious pieces atop contemporary designer furniture, stellar examples of tribal & ethnographic art side by side with sculptural pieces, and powerful, bold contemporary art hanging by artists like Manuel Ocampo hanging above stately 18th century tables.
"We've received a very positive response to the theme for this sale," says Salcedo Auctions Managing Director, Victor M. Silvino. "Guests who visit the preview are often surprised by the way we paired seemingly contrasting pieces together. We could see how the collection speaks to that side of people that enjoys stepping outside the lines and being very exploratory with the way they build their collections and display their pieces in their homes. At the end of the day, it's a very self-expressive process and we want to empower people to enjoy it with fine and rare collectible pieces"
True enough, the lineup features pieces by hard-hitting names in Philippine art. There's a 1991 oil on canvas Mother and Child by National Artist Ang Kiukok, which was commissioned by his friend and created during an important transitional moment in Kiukok's career, a 1973 'Green Circulation' piece from artworld 'bad boy' Lee Aguinaldo's iconic series of the same name, a 1991 'Tondo Girl' by National Artist BenCab, and a luminous 2008 oil on canvas 'Diaphanous' piece by Romulo Olazo.
Furniture lovers will also find sterling examples in the finest Philippine hardwoods, like a flamboyant 19th century mariposa sofa from Pampanga, an 18th century balayong Batangas refectory table, a 1920s Art Nouveau Manila lansena, and a massive 20th century Renaissance Revival style round table with clawed feet carved from balayong.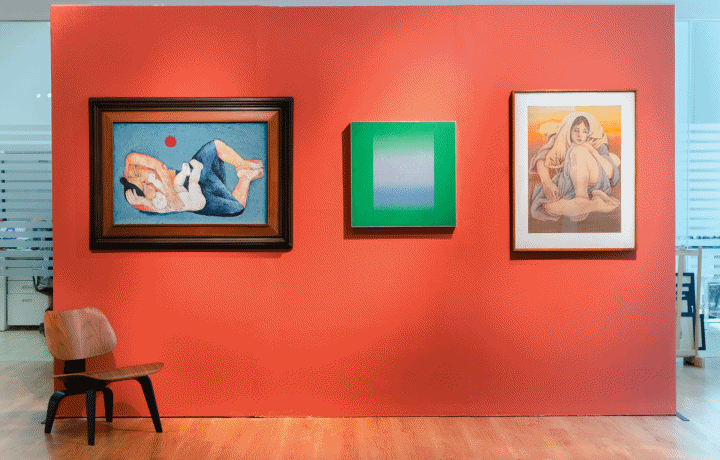 Salcedo Auctions 'Finer Pursuits'
Salcedo Auctions 'Finer Pursuits'
(Dis)Playing With Contrasts In Your Rooms
Some would say that decorating with contrasts is for the brave, and in some measure, we agree! So if your decorating confidence is not yet up to par with the masters, but you'd still like to try, here are a few tips to get you started:
Color
When you walk into a room, the first thing that grabs your attention is color. Our senses pick this up immediately. Hence, color combinations play a big role in creating the look of a room. How can you successfully use contrasting colors? For one, pairing any color with black or white will immediately enhance it. Pairing colors hues with its lighter or deeper tones will also play up the color scheme in a space.
Shape
Remember that organic shapes help soften a room, while geometric shapes heighten its sophistication. Organic shapes will add a touch of comfort, making a space look more casual. Geometric shapes make a room look more finished. When used together, they complement each other.
Textures and Pattern
Layering textures and pattern in your space can give so much life to a room! Choose a primary pattern for the room, pair it with a coordinating texture or pattern. Finally, add a texture to the mix.
The Finer Pursuits preview is ongoing daily from 9am-5pm at NEX Tower, Ayala Avenue. Register to bid for the auction at salcedoauctions.com. For inquiries, please call +63 917 825 7449 or email info@salcedoauctions.com