300+ Collectibles Make A Feast For The Senses In This Not-To-Be Missed Auction
There's something for everyone at The Well-Appointed Life, where Salcedo Auctions highlights work by established masters, master artisans, emerging artists and international designers
Immerse yourself into the fascinating and whimsical world of discerning curation. The country's longest-running and biggest annual auction highlights Important Philippine Art and a Connoisseur Collection of rare and valuable collectibles that redefine our personal spaces.
"In the midst of the pandemic's challenges, what we find is that more and more, people are finding solace and joy in the things that they have control over [and the] spaces that they inhabit. Their emotional health and wellness are brought about by the joy of collecting. [This has also] proven to be rewarding as an intellectual pursuit," Salcedo Auctions Director, Richie Lerma shares.
"In our curation of spaces that included the masters, contemporary work, antique and modern furniture, we started by conjuring up what is common to us in [this] pandemic: [the yearning] for luxury, travel and nostalgia," Victor Silvino, Managing Director of Salcedo Auctions adds.
It's all about being able to create worlds that inspire as Salcedo Auctions takes you on a journey through each lot in its catalogue. This year's The Well-Appointed Life carries the theme, The Worlds We Create, and takes place on Saturday, 18 September 2021 live at its NEX Tower sale room and online simultaneously at 2pm.
Major highlights of the sale range from works done by some of the country's old masters and master artisans to established and rising contemporary artists and international designers. All of these pieces were curated in a way that allows collectors and enthusiasts to imagine their own environments filled with and forever changed by the presence of these wondrous objects.
Much like a portal into an elegant new dimension - with illustrations meticulously drawn by emerging artist Patrick Chato - viewers are able to visualize paintings by artists such as Félix Resurrección Hidalgo and Romulo Galicano hanging above an exquisite solid ivory Niño Dormido placed atop a Pampanga master inlaid 4-post comoda. Other created worlds reimagine sculptures, furniture, paintings, and collectibles from various centuries and across a wide array of genres displayed together - the transformative feat, a work of art in itself.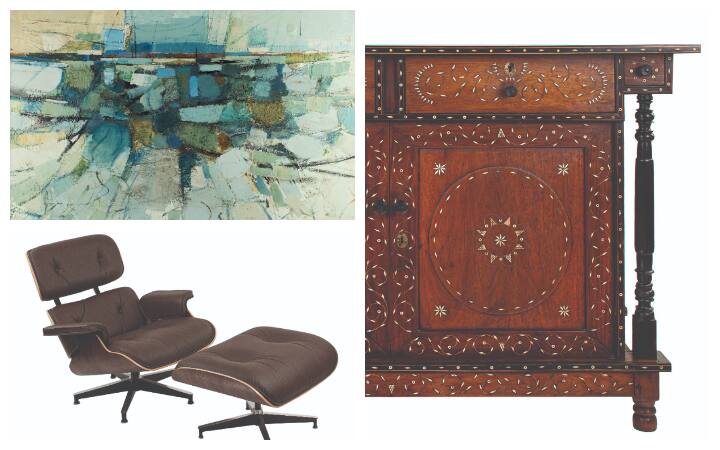 Highlights From The Well-Appointed Life
Highlights From The Well-Appointed Life
The collection features some of the most significant names in Philippine art - the supreme highlight being a recently discovered 1900 oil on canvas by Félix Resurrección Hidalgo entitled Marina that radiates hope as the sun breaks out from behind the clouds to illuminate what is arguably the artist's most beautiful seascape. There is also a 1975 oil on canvas by National Artist H.R. Ocampo entitled Excursion to Pinaglabanan - a tribute to Andres Bonifacio, Emilio Jacinto and the Katipunan militia's successful capture of a Spanish military base - which makes use of his most sought after warm color palette composed of reds, yellows, and earth tones. Also in the auction is a startling 1966 oil on wood by National Artist Jose Joya entitled Blue Harbor whose rarity and striking abstract expressionist composition commands attention. A 1962 oil on canvas by National Artist Carlos "Botong" Francisco entitled Last Supper certified by the National Museum also features, together with an iconic 1955 oil on canvas by National Artist Fernando Amorsolo entitled Lavanderas. and Autumnal Flowers, a much sought after 1962 Barcelona period oeuvre by National Artist Federico Aguilar Alcuaz.
Furniture design aficionados will also be drawn to the collection of contemporary pieces such as the Eames Lounge Chair and Ottoman Classic not to mention the distinguished trove of antique Philippine hardwood furniture such as the Pampanga master inlaid 4-post comoda made of narra and kamagong, a rare 20th century sacristy altar cabinet, a 19th century Crucifixion tableau in a virina and arch, as well as a serene 18th century ivory Crucified Christ.
The Well-Appointed Life has over the past seven years caught the imagination of the country's most esteemed collectors, fostering curiosity and dialogue about society, the world, and indeed among themselves. Providing aesthetic and intellectual solace and inspiration, this auction, which has become a date to mark on the country's cultural calendar, is a ray of hope amidst today's challenging realities.
This auction is co-presented by Exclusive Banking Partner HSBC Premier with the participation of Modern & Contemporary Design Partner CWC interiors. The online catalogue as well as the bid registration and venue of the online auction is accessed via salcedoauctions.com. For inquiries, email info@salcedoauctions.com or phone +632 8 8230956 | +63 9171075581. Follow @salcedoauctions on Instagram and Facebook.