Sam Milby and Catriona Gray's Cavalier King Charles Spaniels Are Certified 'Pampered Pets'
Theo and Bailey made perfect companions during the lockdown and many other life adventures with the celebrity couple
If there's one thing a pet can bring, it is unconditional for its human. Goofy antics, a quirky personality and warm snuggles are wins, too! Coming home to these after a long, tiring day gives so much comfort and relief. On the other hand, pets love it, too, when we give them the love and attention that they definitely deserve.
With the taxing schedules celebrities endure, coming home to a furry family member is definitely a plus! Take Sam Milby and Catriona Gray, Metro.Style's featured stars in the first episode of Pampered Pets, for example.
The engaged couple keep the company of Theo and Bailey, Cavalier King Charles Spaniels.
"When I was younger, I had a singing teacher, and he had a cavalier… Every lesson, he would just sleep under the piano the whole time. Na-in love ako sa breed," Catriona regales the Metro.Style audience with this fond memory.
Sam, on the other hand, reveals how he found a breeder for Cavalier King Charles Spaniels in Quezon City, where he adopted Theo, their chestnut and white pup.
"I didn't expect to fall in love with the dog so much," he shares.
About the breed
The Cavalier King Charles Spaniel is considered one of the canine world's noblemen. It has the gentle yet attentive trait of a toy breed, while also possessing the athleticism of a spaniel. These excellent therapy dogs draw you in with its charming large, round eyes. Their names allude to their royal fanbase: both King Charles I and his son, King Charles II loved the breed, with the former even proclaiming that these dogs should be allowed in public, including the Parliament.
"Considering during the pandemic, I feel like my anxiousness or my sadness about being away [from family] … they were such a huge help, and I love being able to experience new things with them," Catriona shares.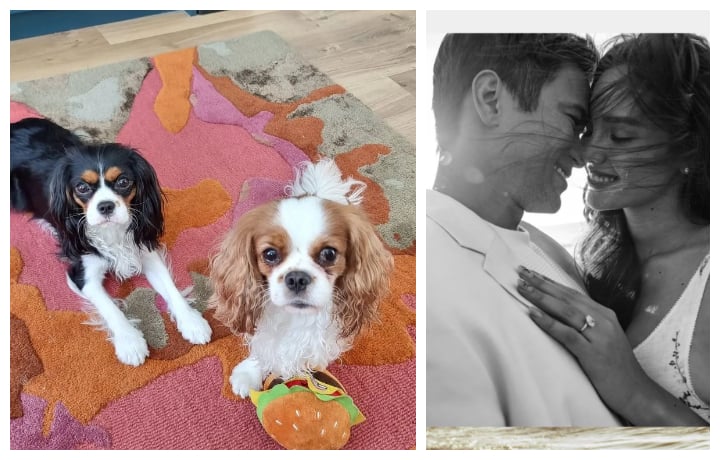 Photo Gallery
Photo Gallery