Sarah Jessica Parker's Wallpaper Line Breaks The Rules In Fun, Unexpected Ways
If Carrie Bradshaw's wardrobe is somehow out of your budget, her wallpaper won't be
"And just like that, I realized that there are some things that should never be put into storage," Carrie Bradshaw says at the end of And Just Like That, Episode 8. In her signature nonchalant manner, Carrie sits on a windowsill of her Manhattan brownstone, framed by long, sheer drapes, wearing the iconic Versace Mille Feuille gown, while munching on a bag of Jiffy popcorn. The audience admires the cinematography that is poised to be another emblematic moment from the small screen, marked by elements that truly shouldn't be locked up in storage. From this scene, who can ever forget the wallpaper? Its carnation prints are larger than life, in an extraordinary teal colorway. It can hardly be relegated to the background. Just like Carrie Bradshaw, it is unapologetic and doesn't mind having fun, bending the rules of scale and color.
Watch this moment on 2:23:
"We hadn't seen flowers that big, and we hadn't seen colors used that way. So it felt very Carrie, who, for better or worse, makes bold choices and lives by them and doesn't apologize or really care if people don't understand," Sarah Jessica Parker tells Elle Decor.
This still offers a glimpse of what actress Sarah Jessica Parker has been busy with. Just a few days ago, she debuted a line of wallpaper with LA wallpaper firm, Wallshoppe. Created with her longtime friend and design ally, Eric Hughes, the wallpaper line features 15 prints in 193 variations.
The gallery below is a sampling of what Elle Decor calls "some of the prettiest wallcoverings around."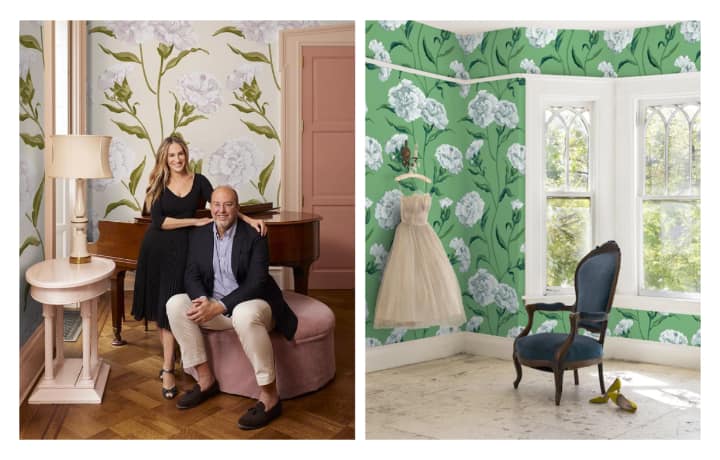 Photo Gallery
Photo Gallery
Hughes and Parker's 35-year friendship blossomed when the actress enlisted the designer to help her with her Long Island home. The project minted Hughes' career as one of the most sought-after American decorators.
"Sarah Jessica presented this idea of decorating this home for her. She saw something in me that I didn't see in myself at the time, which was that I could take this passion for design and turn it into a career," Hughes revealed in an Elle Decor article.
During the COVID lockdown, Hughes was again involved in a renovation. This time, it was for the Broderick home in West Village, NY. The quarantine afforded them time where they birthed an entire collection of wallpaper in fresh florals: dainty Queen Anne's lace prints, boisterous chrysanthemums, bold carnations (which Parker calls "very polite, and traditional without being necessarily old-fashioned"). Books, bells, rickrack, gorsgrain ribbon and chicken wire are other prints that grace the collection.
The wallpaper line, which is made in LA using sustainable practices, pushes the envelope with colorways, offering surprising and fun-loving ways to bring life to rooms. "I hope we can communicate through what we're offering that this is for everybody," SJP tells Elle Decor.
Visit Wallshoppe to see and shop the entire line.
Photographs by @wallshoppeofficial