Small Laude Tries Her Hand At Gardening—And We're Inspired To Do The Same!
This social media star goes full plantita mode in her latest vlog entry.
The pandemic has taken a toll on us, affecting our physical, emotional, and mental health in more ways than one. To keep our sanities in check, we try to find ways to cure our isolated state—and we see growth in one hobby that returns us back to our roots, literally.
Growing plants has become one of the pastimes that helped us through the currently six-month country lockdown. It's all over our social media feeds, and probably two out of your five friends have already labeled themselves a 'plantito' or 'plantita!' Even celebrities have jumped in the trend, parenting various kinds of greens in their own urban gardens or home backyards.
Even social media star and socialite Small Laude has turned her 'plantita' mode on, as seen on her latest vlog entry! The YouTuber, who's been gaining a lot of attention from her channel since its inception almost a year ago. It has become one of the go-to channels for many, thanks to her charming and humorous everyday-life content. In the video published a few days ago, Small tries gardening for the first time ever!
Unlike others who choose to grow exotic or expensive plants, this influencer decided to fill her place with vegetation—from fruit-bearing kitchen must-haves tomatoes and eggplants to herbs like basil and arugula that, she remarks, she can put on her pizza!
The first of this three-part series (yup, we're keeping our eyes peeled on the next episodes of her plantita journey!) showcased Small in the beginnings of her gardening. Learning the steps to properly potting plants from her yaya, she takes her viewers on an entertaining time with her new 'babies.'
"I'm just trying to learn 'cause, you know, walang gagawin ngayong quarantine. I'll start gardening para naman productive tayo ngayong quarantine. I'm excited," she tells the viewers of her vlog.
On day one, Small starts small—showing how to transfer a plant to a pot and excitedly lines them together to water everything after it's all nicely potted. Her initial garden consisted of tomatoes, pechay, wansoy, eggplant, sili, basil, okra, and more.
Day two shows her gardening in bigger pots in her veranda for her new seedlings. Here, herbs took over—she moistened the soil and scattered seeds of lettuce, basil, arugula, and more! Small also revealed the growth of the first plants she planted the other time. Like a proud mom to her children, she prides on the fruits of her tomato and sili and the lushness of her other plants like tarragon, mint, and onion. Camote tops are also successfully harvested (her first harvest!) which the social media star plans to make a salad with!
Throughout the the video, she asks her yaya funny but essential questions—"Yaya, hindi ba maliit 'yung paso natin?" "Yaya, pupunuin ko ba ng soil?" "Yaya, hindi ba mamamatay ['yung plants] 'pag nainitan dito sa hapon?" that'll give you fits of laughter, as they're all relatable to first-timers like herself! Nevertheless, these are important questions, whose answers turn out to be informative nuggets when it comes to gardening know-how.
For the next part of the video series, Small is thrilled to reveal the sprouts of her vegetation—something that we should all look forward to!
Watch the whole first part of her gardening venture here:
Witness the social media darling's gardening progress through this gallery: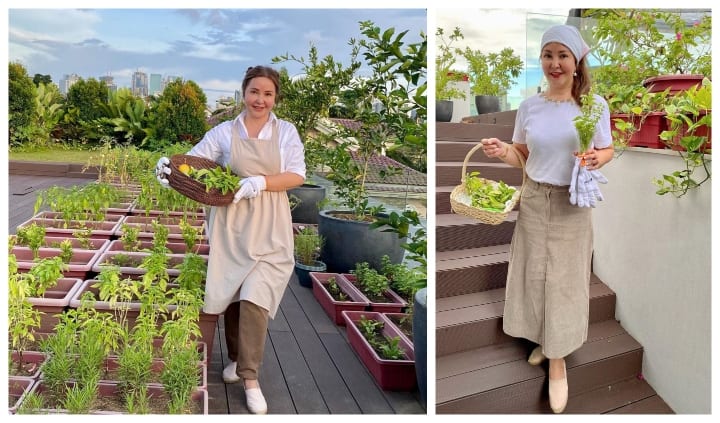 Photo Gallery
Photo Gallery