This Artist Will Let You Fill Your Digital And Physical Spaces With Nostalgia And Zen
Graphic designer Sofia creates beautiful and aesthetic printables from custom collage portraits to Zen posters
Everywhere is noisy.
The outside world is buzzing with the scare of the virus, the Omicron surge, and just the regular chaotic humdrum of human life. Inside, we fill our homes with so many distractions to keep us from wanting to go out because pandemic quarantine just got even realer. Our phones and laptops are not any quieter, filled with so much stuff going on our social media, our messaging apps, and our daily news and entertainment sources. And inside our heads? It's just pure chaos.
So where do we turn to for a bit of quiet and peace?
Sofia is a Manila-based graphic designer who creates beautiful custom collage portraits that will create nostalgic moments for you and your family and Zen posters that you can hang around your home when you need to be grounded—among other things, of course. But where does her unique style and aesthetic come from? Sofia said it all started with magazines and Friendster.
From scrapbook collages to a creative business
"I was in high school when I learned how to use Photoshop and Friendster. I'd like to think that that's what started it all—that and my magazine collections which were mostly hand-me-downs from my sister," said Sofia. "I kept scrapbooks and visual journals where I'd gather pictures, articles and quotes that spoke to me. I guess I've always been a pictures-and-words type of person and that was probably already hinting at my future in graphic design."
Sofia started posting her collages on Friendster until one day, a friend from school asked her to design her 18th birthday invites. "That was my first design gig ever," said Sofia. And it definitely was the first of what will turn out to be a lifetime of design.
Just like every young and creative soul, Sofia has been to different places and worked for different companies before she finally zeroed into her creative realm. Although she has always wanted to be in the fashion world, the world of graphic design more than opened its arms to her, as if calling her into its own dimension. Now, she has her own studio where she offers creative solutions for businesses and an array of digital products that include printable art and templates.
Behind her aesthetic
"I've been told that my works look very feminine or 'girly.' I think exterior-wise, that's true. I love being a woman." said Sofia. But more than pinks and florals and other images and colors associated to femininity, what Sofia's art conveys is the human existence.
"My works are also a reflection of my sentiments towards our existence. Even if those sentiments are not always pretty. I guess you could say my creations speak of human ways and feelings through the feminine lens," said Sofia. "As a Filipina and a Manileña, I'm always surrounded by variety and fusion. Sometimes it perplexes me about what my true identity is, but I try to absolve myself from this confusion by seeing where they could meet and try to marry them in design and art. I guess it's why my works are always like a merging of perspectives. It is a meeting of east and west. It's feminine, but then it's also a little gritty. It looks retro, but it also references the current. Sometimes it speaks of the metaphysical and the mundane at once. At least that's how I see it."
There is beauty in the irony she weaves in every piece. You'll find harmony in her collages and serenity in her use of negative space. There is vibrance in the way she uses muted colors and some sort of clarity in her whimsical images. The aesthetics are both nostalgic and contemporary. Many of her creations both invoke thought and quiet, simplicity and complexity.
This level of thoughtfulness and complexity to her design is also both inward and outward for Sofia. While she channels a lot of her own interpretation of beauty, she is also inspired by the music branding of the 90s and 2000s, eastern art such as Zen and Sashiko, and—if you can believe it—vintage propaganda postcards from Vietnam.
"Humans, their stories, and culture—these also inspire me. There are lots that we don't see that says so much about ourselves and our culture. The little things that we consume, use, or do in our daily lives can shape our environments. I find it fascinating and worth capturing," says Sofia. And it's a beautiful sight to behold—and use to decorate both our digital and physical spaces.
Digital products and printables to design your space with
Sofia creates and sells digital products, most of them printable so you can hang in your space as décor or keep in your collection. There are printable posters, postcards, room art, labels, and now, custom collage portraits that celebrate the gift of family.
"I love making them because every piece tells a story of the subject. The colors and the elements are often suggestions by the clients. So technically, I co-create it with them, which I love!" said Sofia.

If you look at it, it capitalizes on nostalgia more than just a trend. Yes, it's nice to decorate our homes with nostalgic trinkets that remind us of solid, better days. But Sofia's art does more than just this. It celebrates the beauty of memories by helping preserve them, reframe them, and recontextualize them into something that is both personal and contemporary.
You can commission Sofia to create a digital art, but she can also take care of printing and framing so it's ready to display in your home. But this is what's amazing about her products. Since our laptops and gadgets have also become a sort of "home" for our thoughts and everyday work and study lives, you can also use her works as your desktop or mobile wallpapers.
For when you need some extra help grounding or finding peace in your daily grind, her poster on 40 Filipino Words to Inspire Zen is also a gem. This digital product is ready to print and contains 40 beautiful Filipino words like buo, sapat, mahalaga, to remind you to pause, take a breath, and tell yourself that you are enough. Sometimes, that's all we need to do to feel ourselves again.
"I've always been drawn to the ways of Zen which in essence is the practice of living with more ease, simplicity, and tranquility. I made this poster because living in isolation during these times coupled with tech disruption can take a toll on our mental health and we need all the reminders we can get to keep calm and take care of ourselves, beginning with our minds. There is a call to meditate more and I find it easier to do that with words," said Sofia. "The words in the poster are personal to me. I translated the words to Filipino because I wanted the poster to have cultural depth and our language can be really poetic. These days, it's easier to feel affected by every bad news that reaches us but I believe it's a calm spirit and a clear mind that in the end help us come up with the best solutions to our problems."
Check out the gallery below for more of Sofia's works and products.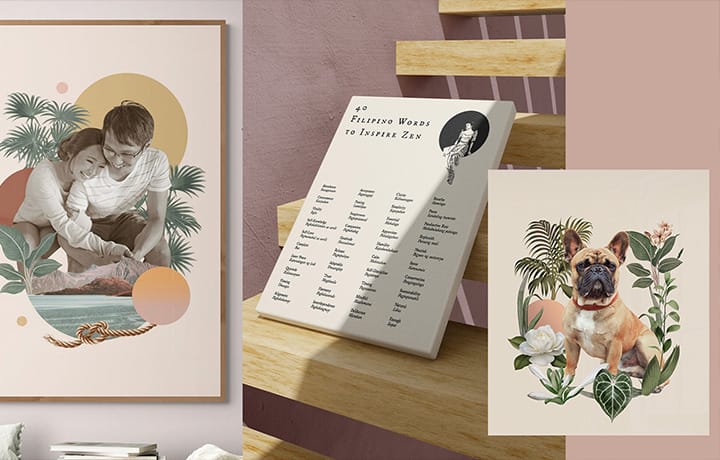 Photo Gallery
Photo Gallery
For more information about Sofia's creative solutions and digital products, visit her studio at sofiacope.co or her Instagram account at @sofia.cope.
All photographs from sofiacope.co