SPOTLIGHT: Crash Planting On You Will Jump Start Your Plant-Growing Hobby In A Fun, Sustainable And Mindful Way
Beginners like Captain Ri can use one (or more) of their plant kits
If there's one global home-related trend that definitely bloomed during the pandemic, it was gardening. According to the Scotts Miracle Gro website, 55% of adults in the US spent time outdoors gardening, while some 20% intended on doing so. In the Philippines, the Department of Agriculture immersed citizens in growing their own food by giving out seeds to start kitchen gardens and grow fruit trees.
Perhaps next to gardening, our homes not only saw more of us in them… They also saw us cooped in our sofas and glued to Netflix and other streaming services, engrossed in completing episodes of K-Dramas.
Metro.Style shines its spotlight on Crash Planting On You, a pandemic-born plant kit business that responds to both gardening and the K-Fever trend. The business' name is catchy, an obvious reference to the K-Drama that started the mania for many, Crash Landing On You.
"[The name, Crash Planting On You] is inspired by the Korean drama Crash Landing On You which was popular when pandemic started and everyone was stuck at home. There was a scene in the drama when Captain Ri (played by Hyun Bin) was taking care of a tomato plant that Yoon Se-ri (Son Ye-jin) gave him as a parting gift. As someone who at first didn't have the interest nor skill to take care of plants, Captain Ri eventually learned to love and cherish the tomato plant. He followed Seri's advice to water it diligently and say ten nice words to it everyday. It was also when I started to get interested in taking care of plants because everyone was into gardening during quarantine. I thought naming my shop 'Crash Planting On You' is funny, witty, easy to remember and relevant to the current times," reveals owner, Jing Carigma.
We caught up with her, shedding light on how she started her business, and what it has to offer, the bestsellers of which are Kitchen Garden Kit and Paint Your Pot By Numbers Kits because both are good sustainable and eco-friendly gift ideas that make fun activities to do in the safety of one's home:
Can you tell us about your creative journey? What was the path you took to where you are now?
"I was a makeup artist before I came up with this business. Community quarantine affected my livelihood and I was one of many who had to find a way to keep myself afloat in the new normal. As my makeup gigs were getting cancelled, my pace of life has slowed and out of all the new activities I tried doing to keep myself busy and sane, gardening was the most interesting to me and it had the most positive benefits on my mental health.
I started with selling trimmings or propagations from plants I have at home. With earning around 10,000 pesos from my first batch, I took it as a sign to carry on and make it a real business. I named it Crash Planting On You which is inspired by Crash Landing On You, the hit Korean drama around the time when the pandemic happened."
In a nutshell, how would you describe your creations? How many collections do you carry? Can you describe each one?
"Our kits are designed to make planting not just easy for aspiring plantitos and plantitas, but also joyful and fun! We have plant kits for newbies who want to start their plant journey by growing seeds and we have paint kits for newbies and seasoned gardeners alike to help them make their indoor gardens beautiful with hand-painted terracotta pots."
Where do you find inspiration?
"When I became a quarantine plantita, I enjoyed growing seeds, propagating my plants and painting my own clay pots instead of buying ready-made ones. I haven't seen any shops selling plant and paint kits so I decided to make and sell them.
Our customers are the inspiration for our [continuously growing and expanding] product line. Our first kits were the Seedling Starter Kit and the Paint and Grow Kit. They became hits to moms and kids because they were useful in their homeschooling journey. Then eventually, we were tapped by companies who needed activities for employees working from home so we offered our kits as a virtual team building tool. We were also inspired by the BTS members' love for plants and painting so we came up with something special for the fandom ARMY - our limited edition BTS-themed Paint Your Pot By Numbers Kits."
See the range of products from Crash Planting On You: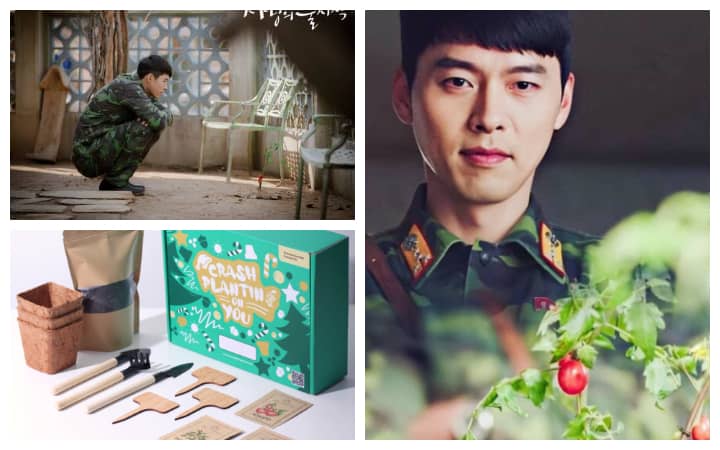 Photo Gallery
Photo Gallery
"Our mission is to reconnect people back to where food comes and let them experience the joy and wonder of growing veggies, herbs and flowers themselves. It is quite an amazing feeling to witness a plant grow from a tiny seed to an abundant harvest at the safety and comfort of your home. We hope planting and painting "crash-land" their way to people's hearts and make them fall in love with gardening with our kits," Carigma offers.
These clever plant kits are available through crashplantingonyou.com and also on other e-commerce sites crazyaboutpaper.com and on beautymnl.com.