Pastel Inspirations From The SAG-And-Emmy-Award-Winning Squid Game
The most watched K-Drama on Netflix makes use of candy colors to tell the story of a psychological thriller
Squid Game (Netflix, 2021) is the most watched kdrama on Netflix. The story is based on a game and how to survive it at any cost. This series represents a denunciation of contemporary society through its vices represented by certain aspects of the game and the choice of its competitors with social, psychological, money or health problems.
The money and the extreme situations of each competitor are opposed to a very colorful set full of references to art, the use of color and cinema. In fact, from the first episodes rules and choices are established through the use of color; the green suits of the competitors and the red ones of the guards or from the choice of cards for the recruitment game.
Among the many distinctive features of the drama emerges a very particular care of the environments in which the scenes are shot. Most noticeable of the visual elements used in the series are the pastel colors. Employed to tell the story of a bloodthirsty thriller, pastels in this series evoke a jarring, unsettling effect on the viewer.
A look at the architectural inspiration for this series will clue one in on the use of pastels in the built environment: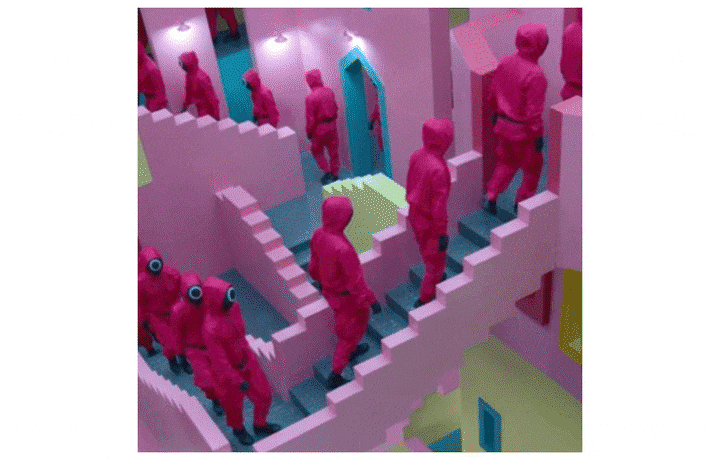 Photo Gallery
Photo Gallery
Banner Images Stills From Squid Game, Netflix 2021.