Notes From A "Conscious" Landscaper: Create A Meaningful Garden, Not Just A Good One
Alvaro Grijalba of Studio Grijalba says, " Consciousness is a deeper connection with your surroundings and with yourself. Often it means having less, because what you get is more meaningful"
If you've never heard of The Face Scale, now is the time to do a quick Google search.
What you're looking at is a pretty simple tool used in Psychology to assess mood. When you're asked a question about how you feel about your day, a situation, or an idea, you encircle a face to respond. The more positive your reaction, the happier the face you encircle, and the more negative your reaction, the more unhappy your choice of face is.
Now if you have a garden or any kind of open space in your home (or a miniature indoor plant corner, if you live in a condo or apartment), get up and take a look at it for a few moments.
And then answer our question for you: How do you feel about this space of yours? (No cheating, be honest!).
If it's a happy face you encircled, good for you!
But if it's not, well, worry not. (Moods are impermanent, and so are the things that cause them—including a garden that's not bringing you joy).
That's why people like Alvaro Grijalba and garden-focused businesses like Studio Grijalba exist. Alvaro, who initially thought he would make a name for himself as an architect that wielded power over the inanimate like concrete, metal, glass and stone, is now a landscaping-focused entrepreneur who advocates for a little something called "conscious landscaping."
He believes that gardens and other green spaces around us, however big and grand or minimalist and subdued, don't only serve purposes of practicality or aesthetics. Just like the people who sit, sleep, walk, work, play, and live in these spaces, these spaces are very much alive and packed with more life force more than we realize. From the eyes of a conscious landscaper like Alvaro, they also speak of our values, needs, and understanding of our environment.
Like many in the industry who rejoiced at our newfound love for gardening and plants in the last months, Alvaro is out to help homeowners rethink what their outdoor spaces mean to them.
Heed his words—"If your garden doesn't make you smile, it needs some changes."
The time's come to whip out your mood cork board, tack your Face Scale at the center, and surround it with collected ideas and inspirations for your ideal green space. Ready? We've got work to do!
First, we learn about all about our gardening and landscaping guide, Alvaro.
This lad with a green thumb is another classic example of discovering your true passion unexpectedly. Never say never to what life could have in store for you.
A student of design and architecture at first, Alvaro learned along the way that he worked well with his hands in outdoor spaces where he could commune with sun, water, air. He came to understood that he was much more fluent in the language of the land than he was with that of manmade material, and with that, his direction changed completely. He became enthralled with the organic elements of design, and he was sure from the get-go that this newfound love was not temporary; it would be the beginning of a lifelong love affair.
More importantly though, this change wouldn't only be reflected in his resume. His personal life was deeply affected by it too, and it was then when he established that his landscaping business would be "conscious" at its core.
"The first time I fully understood the meaning of this word was when I was visiting a life coach after a going through a tough personal time," Alvaro shares.
"I used to think that 'conscious' was a synonym of 'aware.' I couldn't be more wrong. Consciousness is a deeper connection with your surroundings and with yourself. Often it means having less, because what you get is more meaningful. This is the philosophy that I try to apply to my life and to my work," he continues.
So far, he's worked on projects in both the east and west coast in the US and Spain, and of course, in several areas right here in the Philippines. He's experienced in working on high-end commercial and residential properties, but the pandemic has definitely provided him with a lot of opportunity to flex his home garden design muscle.
How exactly does "conscious landscaping" translate in how Studio Grijalba designs its projects?
Alvaro has three words for you: values, needs, and understanding. Underpinning all three elements is working closely with clients to figure out what they want to get out of a space and how it becomes an extension of themselves and their aspirations. After all, most homeowners would exert the same attention to detail on their homes. Many wouldn't want their living spaces to clash with their personality or tastes, or to be visually pleasing but impersonal and template-like—the same consideration goes into working on green spaces.
"...For some people, a garden is a place for the kids to grow. For others, it's a daily retreat from the city life, and some just want to reduce their carbon footprint in the world. Our mission is to help our clients to achieve their goal, guiding them into what makes their landscape conscious," Alvaro tells us.
If this is an approach you can relate to, you'll probably want to learn more about the three pillars of conscious landscaping according to Alvaro:
Needs are exactly what they sound like. Ask yourself what you want to get from your garden. What do you want it to provide for you and family? What benefits do you wish to reap from a brand new, beautiful outdoor space? "Everything is valid. Work on that idea!" Alvaro advises.
On the other hand, values in this context are about being in tune with yourself. Questions to ask yourself might include what makes you happy, what will make you own the work you poured into a Studio Grijalba collab, and what is it that you want to communicate with those who see and experience your home garden. "Your family might love basketball. Why not to make it obvious and set a bespoke pitch that blends with the garden, and that you are proud to see from the lanai?" Alvaro says.
Last but not least there's understanding, or more specifically, learning about your physical environment so that you recognize your space's potential as well as its limitations. Learn to capitalize on what nature readily makes available to you. Be innovative, but not forceful.
Know, too, that sustainability is embedded in Alvaro's commitment to conscious landscaping. Though his creativity might be limitless, he stops when he sees that a project might do more harm than good. At Studio Grijalba, it doesn't suffice to say that a garden is one's personal property where an owner has free reign over what can and "should" be done; Alvaro maintains respect for the natural world at all times.
There's also the fact that Alvaro and his team honor the stories that lay down the invisible foundation for many family homes. It's easy to assess what one can see—size of the space, direction of the sun, privacy, style of the house, or surrounding topography—but it takes a landscaper with heart to think of the things that might escape what the five senses can capture.
"Other aspects as important are the ecosystem around us [and] the history and stories of the place. For example, for someone, a tree might be 'in the way,' but for you, that's the tree that your grandmother planted. Those stories are the difference between a good garden and a meaningful one," he explains.
Now that we know what draws the line between a just pretty a garden and one that is both visually stimulating and conscious, what about design? What is a pretty garden these days?
Alvaro is happy to tell you that going local is huge these days, and it's more of a growing practice than a fleeting trend.
"We grow our own vegetables, are mindful about the water usage, and look for local furniture designers before searching abroad. The trend I'm more excited about is that people no longer look for the foreign exotic species. We are interested in the local beauty," he beams.
(Almost) gone are the days when casual gardeners associate beautiful plants with Dutch, Ecuadorian, or Thai-grown species. Slowly but surely, Filipino homeowners are being introduced to the beauties that grow in the Sierra Madre or the mystic Mount Makiling, or in provinces like Palawan, Rizal, and Bukidnon—and that there are rules to be respected when it comes to selecting what species can be purchased and transported to locations other than their natural habitats.
Searching for these exotic (but not critically endangered and legally protected) species is part of the fun. Think of it as a treasure hunt; there are very few certified growers and nurseries that make these plants commercially available, and when you do find them, it'll be an achievement, for sure! It's even rarer to find growers that are essentially sharing cultivation practices they learned from generations and generations that came before them. If you're the kind of owner described above who values the invisible stories that make your garden even more special, make the effort to source your plants from these kinds of people.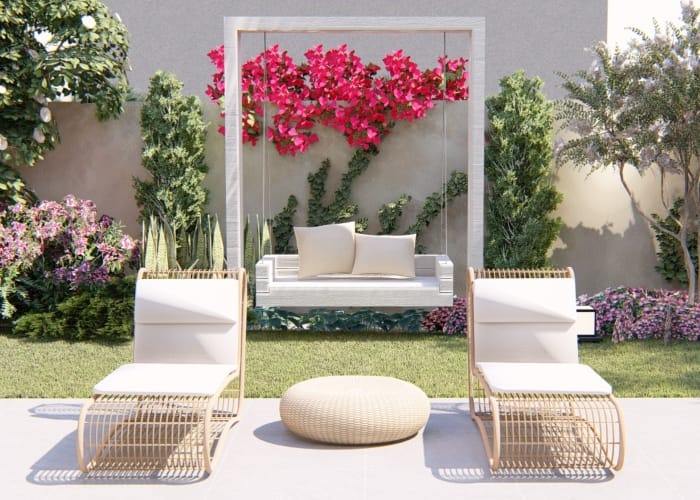 A walkthrough of Studio Grijalba's concsious landscapes
A walkthrough of Studio Grijalba's concsious landscapes
What if we want to experiment with small changes first before we dive in to a full-blown landscaping and gardening project?
Alvaro will be the first person to tell you to go ahead and test what your mind's eye and hands can create together.
"There are endless combinations depending on your space and your personality... Feel free to be bold and explore what works for you!" he says.
But a little structure helps guide this free-flowing process, especially for those who have little to no experience in working with green design, a.k.a. home décor that is actually alive. If you need a gentle push towards the right direction, Alvaro shares the following tips. (Note: These are especially helpful for those who live in smaller spaces and don't have the luxury of gardens in their most traditional sense).
#1: Big plants come first.
"Place at least one big plant. It will make the space look and feel finished from day one."
#2: Incorporate turf.
"Use some artificial grass. Our brain believes it's real grass and it automatically goes into a relaxed state [when it sees it]."
#3: Think of function and form.
"Place some chairs and a table, or any other piece of furniture that will make the space usable."
#4: Lighting matters.
"Use warm lights. Avoid white light at all cost. Warm light is more relaxing and it enhances the color green of the plants."
These are small steps you can take, but the benefits far exceed the effort. Ask anyone who were shocked to discover that there was an inner plantito or plantita waiting to burst forth during this time; many of them will probably tell you that they started out by making tiny changes to their home's atmosphere, adding a manageable potted plant or two in their favorite spaces. After some time, one plant became five, five turned into 15, and 15 transformed into an indoor jungle, and finally, it all culminated in a desire to go all out by completing redoing an outdoor space all for the love of being surrounded by plants.
There's just a different kind of happiness that comes with knowing you've surrounded yourself with living things, and that you're able to sustain them, as they sustain you.
In fact, it's this two-way connection with nature that Alvaro loves the most about what he does
"It keeps me humble and grounded. Humble because [I] work with my hands doing something as universal as gardening... Grounded because growing takes time, therefore, you only plant in those places where you belong," he reflects.
Alvaro often collaborates with other designers, gardeners, and landscapers. His work in the Philippines has brought him around Metro Manila's posh neighborhoods as well as to suburban homes in Laguna and beachfront properties in Batangas. He continues to work with clients despite quarantine limitations by offering online consultations via @studiogrijalba.
"From as early on as Adam an Eve and all the civilizations that followed, a garden [has] been a place for joy, unwinding, and connection with loved ones and nature. If walking out to your garden doesn't make you feel that way, you have an opportunity to change that," he ends.
Opening and gallery images courtesy of Alvaro Grijalba.