Support San Sebastian Basilica's Restoration By Buying A Piece Of 'Baste At Home'
From tabletop items to art prints and tote bags, here are all the ways you can help preserve the 130-year-old-landmark
The country's first all-metal building has weathered quite a bit of history. After all, its origins date back to 1621 when the Augustinian Recollects first built the masonry church. The original structure witnessed a fire during the Chinese Filipino uprising. What we are now familiar with— a majestic structure standing in Quiapo— is the San Sebastian Basilica.
Completed in 1891, the National Shrine of Nuestra Señora del Carmelo was proclaimed a National Treasure in 2011. Its pre-fabricated steel structure was manufactured in Belgium. Its construction was supervised by Belgian engineers, but before this process began, the steel for the Basilica, weighing a total of 52 metric tons, came to the Philippines in eight shipments. The first shipment arrived in 1888. In 1891, the Basilica Menor de San Sebastian was completed. It was consecrated by Bernardino Nozaleda y Villa, OP, then Archbishop of Manila. This example of Gothic Revival Architecture now hosts the oldest image of Our Lady of Mount Carmel in the country.
Fast forward to 2021— active restoration and conservation efforts are taking place for this architectural gem. It is but fitting that, as a nation, we price such structures that have been an indelible part of our history.
"San Sebastian's significance comes directly from the people who use and appreciate it, so the public must be part of this movement. Everyone can be a part of the ongoing #SaveSanSebastian campaign, which is an open call to support the restoration and the opposition against the condominium building scheduled for construction behind it," states Samantha "Sam" Felicia Pacardo, Fundraising and Communication Manager of the Save San Sebastian Basilica Foundation.
Boasting of original interiors, unlike most churches of its time, the team behind the conservation efforts of San Sebastian endeavor to maintain its original features, following international standards of conservation.
"We're also focused on sharing this work with a wider audience through educational programs and other projects so more people can understand what makes this church precious and worth preserving. At the moment, the Technical Team of local and foreign experts is focused on the restoration of the Basilica's dome. Social media helps us share milestones like the completion of our 24-meter high custom designed scaffolding system, identification of the original paintings on the metal, and the important discoveries by the team," Sam shares with Metro.Style.
Baste At Home
Let's be honest. Any major restoration and conservation project such as this needs funding. To commemorate The Basilica's 130th year, The Save San Sebastian Basilica Foundation explores creative ways. "More recently, we've been developing more merchandise as a way to raise funds for the restoration and still tell San Sebastian's story," Sam reveals.
This collection consists of trays and coasters meticulously made by Machuca Tile and designed by Disenyo Lorenzo Interiors. "I first approached Machuca Tile to collaborate since they were central to the initial concept. Jaime Machuca graciously offered to donate tiles and quickly put us in contact with interior designer, Macie Lorenzo of Disenyo Lorenzo Interiors. At that time, she was developing similar products and hired skilled workers whose livelihoods were affected in the past year. She took our simple idea of a coaster and experiments with different designs and materials. She sent over several prototypes, and we worked closely to narrow down the options and make improvements to arrive at the current selection on sale," Sam shares.
A unique take on heritage structures in the form of art prints by Gio Abcede are also available. "Our audience really responds to his art and his perspective on heritage sites. Gio reimagined San Sebastian and applied his designs on mugs, tote bags, and posters for this collection: For the anniversary items, I thought it was great to focus a bit more on the details of the Basilica up close: the tiles, vaulted ceiling, details on interiors and the facade," Sam says.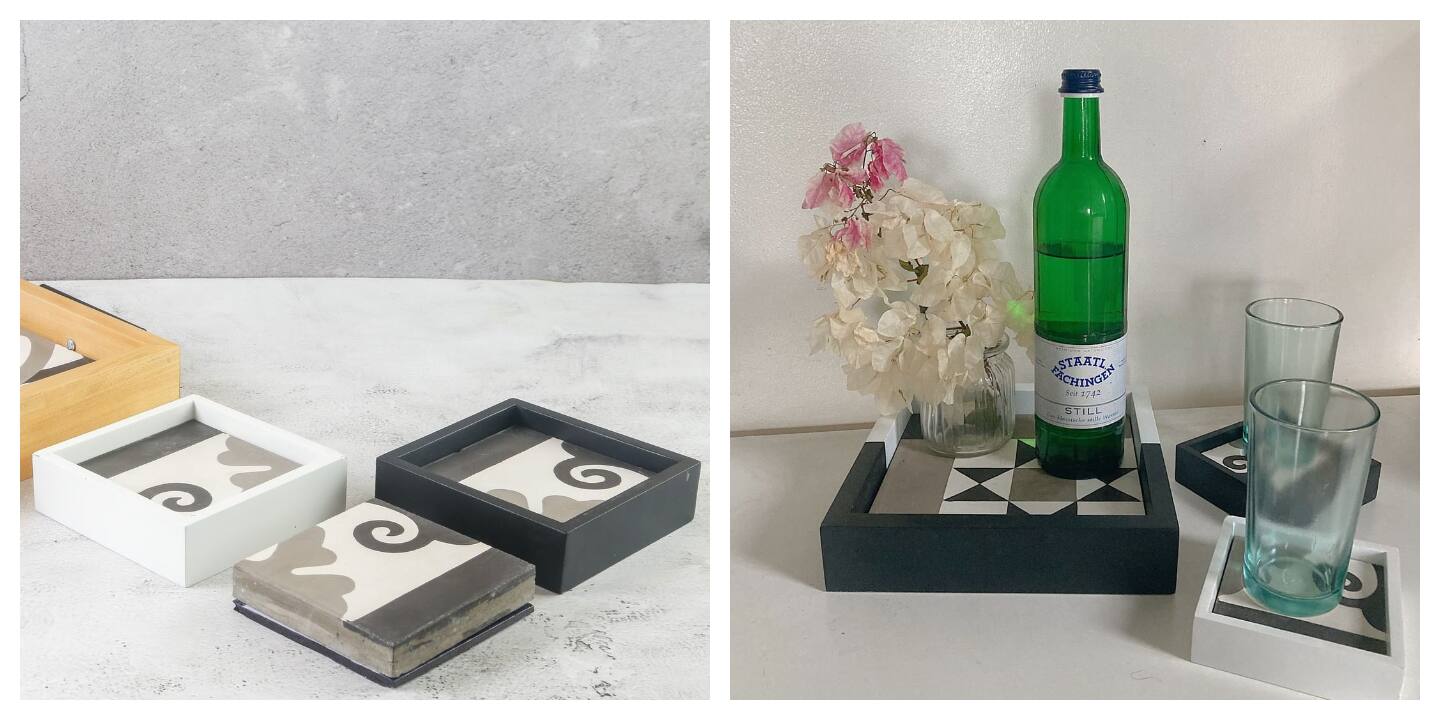 Baste At Home
Baste At Home
These items were designed and conceptualized so that people can take a piece of the San Sebastian story to their homes. "The Baste at Home celebrates the 130th year of the all-metal San Sebastian by bringing the stories of our past and present to people's daily spaces," Sam concludes.
All items can be exclusively purchased through the Save San Sebastian Basilica Foundation's official online store (https://sansebastianconservation.org/). A percentage of every sale will go to help #SaveSanSebastian through the restoration and support of other local businesses and workers. Follow @savessbasilica on Instagram.
All images by @savessbasilica