International Art Collective TeamLab Takes Visitors On Trippy Nighttime Walks Through A Neon-Lit Garden
Not even Alice's Wonderland can compare!
TeamLab can never disappoint visitors no matter what they do, but this time, they're taking their outdoor interactive art exhibitions to a whole new level.
teamLab is digitizing Kairakuen Garden, one of Japan's most well-preserved historic gardens in Ibaraki that's been around since the mid 19th century. Think acres of sprawling lawns at different elevations dotted with babbling brooks and charming Japanese arches and bridges all throughout, open-air tea houses, the sweet and fresh smell of botanicals hanging in the air, and birds and bees flitting from branch to branch, petal to petal.
But teamLab is digitizing Kairakuen Garden has much more to it than just enhancing the location's natural beauty; they're literally lighting up the place to turn it into something spectacularly psychedelic and totally surreal.
According to teamLab's website, the project "explores how nature can become art. The concept of the project is that non-material digital technology can turn nature into art without harming it... Digitized Kairakuen Garden will transform this garden, where various types of plum trees bloom in spring, into an interactive art space that changes due to the presence of people."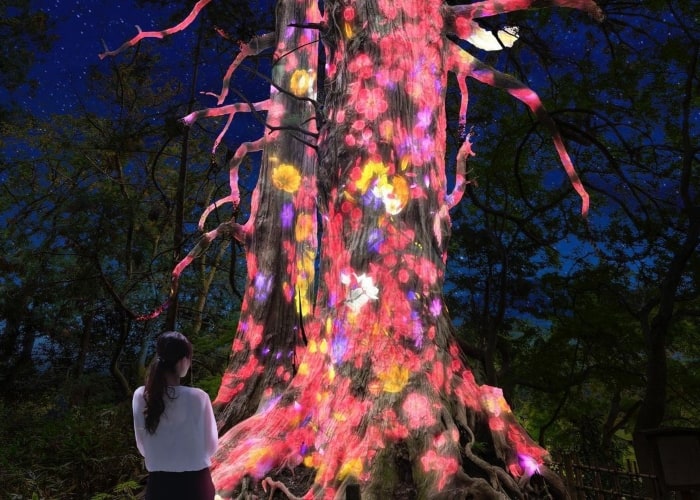 teamlab transforms Kairakuen Garden
teamlab transforms Kairakuen Garden
If you're wondering why teamLab chose this time of the year for an exhibit like this, it's because many flock to Kairakuen Garden just in time for Japan's plum blossom spring festival. The garden is most famous for having around 3,000 plum trees. Exactly like cherry blossoms, plum blossoms bloom on dark brown branches and explode in multitudes of white, beige, cream, blush, and lilac—the perfect background for any photo.
In the day, visitors can enjoy plum blossoms doing their magic while in the evening, they can experience the location anew with teamLab's digital and light installations for an Alice in Wonderland-ified experience in full neon technicolor. (Imagine when all of Kairakuen Garden's 3,000 plum trees are illuminated, turning into canvases for lights and projections). teamLab made sure to work around the garden's best features—including its stroll-friendly promenade designed for leisurely walking and admiring one's surroundings—for maximum impact.
The Digitized Kairakuen Garden exhibit begins on February 13 and ends March 21, and will be open daily from 6:00 to 8:30 in the evening. COVID-19 restrictions will be put in place to ensure visitors' safety.
Since teamLab was established in 2001, it has grown into an international art collective that prides itself on making beautiful thing resulting from the collaboration of creative minds from different sectors. Artists, architects, engineers, visual effects designers, animators, and even mathematicians have all come together at teamLab to create original works of art that have dazzled thousands over the years. Much of teamLab's work tackles themes of time, life's cyclical nature, and the relationship between man and his world.
Images from @teamlab