Reese Witherspoon, Khloe Kardashian and Gwyneth Paltrow Are All Fans Of The Home Edit
This celebrity-approved home organizing company now has a series on Netflix, showing the world how to organize closets, pantries, drawers and just about every area of the home, by color
Who knew that the colors of the rainbow would one day serve as a home organization system? At the risk of describing it too simply, this is exactly what The Home Edit does. A home organization company based in Nashville, TN, the duo behind it are Clea Shearer and Joanna Teplin, both homemakers themselves and transplants to Nashville because of their husband's jobs. In true Instagram generation fashion, their company owes its success to savvy marketing via the social media platform that has led to celebrity testimonials and endorsements. There's a book of the same name, and now, they are being viewed globally via Get Organized With The Home Edit on Netflix.
Does The Home Edit System Spark Joy?
This show comes after Marie Kondo's Tidying Up With Marie Kondo, released in Netflix in 2018. If the Japanese Kondo sold her audience into organizing their pantries and closets based on her self-help technique of keeping what "sparks joy," and ceremonially tossing out what basically doesn't, Shearer and Teplin are luring theirs via aesthetics. The Home Edit's system is now synonymous with their organizing technique of keeping things within the same color spectrum together, may it be book spines or, in Khloe Kardashian's case, wigs, resulting in rooms that are as neat and colorful as the stripes of the rainbow. In their fashion of keeping order, they also capitalize on white space, filling boxes, baskets and drawers up to about 70% of its capacity only, thereby creating a visual respite and the illusion of tidiness. See-through acrylic boxes are also often used by the Home Edit to achieve this. They compel upkeep on the part of the homeowners, as they are transparent, immediately showing the clutter once not maintained. In keeping with the rainbow method, all manner of color coded boxes— archival boxes, memory boxes, you name it— are also used in this system, giving a sense of visual order. They have also turned Teplin's uniformed penmanship into a font, using it for labels, arriving at a personalized look for every space they organize. At the end of the day, Get Organized With The Home Edit reverses Kondo's call for meaningfully keeping only what brings happiness... it will actually compel its viewer into more consumerist behavior: buying all the attractive storage and organization tools, just to have a pretty (and yes, organized!) closet or pantry worthy of a celebrity!
Celebrity Closets and Pantries
In its first episode, The Home Edit organized Reese Witherspoon's costume closet, gaining a distinct "Oh my God!" of approval from the actress. After lots of sorting, labeling, and adjusting of shelves, the result of their work was a respectfully and lovingly curated closet of Witherspoon's costumes and memorabilia of various films she has done— an in-house exhibit— if you will.
Here's a peek at Resse Witherspoon's closet, along with other celebrity closets and pantries by the Home Edit in this gallery: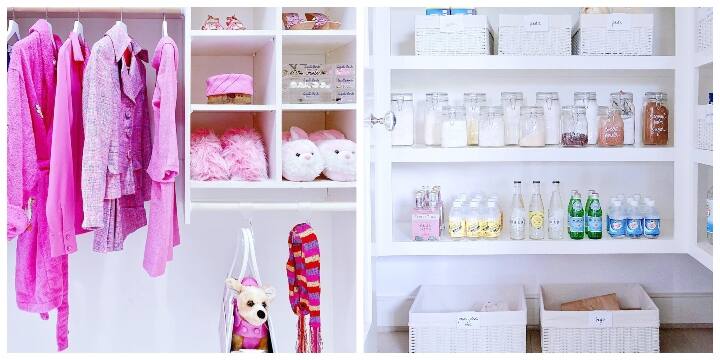 Photo Gallery
Photo Gallery
Compelled to do just the same at home? Gain inspiration from these pantries, drawers and closets by The Home Edit: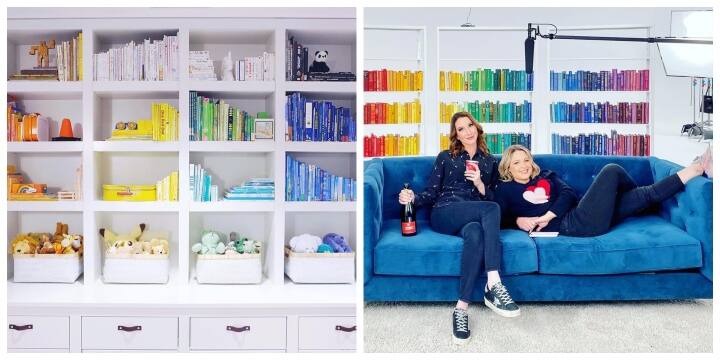 Photo Gallery
Photo Gallery
For more tricks and insights on organization, watch Get Organized With The Home Edit on Netflix.