So Your Landscaping Needs Serious Updating, But You Know Nothing About Gardening—Sagana Project Is Here To Help!
Your gardening and landscaping distress signals have been received! Jay Espinas and Clifton Esteban of Sagana Project give you all the landscaping 101 lessons you're in dire need of
So you've updated your kitchenware, you've ordered new plates and cutlery, maybe you've also rearranged your home office, re-upholstered your sofas, and now your eyes are on your curtains that have been the same for ages. With 13 months of COVID living down (and ECQ likely to be our norm for a little while longer), what's a homeowner like you to do next?
Here's an idea for you. Summer has arrived, so why not give indoor upkeep a rest and pay attention to the outside? Forget about picking out a new curtain style for now, and instead, open your drapes and concentrate on what you see—it's likely a garden (nay, a neglected, underutilized patch of soil) begging for a landscaping makeover!
Raise your hand if you've flipped through magazine pages or scrolled through social media and seen beautiful, covetable outdoor home spaces that made you think, "I could do that too. I'm just busy. But I could definitely do it too with the right help." Well, newsflash: working from home and discovering new activities to engage in is what's up these days, you do have the time now, and more importantly, there is help. (If you're reading this in a quiet enough space, you can practically hear the individual grains of soil outside your window exclaiming a big, resounding Halleluiah!).
We're calling it for you. Landscaping made to last—that's officially your next big quarantine project.
You'll be glad to know that we spoke to Jay Espinas and Clifton Esteban, co-owners of professional landscaping gig Sagana Project to give you all the information you need to figure out where to start, how to assess your landscaping needs, and how to sustain this newfound fire for landscaping we just lit in you. The buddies turned business partners have worked on everything from big city gardens to farmland, apartment balconies to individual rooms and walls, and poolside views to darling lanai hangouts, so we're sure that their tips and tricks can apply to all kinds of garden properties, including those sending out many an SOS.
Without further ado, we present to you what you need to know about landscaping 101 Sagana Project's care of Jay and Clifton below!
Q1: How do I know if I need to update my landscaping or just generally need help from a professional to rehabilitate my garden?
If your garden isn't a garden at all but just a plot of pebbly brownness, then yes, you need help.
However, it's not as straightforward if there are existing plants in the area (potted, hanging, planted directly in the soil, stacked in planters or otherwise) and you're not sure if all they need is a good pruning and fertilizing. A good rule of thumb to follow according to the minds behind Sagana Project is this: if it's getting in the way of you moving around that space freely and/or if you use the space for nothing at all, then it might be time to call in a landscaping team.
As Jay says, ask yourself this: "Is there growth that suffocates too much light? Is it too open that your home is exposed to too much light?"
Answering yes to either of those questions means you could be due for a garden overhaul.
Q2: I've established that I need to redo my garden but I don't know what I need. How do I begin to assess my landscaping needs?
Unfortunately, there is no one answer to this as every space, every garden is different. Yours might be wide and flat like a blank canvas, someone else's might be narrow with dim lighting and more concrete than soil, and yet another person's might be hilly where water pools at the bottom levels when it rains.
Notice how you being observant of your surroundings really count, though.
Assessing your landscaping needs doesn't mean you come ready and armed with a list of plants, grass suggestions, and ideas for soil type when you first contact a landscaper. Rather, it's all about you getting to know your space better and paying attention to how things—sunlight, water, ventilation, elevation, layout—naturally occur. After all, you're going to be spending a lot more time in this space once it's spruced up. So, getting to know it more intimately begins way before the first time you sit and enjoy your first cuppa on a Saturday afternoon there.
Whip out your pad of paper and pencil and get ready to take notes!
As an extra note from Jay, homeowners can also go a step further and delineate between greenscaping (working with actual living, breathing plants) vs. hardscaping (incorporating inorganic design in your garden) needs.
Q3: Are there any landscaping trends I should be aware of?
"Prior the pandemic we saw how 'softer plants' (like those from the Aroid family) and edible plants will be a more common fixture in landscapes," Jay begins.
"Propelling to the future, 'experiential plants and themed gardens' will be more prevalent," he continues.
Think of it this way. If the pandemic has actually become a plantdemic for many Filipino homeowners, then it's likely that this newfound love for gardening and beautifying outdoor spaces, however small, will stand the test of time. Something that began as a mini passion project (and perhaps born out of necessity for some—as a means to grow food and keep their well-being in check) could naturally evolve into something more artful, thoughtful, and personal. Who knows? Landscaping could become a recognized form of art sooner than we realize, and this is exactly the wave that Sagana Project foresees coming and hopes to ride.
"[There could be] gardens for curiosity and discovery, gardens that remind of foreign places, gardens that conjure nostalgia, and more. Landscaping has been predominantly viewed as merely a 'fix-up' utilizing reliable greenery. But it is heading towards adding more value to just that," Jay says.
Q4: Why hire a landscaper at all?
This might seem like an unnecessary question, but the thing is, too many homeowners fall into the trap of thinking that a contractor and landscaper can achieve the same thing—and that landscaping is an expense, not an investment, so there's really no need for separate teams for these tasks.
"Our Pinoy culture mostly bypasses the design aspect. A landscaping service is simply defined as the 'build' output. We've encountered clients who reached out to us because they were not happy with what their previous landscaper delivered. [It's] more cost for the garden owner in the end," Jay explains.
So, remember. Don't assume that getting a person to do someone else's job just because they can fulfill the minimum requirements of it means it's cost efficient—it could be quite the contrary, in fact!
Maybe, over time, more homeowners will come to see gardens as worth giving more thought to. Thinking about it, there is so much irony in living in a country with such great sunshine for most of the year and is home to some of the world's most beautiful flora, but with very few homeowners that spend time cultivating their own private outdoors. Hopefully, gone will be the days when gardens were just the extra space beside the garage that parents told their children to avoid because of all the mosquitoes, and days where whole families can enjoy brunch or merienda in a well-kept garden have arrived.
Q5: I live in an apartment. Do I still qualify for the services of a landscaper?
Yes you do!
You might not need "landscaping" in its traditional and literal sense, but an expert can still help you figure out how to make the most of your limited living space. Balcony or no balcony, rooftop or no rooftop, you still get to enjoy the process of seeing your little home in the sky transform into a grounded pocket of green.
Jay has three general tips for the eager apartment resident hoping to invite more green into their space:
The overall goal is to avoid clutter. Because you don't have the luxury of space, the less scattered indoor landscaping elements, the better.
Avoid plastic planters/containers and go for some terracotta or cement planters. They're more aesthetically pleasing, so they serve a double purpose as containers for your plants and extra decor for you.
A lot of indoor plants aren't built to last for months at a time, so feel comfortable with changing up your house greens once in a while. It's also a great technique to keep a space enlivened and refreshed.
Q6: I'm willing to spend on landscaping as a one time deal, but not so much spending on regular visits from the landscaper in the future, so what should I consider for this?
You're looking for low-maintenance plants.
When it comes to landscaping, what makes things costly is the upkeep of sensitive, delicate plants because of course, if you're unable to keep those precious blooms and exotic greens alive, your balance sheet is going to start to reflect a ton of gardening-related expenses.
Thankfully, low-maintenance does not equate to a less beautiful garden! Hardier plants are in no way less attractive than their more sensitive counterparts, and it's simply a matter of choosing which work for you (and by you, we mean your wallet) and how to best arrange them in your space to achieve an IG-worthy look. (That's why landscapers exist to get this job done!).
"Plant selection is key. For a low maintenance requirement, typical of commercial landscaping, plants with waxy-sturdy leaves and stems are chosen. For the gardener that loves to putter around, the selection is endless," Jay advises.
And there you have it! Those are landscaping 101 lessons for every homeowner or apartment resident with beginner gardening skills.
This weekend, maybe you can start the process of assessing your needs, getting to know your environment, and maybe going through pegs to be ready with for your very first meeting with Jay and Clifton. They'll be more than happy to help, and you'll also be happier to learn that Sagana Project takes care of designing your brand new garden, implementing the vision, and maintaining it in the long-run, too.
Sagana Project was born two years ago from the minds of friends Jay and Clifton. Though they'd gone their separate ways post-college graduation, a little weekend market serendipitously allowed them to meet again and this time, make sure they would take full advantage of a great friendship.
Jay himself has had a love for gardening since he was seven-years-old. As an adult, he's grown a much deeper appreciation for having hands that allow life to spring forth from nothing but a small seed or an overlooked cutting and a bit of dirt.
"Learning and discovering on your own with nature. The surprise a day brings when a plant flowers or pushes out a new growth. The opportunity to see a mundane miracle. Growing a plant that's not supposed to grow at my garden climate/environment"—these are but a few of Jay's favorite things about what he's able to do, and what he joyfully shares with so many others.
In the end, Jay and Clifton don't just fulfill the role of landscapers in the big wide world of gardening and home design. They're very much part of the team that make a house a home—a home for both people and all green and flowering things big and small, that is.
Scroll through the gallery below for more photos of Sagana Project's work!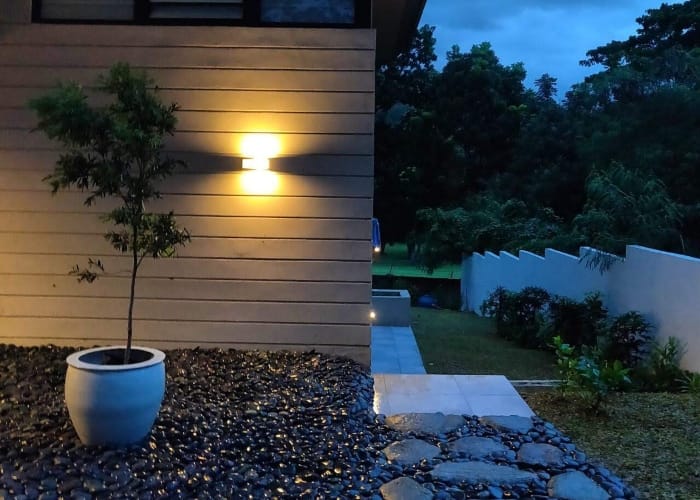 landscaping and gardening with Sagana Project
landscaping and gardening with Sagana Project
Photos courtesy of Jay Espinas / Additional images from @sagana.project