The Stylist's Secret Tableware Store Is On Sale
Those in the know have been decorating their tables with plates and trinkets from here
The last two years (and counting) have seen a rise in intimate at-home gatherings with our few best and trusted. A strategy that helped many keep up with their loved ones without worrying too much about the threat of catching COVID was to keep their gatherings small. Some made it a point to have, say, monthly gatherings with a rotation of friends and family to make sure things are interesting yet safe. We all know that times like these call for deepening our sense of community.
To go with this, folks have naturally been experimenting with their table settings. There was a renaissance of Instagram accounts who sell thrifted or pre-loved Imari, stoneware and blue and white tableware. Still, some specialize in fine silver. A few favorites have gotten on the bandwagon of promoting proudly Filipino, carrying local weaves from Ilocos and Bicol as placemats and table linen.
For the certified Platetitas (a term coined in the recent years to describe an individual who is addicted to tableware), the more options there are, the better. Enter Muradito Home, "The Secret Go-To Home Decor Place" that resides in an unassuming residential Quezon City street. There are actually no indications outside that a big sale is in the works within, until you see the long line of cars full of... you guessed it... Platetitas... and their loot!
Once you get logged in by the guard, be ready to enter tableware heaven! The options are limitless. You'll notice some pieces that reference Seletti Hybrid cups and dessert plates, some look like legit stoneware. There are even pieces that can pass as Bordallo Pinheiro earthenware, designed to look like cabbage leaves. There are references to Daruta Italian pottery and even Polish Bolesławiec ceramics. Pair these with Indian hand-blocked placemats or locally-sourced rattan embroidered with raffia also found at this gem or a resource for the Platetita.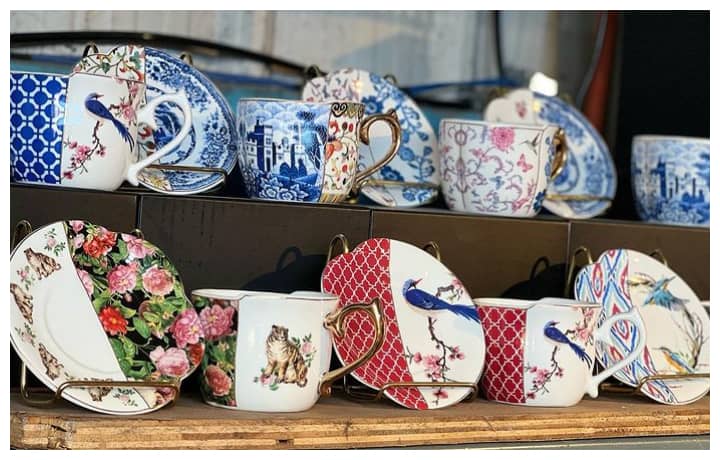 Photo Gallery
Photo Gallery
At the Muradito Warehouse, the tablescaping possibilities plentiful! The best part? The pieces you'll take home come with a friendly price tag (plus they are on SALE), so it won't be a heartbreak to replace chipped or broken ones, in case the party gets too sensational!
Run to the Muradito Warehouse sale, through August 21 at the Muradito Warehouse, 7 Sulu, Quezon City, Metro Manila. Online, Muradito is available via Shopee or Lazada.
Photographs by @muraditohomeoffical.