Pet of the Week: 6 Pets Who Cuddle Up With Thai 'Boys Love' Actors
Meet the adorable fur children who are cozying up with their celebrity pawrents
In our time in quarantine, it's not just Korean dramas that got us addicted to our screens—there's no denying that Thai Boys Love (BL) shows keep us tuned in, too! What started out as following the hit 2gether: The Series led us to discover other BL programs that eventually got us hooked on the genre—and never looked back.
As we get to know more and more of these Thai idols, we learned about their lives outside the shows that they were in. There are ones who revel in the beauty of traveling; some who love plants; most are into fashion and food. But the cutest we found are fellow pet lovers like us—and these BL actors lovingly showcase their adorable fur babies on their Instagram accounts!
It's hard not to melt with adoration every time they post about their adorable pets. Even with their full schedules as celebrities, there will always be time to bond with their canine and feline buddies. Just like proud parents to their own children. Let's meet these endearing fur babies!
First on our list is the small but adorable Chihuahua, Charlotte, who keeps the main actor from 2gether: The Series, Win Metawin, company. Fans fell in love with this cutie as much as they love the 21-year-old actor. Charlotte the chihuahua is often spotted with Win and his onscreen partner Bright Vachirawit on their Instagram stories. She's even had her share of the spotlight when she appeared in the posters and OST video of her pawrent's new show, Still2gether!
Next up are a pair of cats, a Sphynx named Pluto and a Scottish Fold named Muffin, fur babies loved by another Thai actor, Krist Perawat, who rose to fame after starring in the hit 2016 Thai BL series, SOTUS: The Series. These two sibs even have their own Instagram account (@plutomuffinn), where Krist posts their cuteness together!
Meanwhile, an adorable Maltese puppy keeps the lead actor from the BL series, Theory of Love, Gun Atthaphan, company. He calls his little charmer— wait for it— Bibi.
Thai actors just can't seem to get enough of dogs! A 6-year-old Pomeranian keeps Mew Suppasit, who starred in TharnType: The Series, company . Say hi to this cutie who goes by the name "Chopper!"
Not just one, but two Bengal cats named Rocky and Volga live with Love by Chance 2: A Chance To Love lead star, Plan Rathavit. So much so that he even created an Instagram account for them. Follow their (adorable) riot on Instagram (@babyrockyxvolga).
And lastly, here's three Pomeranians (one brown, one black, and one white!) and a chunky Alaskan Malamute, cuddling with an ultimate dog lover—fellow SOTUS: The Series actor Oaujun Korn Khunatipapisiri. His fondness for these furries are evident on his Instagram, as photos of his pets flood his feed!
Brighten your day more by viewing more of these dogs and cats photos—check out the gallery below!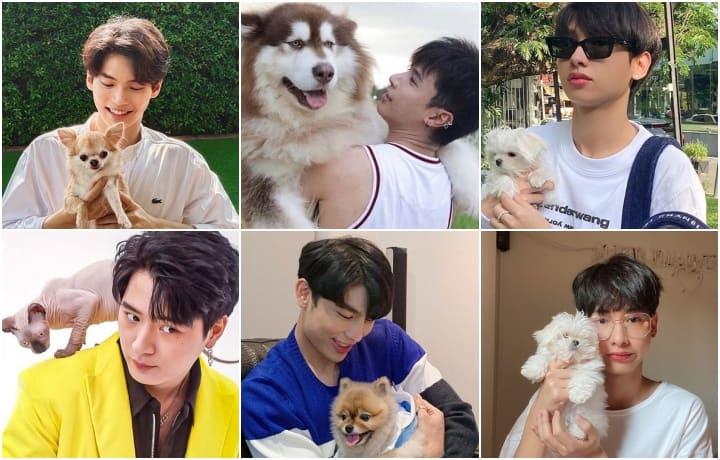 Thai BL Actors and their pets
SWIPE LEFT OR RIGHT
TO NAVIGATE BETWEEN PAGES
Win Metawin's Chihuahua, Charlotte
Photo Credit: @winmetawin
Photo Credit: @winmetawin
Photo Credit: @winmetawin
Photo Credit: @winmetawin
Photo Credit: screengrabbed from GMMTV RECORDS
Photo Credit: screengrabbed from GMMTV RECORDS
Photo Credit: screengrabbed from GMMTV RECORDS
Krist Perawat's Sphynx, Pluto and Scottish Fold, Muffin
Photo Credit: @kristtps
Gun Atthaphan's Maltese, Bibi
Photo Credit: @gun_atthaphan
Photo Credit: gun_atthaphan
Photo Credit: gun_atthaphan
Photo Credit: @gun_atthaphan
Photo Credit: @gun_atthaphan
Photo Credit: @gun_atthaphan
Photo Credit: @gun_atthaphan
Photo Credit: @gun_atthaphan
Mew Suppasit's Pomeranian, Chopper
Photo Credit: mewsuppasit
Photo Credit: @mewsuppasit
Photo Credit: @mewsuppasit
Photo Credit: @mewsuppasit
Photo Credit: @mewsuppasit
Photo Credit: @mewsuppasit
Photo Credit: @mewsuppasit
Photo Credit: @mewsuppasit
Plan Rathavit's Bengal cats, Rocky and Volga
Photo Credit: @!iplann
Oaujun Korn Khunatipapisiri's Pomeranians and Alaskan Malamute
Photo Credit: @oaujun
Banner images from: @winmetawin, @kristtps, @kristtps, @mewsuppasit, @iplann, @oaujun