These 7 Highlights from The New Philux Home Collection Will Add Sophistication To Any Home
From furniture to tableware, Philux offers a complete portfolio of pieces for the modern Filipino home
Family- with its joys and challenges, conventionalities and complexities- is at the core value of the Philux brand. This holiday, Philux enhances the experience of togetherness and celebration through new pieces mixed with their key classic pieces.
The Facet Dining Table and the Embla Chair
Philux launches new furniture designs this season anchored by the Facet dining table with its clever play of geometric shapes and natural wood grains. This piece is complemented by an organic take on the iconic Embla chair, using woven abaca for the seats.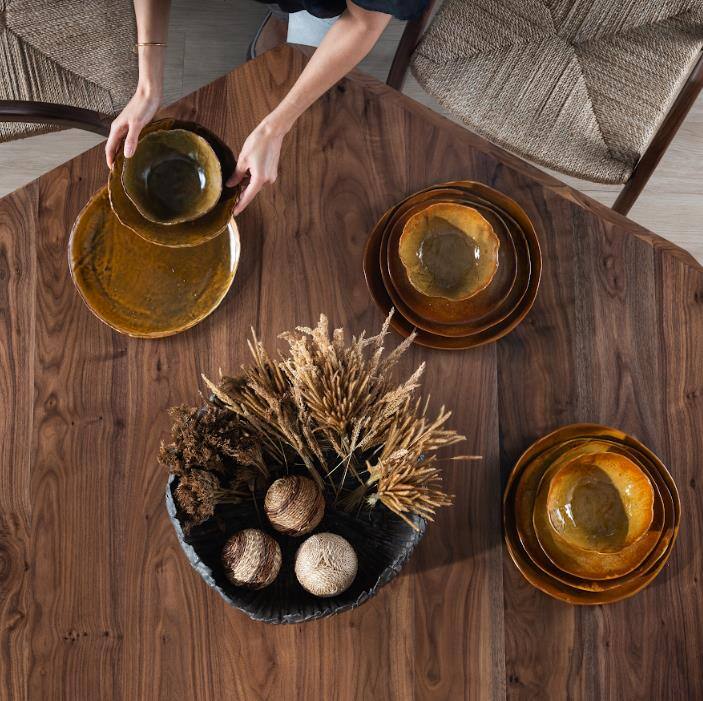 The Maxwell Curio Cabinet
Part of the Maxwell collection is the Maxwell curio cabinet which comes in two sizes, small and large, and can come in a two-toned version (FSC- Walnut wood for the exterior, and FSC Ash wood for the interior). The Maxwell curio cabinet, like the other Maxwell pieces, is ideal for storing pieces both practical and sentimental- from dinnerware, vases, and books to photographs and heirloom pieces.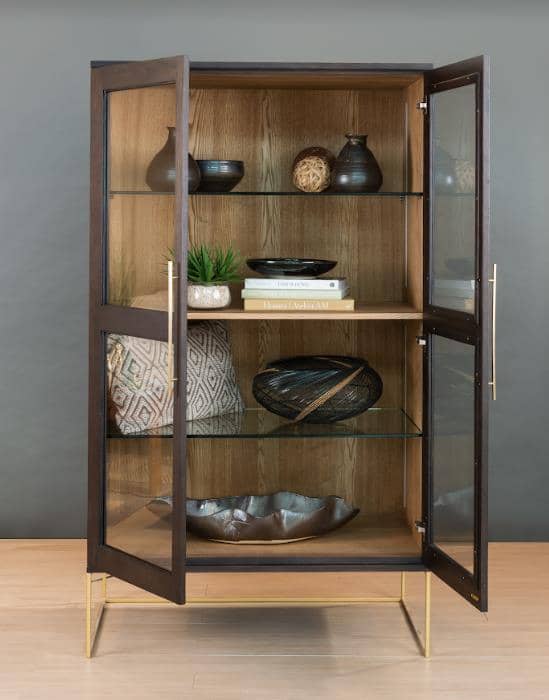 The Zalez Console
The Zalez live edge console's charm lies in its ruggedness using solid FSC Ash wood slab as table top with its natural knots filled out with lead. The surface is brushed, revealing a more distinct texture. The base is metal in slate finish and they come tapered or straight.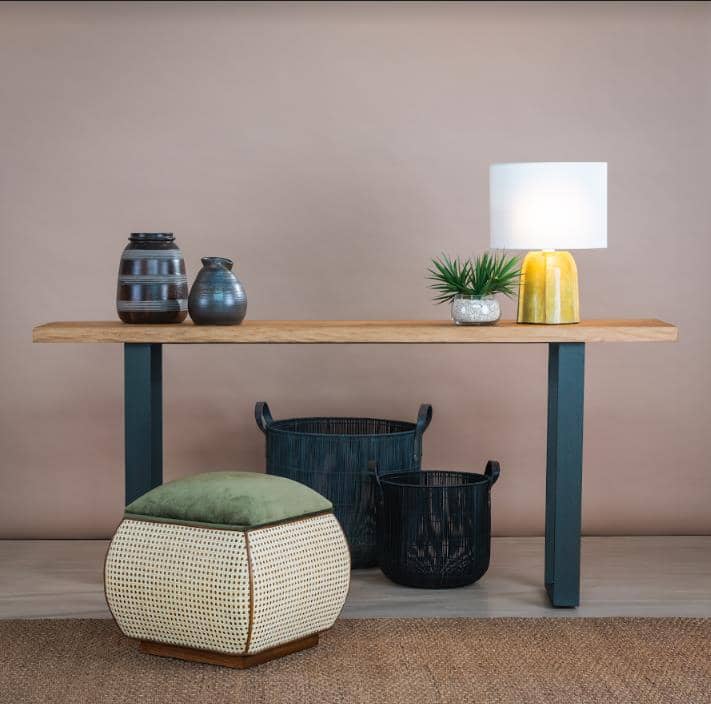 Tableware by EJ Espiritu
A space is never festive without homeware and home decor. For their holiday collection of proudly Filipino pieces, Philux includes exclusively designed stoneware by renowned studio potter and ceramic engineer EJ Espiritu who has been behind the potter's wheel since 1996. His dinnerware sets, vases, and centerpieces in earthy hues of browns, grays, and blues adorn our table tops.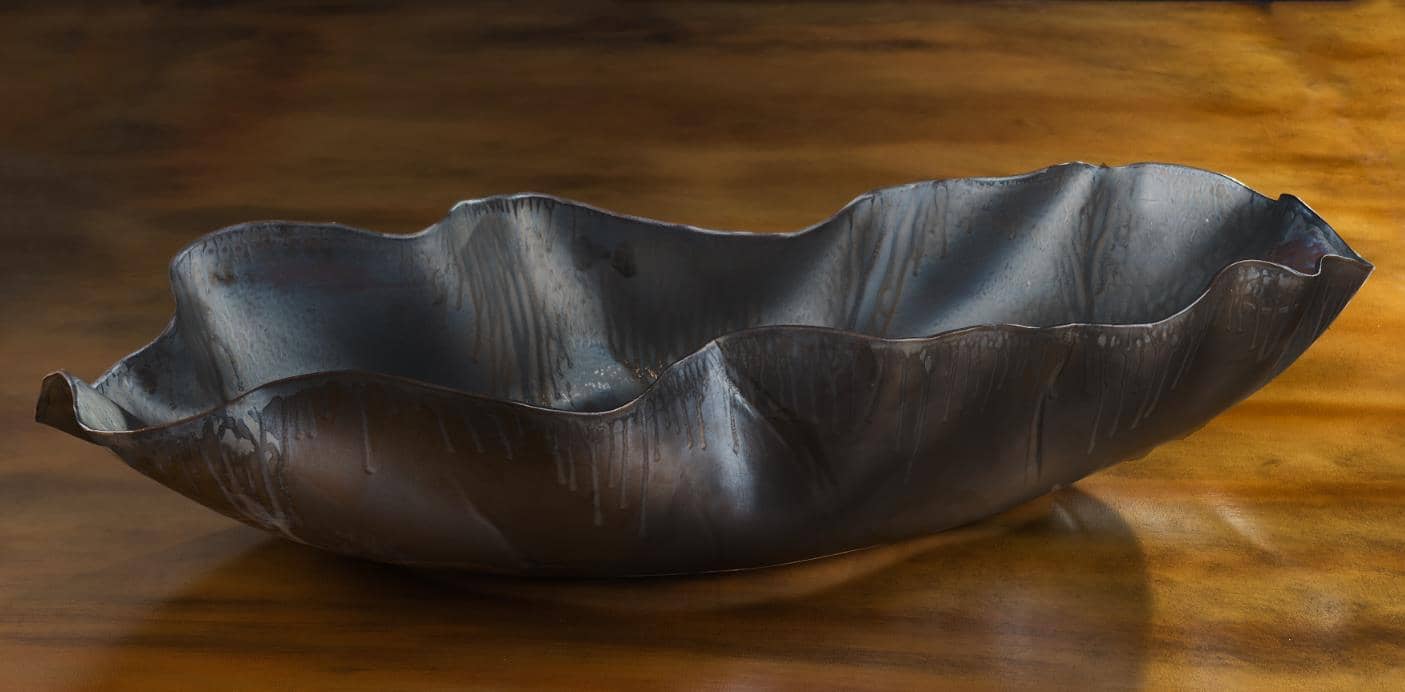 Stemware, Table Linens and Cutlery
Completing your tablescapes are crystal wine glasses, champagne glasses, and water goblets perfectly paired with our silver cutlery. And never without a touch of Filipino, capiz shell placemats and coasters that come in white and gold add to that subtle elegance.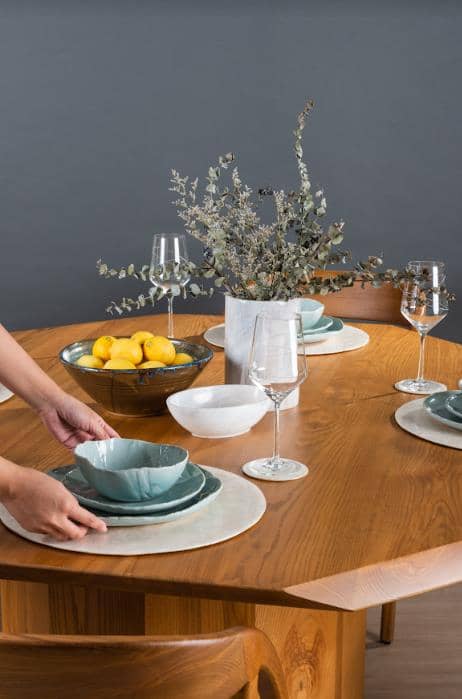 Little Philux

As the season is all about children's laughter, Philux adds to their series of Little Philux pieces, vibrant abaca baskets handmade by craftsmen in Sorsogon. We launch, as well, a special collaboration with brand Malabar Baby as we carry their line of baby and adult quilts, baby pillows and bolsters- made of organic Indian cotton.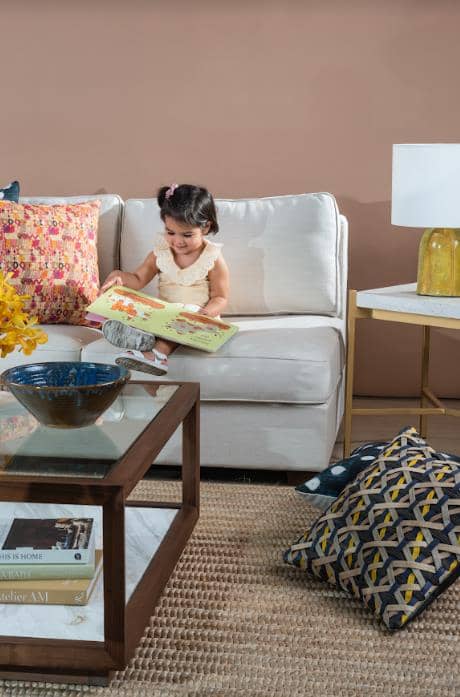 Malabar Baby
The interesting and intricate detail of the Malabar Baby pieces are the beautiful prints born out of the woodblock technique by artisans in India. Woodblock printing involves sketches traced on to the wood and hand-carved to create the perfect wooden block. The artisans then work for days to block-print on to the fabric by hand, carefully layering one color at a time.