Plant Walls Might Just Be Your Greatest Pandemic Plant Project To Date
The return of vertical gardening has arrived!
Just when you thought you'd seen every garden trend on your feeds, another one enters the game—the vertical garden!
Vertical gardens, a.k.a plant walls or soilless gardening, aren't entirely new, but they're enjoying a fresh surge in interest in them these days as more and more people have learned to appreciate the benefits of having fresh plants in their homes and the joy of caring for them. Potted plants and curated collections are great for sure, but there's something about an entire wall covered in lush, verdant flora that achieves an effect that's unique to it; they're more immersive, definitely a centerpiece/conversation starter, and if you do them right, a much more fuss-free alternative to traditional soil-based gardening that still provides the same benefits.
In a previous interview with design company Flax Midori (who we happily feature again here for their expertise in vertical gardening), they explain just how vertical gardening is worth considering if you're thinking of seriously investing in having plants transform a space of yours.
First, consider using a material they developed called Pafcal—it's a sponge-like base for plants that's not only a lot less messy, but it also provides an ideal water:air balance for plants and protects them from pests and infection, is lightweight and cost-effective, and has a lifespan of 10 years.
Second, use your imagination! A vertical garden is essentially a blueprint for an artwork, but in the place of paints and brushes are leaves and flowers. Rather than decorate with an image of beautiful flora, you'll can create an arrangement of them, in the flesh.
Here, we interview Flax Midori director Soju Nakata, as well as April Trower, co-owner of Silong Dekor, for their insights and tips on vertical gardening. Check out what they had to say below!
April Trower co-founded Silong Dekor in 2020. As a lover of design and pretty things, she found creative ways to get in on the pandemic-born plant craze. Silong currently focuses on one very unique item: plant terrariums. They make them in all shapes and sizes, all equally unique. (You can read more about that here). Their designs make you feel like you have a little piece of a distant environment, or even a whole other world, right at home; they can recreate a mini mossy landscape that looks like it's jumped out from a fairytale, a tropical jungle that fits in a beautiful glass container, or even jar of tiny plants that could very well be a home to fairies and their magic.
A few months into running her business, April takes her skill and vision to another playing field—vertical gardens!
Silong shared their new direction with the world just this summer, and already, they have a roster of happy clients willing to share how satisfied they are with what April and her team whipped up for them. So far, they've concentrated on making tropical, orchid-filled walls. Think of a wallpaper of this theme, but real; colors pop, there's crafty layering to create depth, and the ratio of florals and leaves is just a new level of organic art. Silong has created vertical gardens for business and homeowners alike, so we thought we'd ask them about tips for those wondering if a vertical garden is right for them.
What are the main differences between maintaining a traditional garden and a vertical garden?
If you're new to plant care, you might wonder how a good old landscaped garden is different from one that hangs on wall. As it turns out, not a lot! The effort to care for both is comparable, and the equipment you need to keep things well-maintained and the conditions for plants to thrive are similar. Perhaps, one thing unique to vertical gardening is how it's a must to study location; whereas traditional gardens can get all the lighting and ventilation requirements they need without you overthinking those aspects, it's not quite as simple for their vertical counterparts. Where you plan to place your vertical garden could dictate what kinds of plants are viable to use (and if a vertical garden will survive at all in your preferred location), so make sure to plan this thoroughly with April and her team.
What are the advantages and disadvantages of vertical gardens?
April points out just one major factor that could discourage you from installing a vertical garden: upkeep. It can be rather demanding, perhaps more so if you have one with flowers that need TLC more than hardier leafy plants. It's definitely not a plant project you can leave to take care of itself and you'll need to take the time to inspect it for overgrowth, pests, and need for watering. Remember, although it looks like a work of art, it's not inanimate! April's piece of advice for addressing concern is to create a wall that you can manage. There's a tradeoff; the more complex a wall is, the more work needs to be put in to make sure it stays that way.
What are some vertical garden designs/themes that you can suggest?
"Our living walls aim to be instant mood-crafters designed with a lighting system that illuminates the flora like a painting in a gallery inspired by our great interest in art, ambiance and placement," April describes.
This play between lighting and mood is definitely something you'll see in Silong's terrariums; they show you how a cleverly placed bulb or a beam of warm lighting can completely transform a view, and it's definitely an effect that's magnified in vertical gardens given their size.
"For outdoor enthusiasts, we can do a predominantly green setup for a rainforest look or if the client wants it be color heavy, then we offer a piece concentrated on hues and tones that includes a variety of orchids and bromeliads blending with vines and ferns," she continues.
Below, we share a gallery showcasing some of Silong Dekor's recently installed vertical gardens.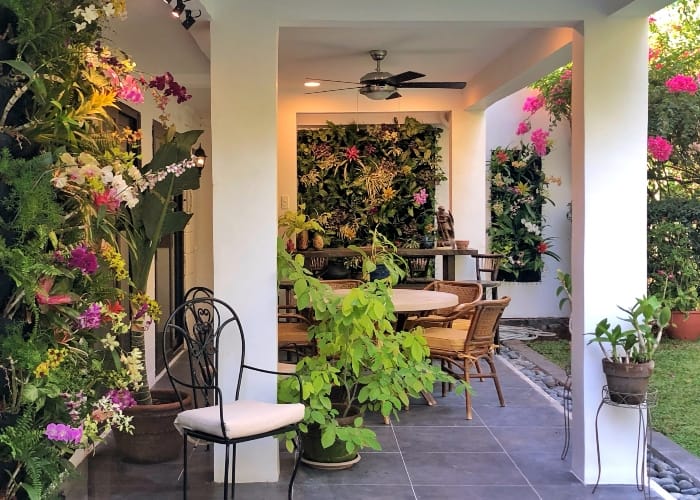 Silong Dekor's vertical gadens
Silong Dekor's vertical gadens
The team at Flax Midori is one of the best in the trade.
Looking at their fast-expanding portfolio that include clients from all over the country, it's easy to see that they're masters of the art and science of soilless gardening. They've so far executed projects for folks in the food in the food industry (like Starbucks and Dean & DeLuca), designed corporate HQs (Philip Morris, Toyota, and Infinit-O to name a few), worked on office complexes as well as residential communities (including Double Dragon in Pasay City and Ore Central in BGC, plus Idesia in Cavite), and was the firm of choice for Pasig City's redesign of its mayor's office. Though most of their work has revolved around work spaces, they can certainly spruce up a home or a condo, too.
Soil-less gardening has enjoyed a re-emergence in the last few months, what with quarantine homeowners wanting to bring the outdoors indoors while we all wait for the time we can finally experience going outside freely, like we used to. It's been an opportune time for Flax Midori to flex what they're best at, and to share their expertise with you, we asked Flax Midori's director, Soju Nakata, some questions about how to make plant walls work for you.
What are three important considerations do you need to make if you're thinking of incorporating a vertical garden at home?
According to Soju, you don't need a massive space to be able to enjoy a vertical garden/plant wall at home. However, there are three non-negotiable elements for an indoor residential vertical garden: lighting (sufficiently provided by the sun, or if you're using artificial lights, be ready to spend for this), proper irrigation and drainage (remember that water will drain downwards onto the floor, and not into soil or pots), and a sturdy enough wall (with at least a structural strength of 50kg per square-meter) that can support a frame where your plant wall will be mounted.
What are the main differences between maintaining a traditional garden and a vertical garden/plant wall?
"There are no big differences regarding the maintenance," Soju says.
As for the specifics to give you a better idea for what it takes to keep a plant wall in tiptop shape, he advices, "Same as [a] traditional garden, green walls need to be watered regularly (once every 7-10days if indoor and once every one to two days if outdoor) and need to be provided sufficient lighting (at least 500lux to the entire green wall, 10-12hours per day). The actual maintenance contents will be removal of dead leaves and replacement of withered plants. Pruning and trimming will be needed once every one to three months."
What are the advantages and disadvantages of vertical gardens?
If you've thought about installing a plant wall in your home, you'll be happy to know the pros greatly outweigh the cons. Some of the advantages that Soju points out include having an environmentally friendly way to purify air, a provided-by-nature thermostat especially in warmer months, a tool to combat visual fatigue and generally provide you with relaxation, and surprisingly, a way to reduce noise pollution.
The only thing you want to watch out for, especially if you want your plant wall indoors, is that some plant species can attract little critters, the kind that crawl and fly. You can always inquire about which plants to include and avoid to avoid this.
What are some vertical garden designs/themes that you can suggest?
The trend these days is to make it look as natural as possible. There's a fine line between a plant wall that could unfortunately look unkempt, versus one that achieves the "jungle growing out of a wall" look, albeit well-made. Flax Midori's clients have mostly requested for leafy installations, but with different plant species having leaves coming in varying colors and shades of green, a purely leaf wall is by no means a boring one. You can also ask Flax Midori to create a unique pattern or visual in the wall; by combining different-colored plants, it's very much possible to make an otherwise standard plant wall into a standout piece.
See some of Flax Midori's projects in the gallery below for some inspiration!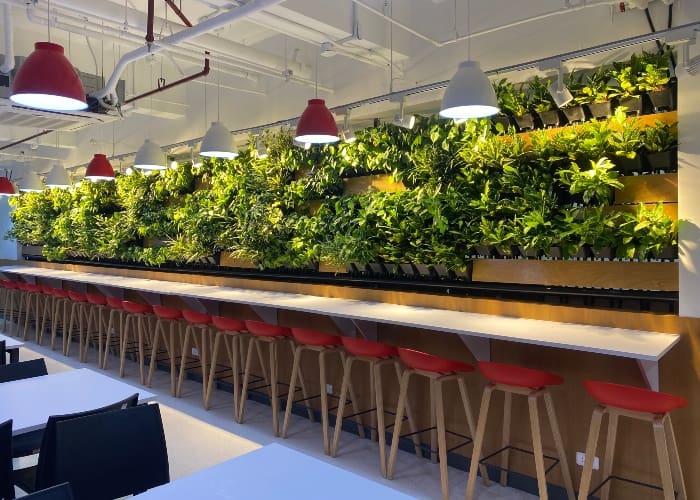 Plant walls by Flax Midori
Plant walls by Flax Midori
All images courtesy of Silong Dekor's co-owner April Trower and Flax Midori's director Soju Nakata