Meet The Club Office By Vitra
Offering solutions to what a new workplace must now provide, a new office concept addresses the post-pandemic work place
Many offices still remain empty, the meeting rooms and kitchenettes deserted. But as the return to the workplace nears, certain questions become increasingly urgent: Who is coming back to the office? What for? Is the former work environment still suitable? What does the office now have to offer? In response to these questions, Vitra is debuting the first 'Club Office' at its headquarters in Basel on 10 June 2021.
The office needs to reinvent itself, and not for the first time: from the early writing chamber to the rows of desks in the first open-plan offices, followed by cubicles designed to block out distractions and then modern open office landscapes without permanently assigned workstations - each of these workplace iterations has reflected innovation and progress, as well as cultural and social change. What has transpired over the last fifteen months, on the other hand, is unprecedented: as a result of the pandemic and enabled by long-existing technologies, workforces have become dispersed across regions, towns and villages. People can work wherever they find suitable conditions. A shared physical office now only seems important for certain aspects of work.
"Those who choose to go to the office today and in the future do so consciously — to meet colleagues and experience a sense of belonging and appreciation. The common mission and organisational purpose should be perceptible. Consequently, it must be more than just a place of work. Today, an office needs to provide added value. If an office has no character and colleagues there hide from one another, it's better to spare the commute and stay at home," states Nora Fehloaum, CEO of Vitra.
People do not come to the office today for individual activities requiring concentration - they come because they have a desire to feel part of a larger whole, because they want to meet their colleagues, and because they seek new knowledge and experiences. The new Club Office concept transforms the office into a place for collaboration and innovation.
Members of the Club Office deliberately leave the solitude of their home offices behind when there are hurdles to overcome or progress is dependent on others. Their talent is in demand and they are recruited worldwide - regardless of their background, skin colour, gender or where they have established their roots. This workforce has demonstrated their determination and adaptability throughout the recent crisis. In the future, they will insist on organising their own working hours and will optimise their presence in the Club to achieve the best possible results and establish the valuable connections that simply do not occur online.
'It is offen a social component, the cohesion between colleagues, that sparks a new idea. Or the unplanned meeting with exactly that person who can help me solve my problem. We have observed close up that companies — including our own — have had much more trouble retaining new employees during the past months, as the newcomers have not been able to find their feet, don't understand the culture and don't become a part of it. Early fluctuation is expensive and time-consuming, and it is not for nothing that companies look to recruit successfully. The office has a role to play here - because the work environment reflects what the company stands for, and this is visible to the potential candidate right from the first interview," adds Nora Fehibaum.
Products for the Club Office
For decades, Vitra has responded to transformations in the workplace with products for changing working conditions – guided by its own research in this field. As a result, many of the products used in the new Club Office already existed in the Vitra portfolio, while others were specially conceived to meet the new requirements. The new developments have in common a demand for flexibility and high quality, which allows the post-Covid office to adapt to shifting needs while signaling value and appreciation to its users.
The further development and enhancement of products is a central pillar of Vitra's sustainable product strategy, which avoids trends and instead seeks to build on and continually improve the tried-and-tested. "Our greatest contribution is the creation of long-lasting products. We know from caring for our classics that this requires constant work with these existing products. The choice of materials or expanded functions should always reflect our latest findings and insights. Some changes are not even apparent to the user, as we replace interior parts of a product that bring us a step further toward our goals – especially in terms of sustainability," comments Nora Fehlbaum, CEO of Vitra.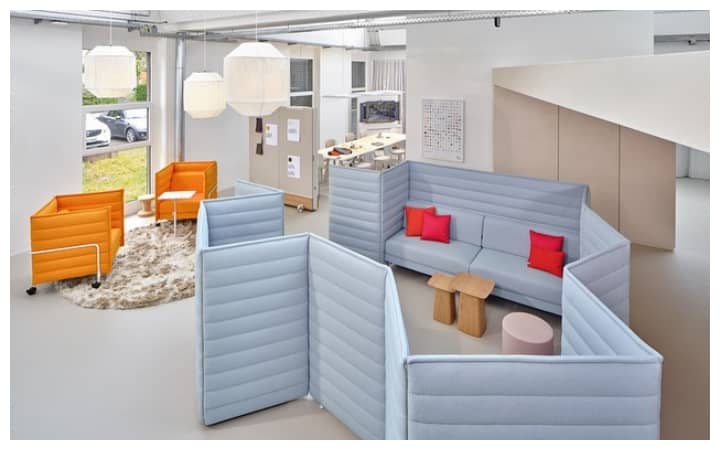 The Vitra Club Office
The Vitra Club Office
Vitra's first Club Office was developed at the headquarters in Birsfelden near Basel for its own Research & Design team. The public section is open to all employees and close partners of Vitra, and can also be visited by outside guests with an appointment. www. vitra.com.