Here's Why You Should Use Wallpapers To Beautify Your Space—And Where You Can Get Them
Here are beautiful wallpaper ideas for your rooms PLUS our little black book of resources
Home renovation and makeovers have been the trend for the past year as we stayed more inside our homes. Hard wood furniture made a comeback as people appreciated the importance of investing in pieces that stood the test of time, minimalist aesthetics took the spotlight as we cut down on lavish design and aesthetics, plants and dried flowers became so popular as they gave some much-needed life and warmth to our spaces, and home décor in general became the craze as we worked on improving our lives inside our homes.
But just like in art, the canvas is equally as important as the paint and the colors that you decide to use. And in our homes, our walls serve as the canvases to our furniture and interior design. What we forget is that the walls can actually make or break a room.
Paint vs wallpaper
Paint has been the perennial favorite when it comes to finishing walls. Especially here in the Philippines, wallpapers are not as popular because paint is just cheaper and easier to find. But, comparing paint and wallpaper is just as complex as comparing apples to oranges.
When it comes to cost, paint, of course, is much more inexpensive. Painting the walls also takes lesser time and effort to apply—you can even do it yourself.
However, the durability and beauty that wallpaper gives a room cannot be outmatched by any kind of paint. When it comes to durability, wallpapers are an investment for your space. Paint usually dulls quickly and would need repainting after at least 5 years. High quality wallpaper, on the other hand, will keep beautiful for at least a decade.
Wallpapers can also say so much about the personality of a room or the owner of the room, without needing to do so much in the way of furniture or décor. Especially if you'd rather do away with clutter and décor that your children or pets would knock off, wallpaper can help make your rooms stylish and aesthetic.
What to keep in mind
Just keep in mind that there are certain things to consider before you start wallpapering your home.
One, you cannot use standard wallpapers in areas in your home with high humidity such as the kitchen or bathroom. For these spaces, you need to look for splash-proof or washable wallpapers which are wipeable and designed specifically for high humidity areas.
The second most important thing to consider is the preparation before you put on a wallpaper. If you're wallpapering an old room, you need to prepare the wall by cleaning it, sanding down any uneven parts of the wall, and filling holes. You also need to make sure that you strip uneven paint before putting on the wallpaper because uneven textures and colors may show after you put on the wallpaper, especially if you're using a light or predominantly white wallpaper.
Where to buy
It can be challenging to find places to buy wallpaper here in the Philippines because wallpapers are not as popular as we'd want them to be. But if there's demand, there's got to be a supply. And we found some trusted places where you can browse and buy beautiful wallpaper for your home. The good news: most of them also offer wallpapering services so you don't have to go through the trouble of installing the wallpapers yourself.
When it comes to interiors, Neu Muri is your one-stop shop. Apart from beautiful wallpapers, they also have high quality furniture that will match your intended room redesign. When it comes to wallpapers, they have a nice lineup of designs—from bold and tropical prints, to more subdued and laid-back textures—which can cover 5 sq. meters of space per roll. What's even better is that they offer free installation of wallpapers within Metro Manila if your order at least 3 rolls.
Neu Muri has been wallpapering the homes of many celebrities and personalities, including Karen Davila, Marie Lozano, Stephanie Zubiri, Mimiyuh, and Metro.style editor and stylist Kat Cruz-Villanueva.
Check out the gallery below for some of our favorites from Neu Muri Designs.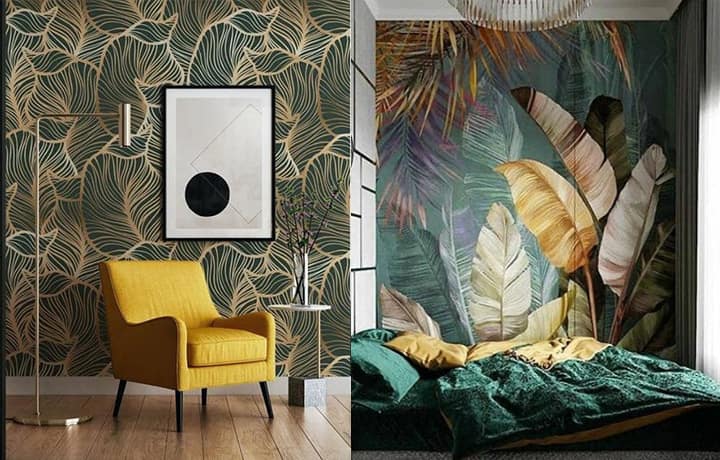 Photo Gallery
SWIPE LEFT OR RIGHT
TO NAVIGATE BETWEEN PAGES
If you're looking for premium wallpapers from trusted international names, you'll want to browse through Studio11's wallpaper catalogue. They carry designer wallpaper brands from all over the world, including Thibaut, the oldest wallpaper firm in the US and UK; House of Hackney, a luxury British brand that creates wallpapers, furniture, and fabrics; and Cole & Son, one of the most historic wallpaper brands in the world, who wallpapered some of the most historic buildings like Buckingham Palace and the Houses of Parliament.
If you fancy something from their catalogue, orders will take 15-21 working days to arrive. They also offer wallpaper installation for an additional fee.
Check out the gallery below for some of our favorites from Studio11.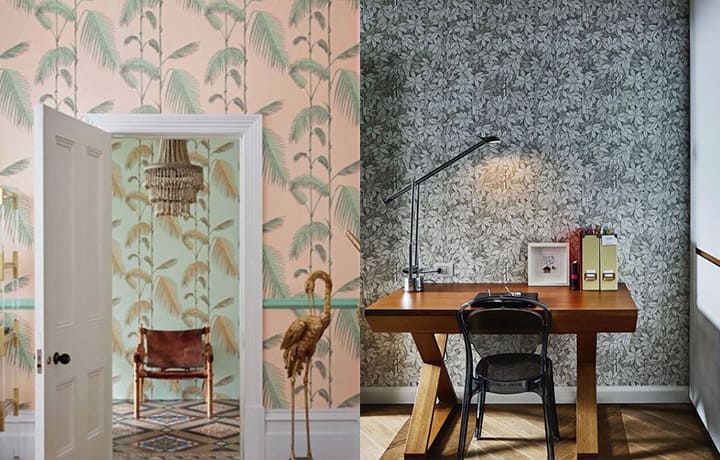 Photo Gallery
SWIPE LEFT OR RIGHT
TO NAVIGATE BETWEEN PAGES
DM Wallpaper may not be as fancy, but they're a trusted supplier of many contractors and designers here in the metro. Aside from wallpapers, they also have tiles, bricks, and handwoven Abaca wall coverings made locally in Albay for your interior and outdoor projects.
For those on a budget, you'll find washable vinyl wallpapers for as low as P1,000 per 5-sqm roll in their catalogue. You can also check out their old inventories on sale at their website, www.dmwallpaper.com.
They offer free installation and adhesives for orders of 2 rolls or more.
Check out the gallery below for some of our favorites from DM Wallpaper.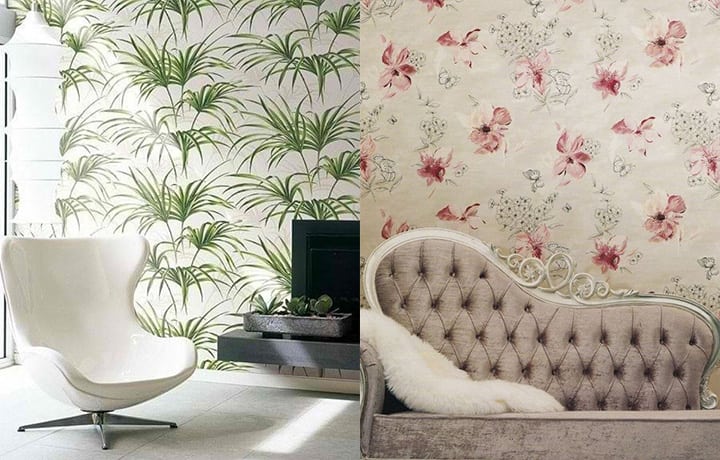 Photo Gallery
SWIPE LEFT OR RIGHT
TO NAVIGATE BETWEEN PAGES
When it comes to digital prints, The Printerie has got you covered. From the roots of Boon Prints Enterprises which have been offering offset printing since 1995, The Printerie emerged as its next generation evolution, which now offers printing solutions for lifestyle and visual print products. Apart from wallpapers, they offer canvas prints and stationaries.
They have a wide variety of wallpaper designs that depict floral and tropical prints, natural sceneries, geometric prints, stone textures, and abstract patters. All wallpapers come in basic or textured variants, and vary in cost depending on the design and the square footage that needs to be covered.
What's unique about The Printerie is that since they offer digital printing services, they can also customize your wallpaper design! If you want to print your own design, you can visit their website at www.theprinterie.com and contact them directly.
Check out the gallery below for some of our favorites from The Printerie.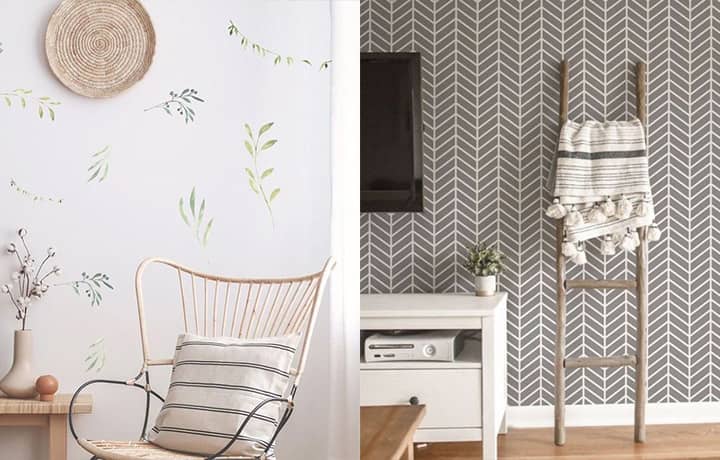 Photo Gallery
SWIPE LEFT OR RIGHT
TO NAVIGATE BETWEEN PAGES