This Café and Produce Gallery Was Designed To Bring The Farm Experience To The City
In With Meraki Caffé, everything is done with passion, creativity, love and soul
Working on her farm in Tagaytay for the most part of the pandemic, Barbara Kitane of With Meraki Forest Farm thinks that it is time to share everything that they're creating to the rest of the metro. Kitane has been busy connecting with local crafters and filling her newly opened outpost in the Poblacion area with their goods.
The 23-square-meter space on a corner lot is snug but carefully imbued with With Meraki's ethos. "With Meraki is a Greek word that means doing everything with passion, creativity, love and soul. You can say you design with meraki, eat with meraki, dance with meraki, cook with meraki and kiss with meraki," Kitane explains. "Everything can be alluded to this quality and integrity by which we do things."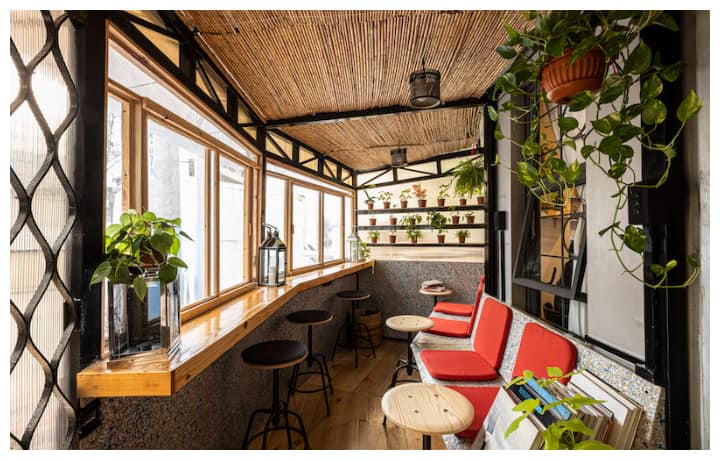 Photo Gallery
Photo Gallery
The black iron gate that welcomes you is repurposed from an old home. An anteroom of sorts is lined with a shelf and wooden window pane, allowing natural light to fill the space. The other side of the room has a built-in banquet seating made of blue-speckled boards. "These are TetraPak compressed boards made from upcycled waste . They're anti-termite, water-resistant and cost 30% cheaper than plywood," Kitane is proud to say. "You don't even need to paint over it because it kind of looks like granite."
This material is also used as the wall and shelves of the kitchen area. The bathroom's walls at the end is clad in TetraPak compressed boards as well. Since the board is not made with any glues, chemicals or adhesives, it is 100% recyclable giving it a circular economy model of production.
There are round high stools that can double as tables where guests can place their food or coffee on while they watch the tricycles whizz by the narrow street of Palma St. in Makati. The ceiling is clad in runo bamboo slats that a neighbor of their Tagaytay farm makes. The curtains in the dining area, the blue linen that cover the cupboards and the apron the staff wear are made from a laundry woman in Tagaytay that Kitane discovered had a skill in sewing.
"We really support local makers. We try to push the professionalism in terms of detailed work. Our carpenters are full time and they're also farmers. So when they're not doing this, they're doing another thing," Kitane shares.
The potted plants on the shelf lend a cozier feel to the space but also are for sale in partnership with Flax Midori - apparently its owner is a regular at the caffe. The first thing one notices when they enter the dining area is the colorful organic produce that are being sold. "Our vegetables are the protagonist. This is a produce gallery," Kitane quips.
The space has more of a neutral color palette - the ceiling is covered in amakan weaving, making you feel like you were in the farm. Bayong bags made of dried pandan leaves are displayed and for sale supporting local weavers from Quezon province.
Kitane explains the more earthy tone of this room, "In designing, we have a hierarchy much like when you're doing editorial design. When you open a page, where do you want me to look first? It should be clear where you want to look at first. What do you subdue? What do you want to bring out? For us, what we wanted to bring out is the produce. They have the colors. Everything else is on the side."
Much like many of the sustainable design moves Kitane made in designing With Meraki Caffe, she also applies much thought in making sure there is as little waste as possible in their menu. When their menu states that it comes with a "ferment" this means that it comes with a small side condiment of what they are currently fermenting. To minimize waste, they take any of the vegetables that have been sitting for more than 3 days and ferment them to lengthen their shelf life. This may become kimchi or it can also become a pickle such as their beetroot pickled in orange and mustard seed.
Every plate of food also tries to carry a wide range of colors. "The color palette is a healing element as well. So certain color of foods address certain chakra needs," Kitane is referring to the seven main energy points in your body. It is believed that one may "unblock" certain chakras by eating certain naturally colored food.
The Green Salad with Tahini Chili Sprinkled with Nori Dust looks deceivingly simple but is an easy favorite. Rice bowls are substantial as they come with red rice and picked and fermented vegetables. The mushroom tocino does well imitating the pork tocino's sweetness and bite. The eggplant daing looks like the fried boneless bangus and makes for a great meatless meal. Lemon Crostata is homemade by Kitane's house help that has learned a traditional Italian recipe (who also gets a percentage of every box that is sold). Its crust is delicate and the filling so bright and tart. This is best enjoyed with a cup of coffee which they prepare on a moka pot.
In a time when anyone can order food online and have it delivered to them (With Meraki is on Pickaroo by the way), there is a newfound novelty in stepping into a well thought of space. Kitane wants you to visit and come out better than you did coming in, "I want them to leave the place happier and more alive."
Visit With Meraki Caffeteria at Ground Floor, 6032 R. Palma St. Poblacion, Makati City (Beside 7-eleven). Store hours are 11 AM - 8 PM, Tuesday - Sunday. Check out their full menu here or order via Grab. For inquiries, call 0917 166 3435.
Photographs by Jar Concengco