Guests Create, Nourish, Stay And Heal At With Meraki Forest Farm, A Retreat That Promises Wellness With Purpose
Don't just experience wellness—live, breathe, and take it with you wherever you go, too
How much of what you do is done with purpose?
When you get dressed, do you deliberately pick out clothes that make you feel your best and ready to conquer what the day holds, or do you haphazardly choose whatever T-shirt is at the top of the pile and leave it at that?
When you take a spoonful of food to your mouth, do you take the time to nourish yourself—not only by refueling your body, but also allowing your mind to take a breather during meals—or do you devour the contents of your plate as quickly as possible, eating only because you must?
And when you fluff your pillow in time for a good night's sleep, is it done out of habit or out of a desire to make make sleep even more restful, a silent "thank you" to yourself for a job well done in the day?
There's a way to living life more intentionally than we've been accustomed to and there's a word that sums it all up, too. To the Greeks, they call it meraki—allowing your very essence to flow into whatever you do, to live and do with soul, creativity, and love.
And if there's a place to visit that lives, breathes, and even teaches us all to live with a little more meraki one day at a time, it's Barbara Kitane's With Meraki Forest Farm, a peaceful Tagaytay enclave that lives up to the beauty of the word its named after.
"It barely started and it has already evolved," smiles Barbara as she thinks of how much her passion project has grown to great heights and lengths, much like the trees, flowers, and fresh produce that thrive at With Meraki Forest Farm. What she started in December is now quickly growing into a small business that not only benefits herself and her family, but the local enterprises it partners with and the environment at large, too.
All it was what a weekend getaway in the beginning. Barbara had grown up longing for drives out of town to places where she could commune with nature and find a home—one that's more spiritual, rather than physical. And in these times, she would find herself peeling away the burdens of city life and the corporate grind layer after layer to become more acquainted with her core that lay underneath it all.
By profession, Barbara is the CEO of Ampersand Design Think Lab, a group that whips up ideas for publishing as well as sustainable design and branding. It's a high-demand job that in turn, demands intense relaxation on off-duty days.
As Barbara recalls, "March to June [last year] was our busiest time in the studio writing and designing sustainability reports for a few conglomerates, so I didn't notice night from day."
"ECQ lifting and delivering all reports at the same time in June signaled the time to go to the farm, where my kids and I would go on alternate weekends to relax and get some fresh air, except this time, online schooling gave us the perfect opportunity, much dreamt of, to stay in the farm. Initially, we just brought a piece of luggage or two full of our clothes. A month later, I brought all my books and dinnerware to the farm. See, those are signs that I moved semi-permanently," she continues.
The semi-permanent move opened up the opportunity to develop the property, and in Barbara's researching for what she could do next, serendipity took its cue and introduced her to meraki for the first time only for her to realize that she'd been living the meraki way all this time.
"Living for me means one is attuned in mind, body, and spirit to your unfolding and evolving purpose. Life is one big practice—like yoga. Life is not one distant dream. It's every moment. Tomorrow can be very different from today, or can stay the same. It's up to you and your idea of how you should live well, your version of happiness, peace, love, and beauty. You learn that as you go," she shares.
Hence, the next step for Barbara became clear. It wasn't to build her forest farm purely from the perspective of a land developer, but instead, to build its philosophy and determine the set of values that would guide its expansion, the people who work there and eventually, visitors that book a stay or a dining experience with them.
In a few short weeks, Barbara came up with four "experience pillars" for the Meraki brand: to create, to nourish, to stay, and to heal.
All four pillars are grounded on the experience of meraki in nature.
"I've always known that I like the pursuit of multi-cultural, faceted and disciplinary experiences, [and] that includes people and environments. Nature is a sure bet of an environment or setting where I've seen where people feel better, myself included," Barbara tells us.
That, and coming to the realization that whatever one does, it has the potential to be the most rewarding thing. As long as meraki is the guiding force behind an action, the mundane, the intimidating, and the challenging can become quite special.
So far, Barbara has concentrated on two experiences for visitors at With Meraki Forest Farm: seed-to-palate dining and booking a stay for a night or two.
The term "seed-to-palate" in dining experiences is unique to the forest farm.
About it, Barbara details, "I've always thought that seed and palate have stronger meanings than farm to table. I see more humanity in a seed and a palate. Seed has so many symbolisms—young, beginning, a living thing that needs the nurture of human and other living things. Palate is associated with the many ways (through how food is served and prepared) [you] can access a person's experience through her five senses [including taste]... Not to mention, palate has something to do with taste as metaphor for the choices we make on what we consider a beautiful life or object."
Currently, With Meraki Forest Farm grows about 15 percent of the produce it needs for its menu. But Barbara aims to raise that to an impressive 90 percent, where everything from their aromatic spices, salad and garden greens, and local veggies will all be organically grown in the farmland surrounding the bar and bistro.
Don't expect to find reviews about the farm's best-selling dishes, however. Their menu changes daily depending on what's ready for harvesting, though they do regularly offer early breakfast, brunch to lunch, afternoon tea and cocktails, and dinner menus, and they readily accommodate vegan diets, too. As for the number of guests the bistro can accommodate, it's a maximum of 25.
"We have to be agile, adaptable, prepared and creative when we create dishes at With Meraki because it is our goal to be zero processed food—save for organic condiments—organic produce, and 95 percent local yet providing comfort food in various genre and cuisines that our versatile palate and imagination have grown accustomed to eating... We go for the freshness, cleanliness of the raw materials and the integrity of its taste. We have to know how, where and who grew them," Barbara explains.
Barbara takes such great care in her forest farm's dining experience that one of the first heads of staff she hired was her restaurant chef, Ella, who willingly took on the task of co-creating a seed-to-palate menu.
"She resonated very much with the purpose of the place and asked if I was willing to believe in her skills and her grit to make it work. I of course, gave my whole spiel about my values, my beliefs and told her let's see how it goes. She needs to own this. Then we got to work," Barbara reveals.
"I oriented her on the brand, told her about seven chakras, and how those relate to the [colors of the] rainbow and the phytonutrients that you should have on your plate which exist naturally in a plant-based diet," she adds.
Meaningful cooking lessons as well as healing sessions will both be introduced soon.
"For cooking, perhaps it might be deeper than learning to do plant-based milk and butter. They will understand the relationship between their emotional decisions about food and how their food choices affect economies and the environment... For healing, there are different ways to heal other than what physically manifests. We have our emotions, mindsets that affect our decisions and attunement is all about being aware about our sources of blockages and to be able to move past those so that you may reach your creative potential," Barbara says.
Of course, With Meraki Forest Farm cannot be complete without its accommodations, but the farm only accepts select guests at the moment. Limiting the number of visitors also helps her and her team better provide for everyone's needs and personalize every experience.
"When I feel that there is a reason to open my doors to a yearning (through a text or a call, one can sense) to be a here—something resonates with them about the way we communicate—then we agree to host," Barbara shares.
For those expecting a pampered stay, it's best to look elsewhere. This forest farm brings you as close to nature as possible and reminds you of your place in the natural world; you pitch your own tents to sleep in at night, choosing coveted spots that offer unobstructed views of a starlit sky with the tops of trees reaching out to meet the constellations.
If this doesn't appeal to you, you've missed the point of basking in meraki and you may be confusing it with an ordinary weekend vacation. The whole of point of visiting With Meraki Forest Farm is to gain (or regain) self-attunement—the feeling of being comfortable in one's own skin, being able to access the healing powers of being at peace with yourself, others, and your surroundings, and reveling in the interconnectedness of, well, everything in life.
The property is 70 percent forest farm with just 30 percent paved surfaces—one can imagine how deeply enveloped by nature they'll be there.
"It's our purpose to practice what we believe in and to 'make better by design' our gifts [as] co-creators. Each of us is designed differently. We are all capable of self-healing and touching others. 'Create, Nourish, Stay and Heal' are ways for mind, body and spirit need to be attuned to your purpose. That's the end-all for With Meraki," Barbara says.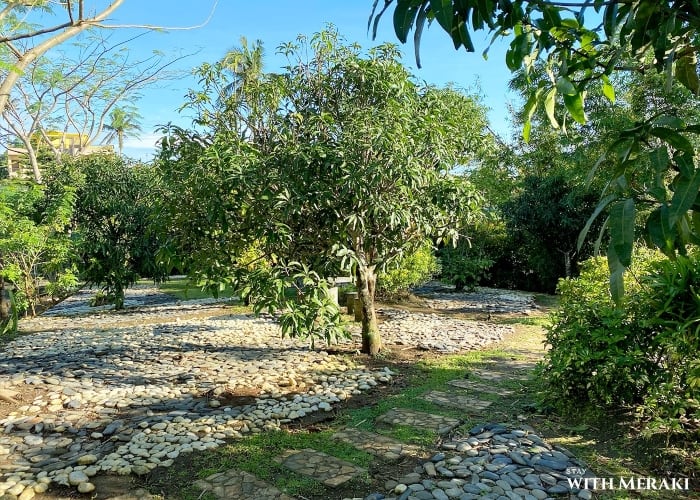 a stay at with meraki forest farm in photos
a stay at with meraki forest farm in photos
"When the purpose is not about the money, while the activity needs to be sustainable, there is much greater freedom to create from a vision. It's really all a practice of our vision of how one lives well and beautifully," Barbara ends.
Barbara's refreshed life that she's living at With Meraki Forest Farm is a far cry from what it was like for her living and working in Makati City's prime locations. In place of congested roads and grueling commutes, there are tree-lined dirt paths that smell of newly unfurled leaves and leisurely strolls. Instead of skyscrapers and a color scheme of dull and muddy grays, there are tree, plant, and flower species whose colors are unnamable by most. And instead of waking up, going aimlessly about one's routine, then going to sleep only to restart the process, there is now meraki which has the power to completely reboot one's way of existing.
Overall, it's a pretty good tradeoff, if we might say so ourselves.
Learn more about With Meraki Forest Farm by visiting their official website.
All images from @withmeraki.co on Facebook