What We Learned About Team Parenting From Couples Bianca & JC Intal And Nikka & Patrick Garcia
By nature, mothers and fathers may have different parenting styles, but at the end of the day, their goals are the same: to raise healthy and happy children
For the longest time, there exists the concept of a lead parent, where either the mother or the father is more involved in child rearing. This usually depends on whoever has a career that is more demanding than that of his or her partner's. Since fathers are typically viewed as providers, mothers oftentimes take on the role of a lead parent. But times have changed, and even mothers nowadays have successful careers they wish to maintain and, thankfully, husbands have become understanding and accepting of this fact. Now, this is where the concept of team parenting enters.
Modern-day parents strive to achieve a balance between working to provide for their children and spending quality time with them to make up for the times they're away. More and more parents today have come to embrace the idea of collaboration and teamwork when it comes to parenting; they strategize on how they can fulfill their duties at work and, more importantly, be fully present in the lives of their children.
At a parenting forum called "When Mom and Dad Team Up, Amazing Learning Happens," organized by Similac GainSchool, celebrity couples Bianca Gonzalez & JC Intal and Nikka Martinez & Patrick Garcia talked about the importance of team parenting and shared the dynamics and parenting styles that work for them and their families.
Team parenting is a concept aligned with Similac GainSchool's dual approach to their breakthrough formula that combines the 2'-FL-HMO (which strengthens the child's immunity) and the 10 key brain nutrients responsible for faster learning.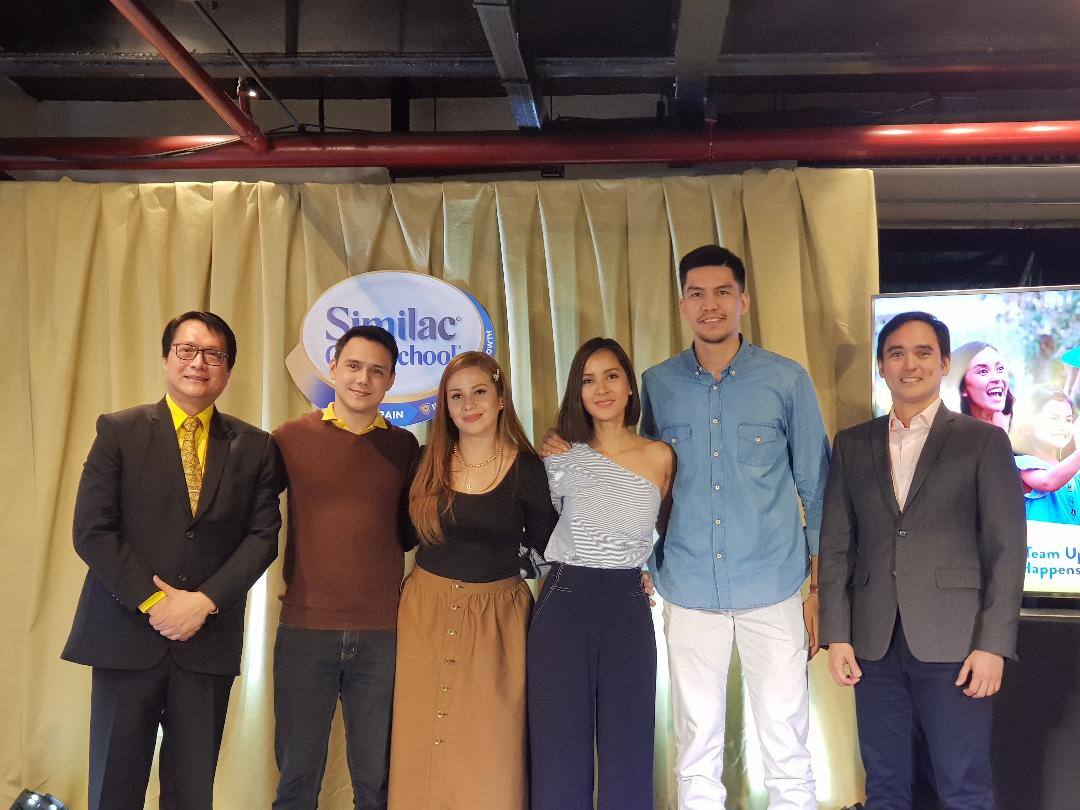 (From left): Pediatrician and child psychologist Dr. Joseph Regalado, Patrick Garcia, Nikka Martinez, Bianca Gonzalez, JC Intal, and Area Medical Director for Abbott's Asia-Pacific region Dr. Jose Rodolfo Dimaano Jr. | Photo by Grace Libero-Cruz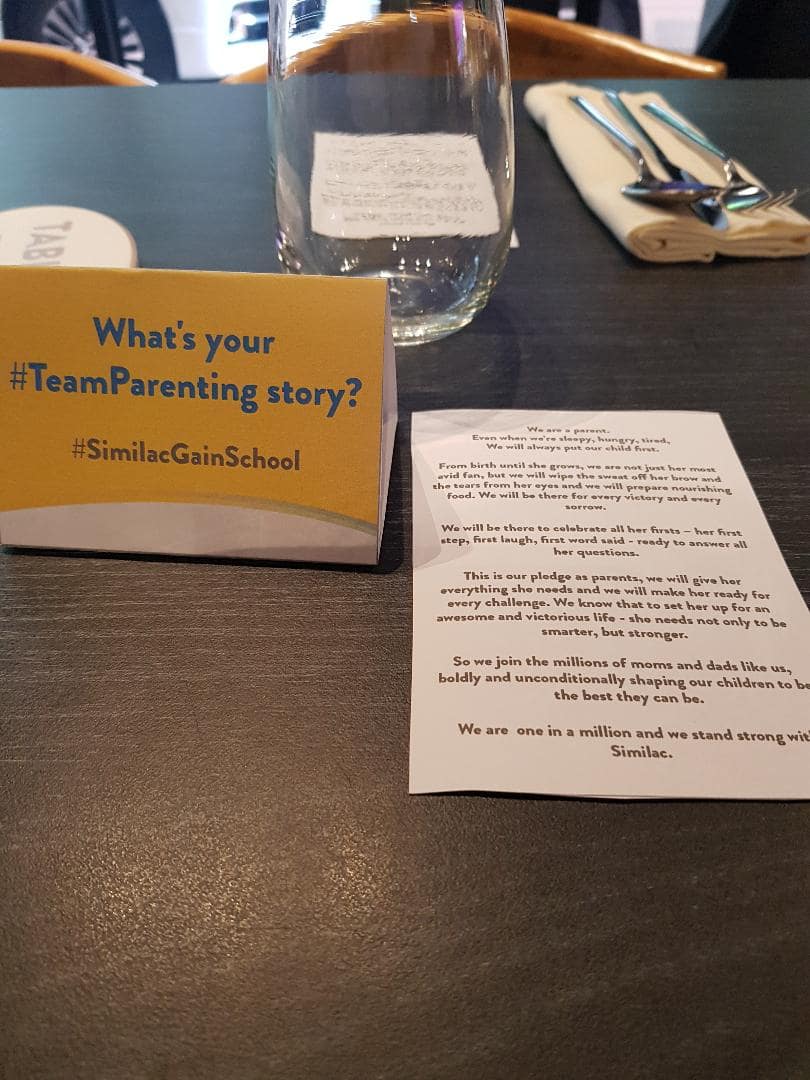 At the forum, pediatrician and child psychologist Dr. Joseph Regalado said, "Research suggests that the majority of parents display a certain parenting style that may or may not differ from that of his or her partner. Thus, team parenting is when these two different parenting styles work in harmony to achieve a common goal—raising their child to be the best he or she can be."
Dr. Joseph also discussed the ways mothers and fathers tend to be different from each other as parents and how these can essentially be used "to create a healthier balance in childhood development." Mothers usually love to cuddle the baby, are gentle or nurturing, and are emotional/spiritual; they also encourage equity and sharing as well as security. Fathers, on the other hand, love to bounce the baby, are rough or challenging, and are real world-based; they also encourage competition and independence.
By nature, mothers and fathers may be different, but at the end of the day, their goals are the same: to raise healthy and happy children. "Shared parenting would enable children to maintain strong ties to both parents," Dr. Joseph added.
Indeed, parenting has evolved and kids can now get the best of both worlds from each of their parents. And when it comes to teamwork, Bianca & JC and Nikka & Patrick set good examples for parents when it comes to complementing each other for the welfare of the kids.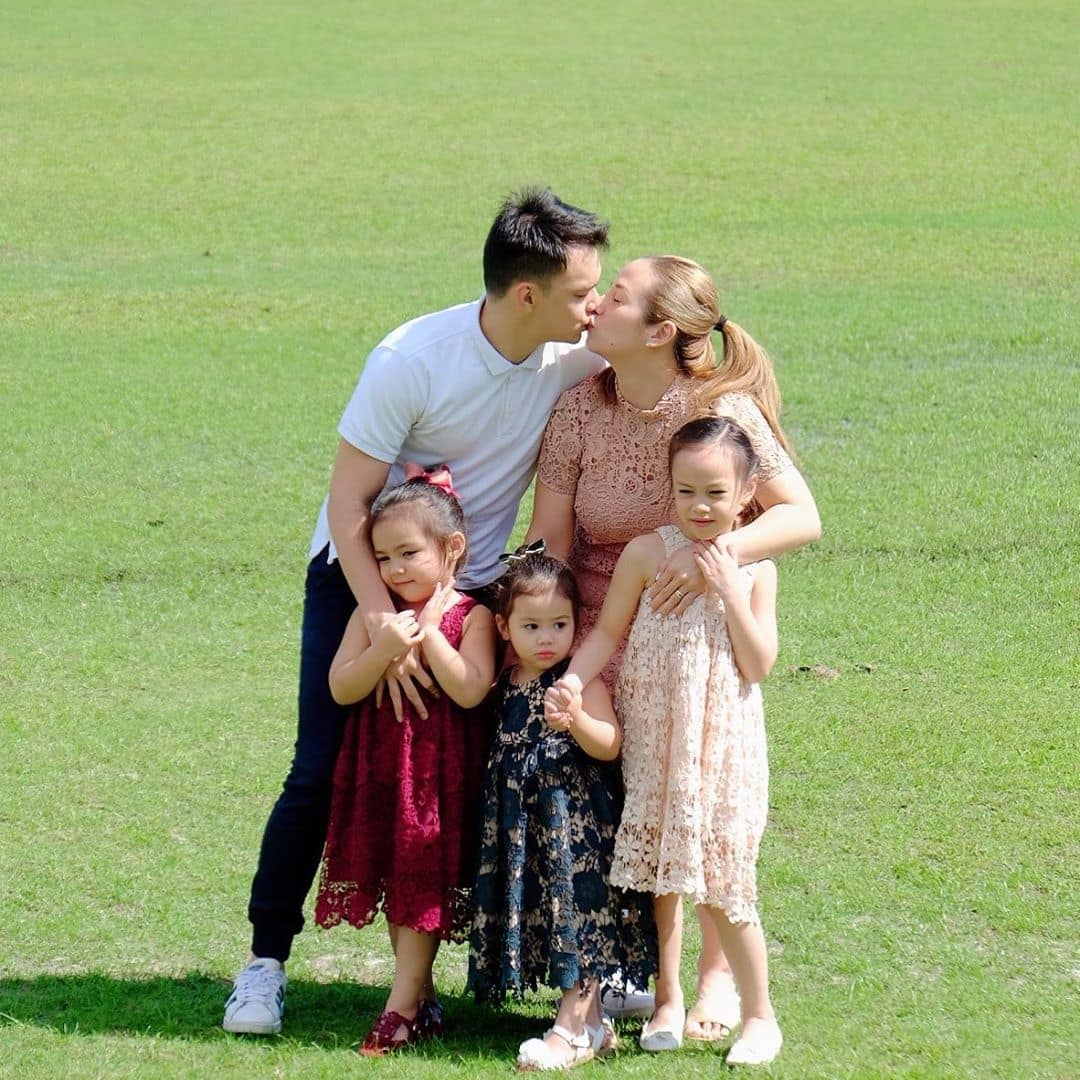 Nikka and Patrick Garcia with kids Michelle, Patrice, and Pia | Photo from @nikkamgarcia
Nikka Martinez and Patrick Garcia
"Each child is different"
Nikka and Patrick not only help their kids discover their gifts and interests, they also make sure to nurture them. They allow their kids to explore and participate in, as Patrick put it, "a combination of physical and educational activities."
Nikka added, "Each child is different so we ask them, we get to know [them], we try this and if they like it, we put them there but... right now, we know that it's very hard to keep them off iPads and phones, so we just make sure that they grew up like how we grew up before with no iPads. As much as possible, we allow, but I'm very strict with screen time; maximum is 20 minutes."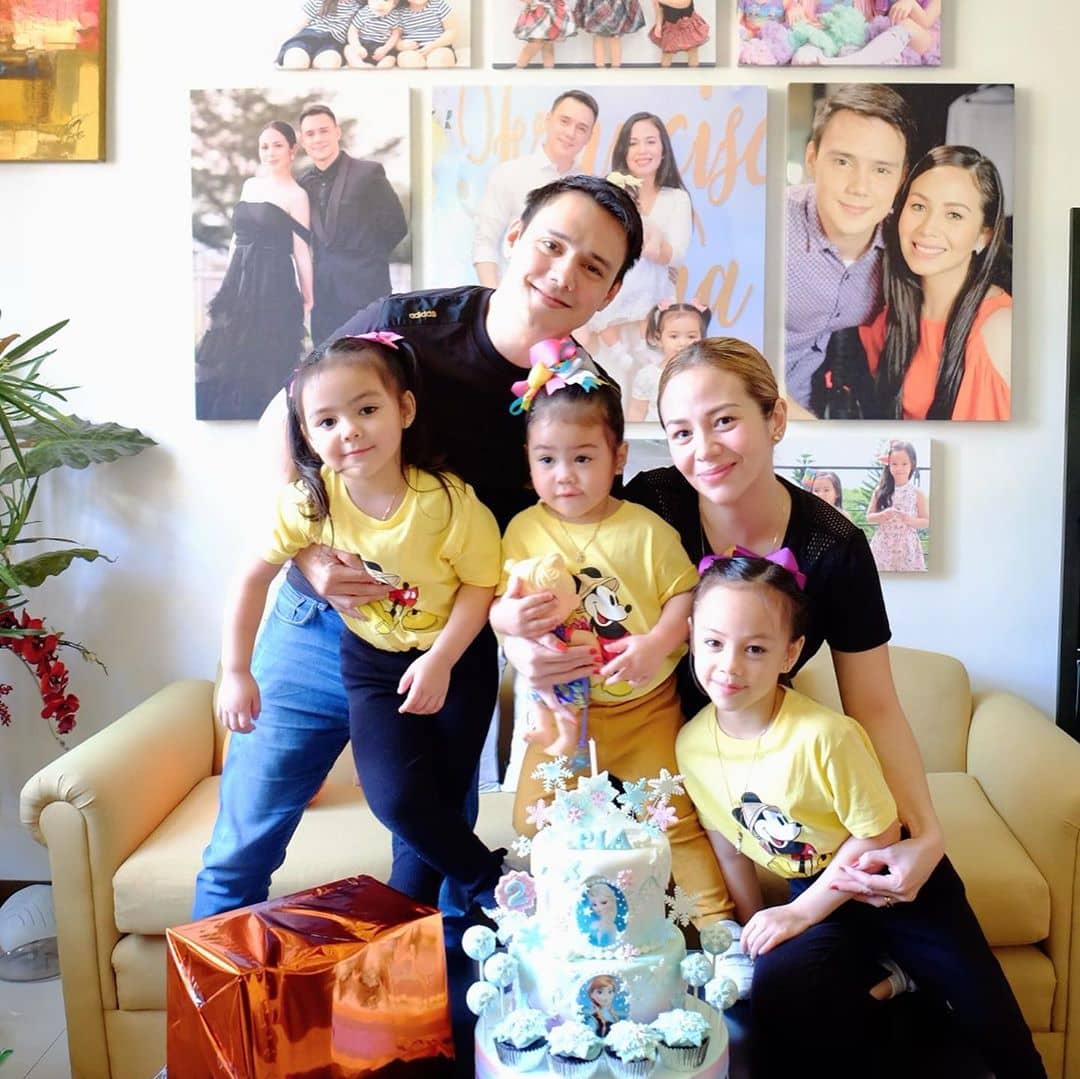 "It's our decision to co-sleep"
Some say that kids who co-sleep with their parents become dependent on them. For Nikka and Patrick, however, they believe in the advantage that comes with this practice. Not only is it more convenient to attend to their kids' needs at night, they also develop deep emotional bonds with them. A disadvantage Nikka pointed out with this setup, however, is that when one gets sick in their family, all of them end up getting sick as well. "It's a challenge because it's so hard to isolate one child," Nikka said. To which, the patriarch added in jest, "Magkasakit na lang tayong lahat."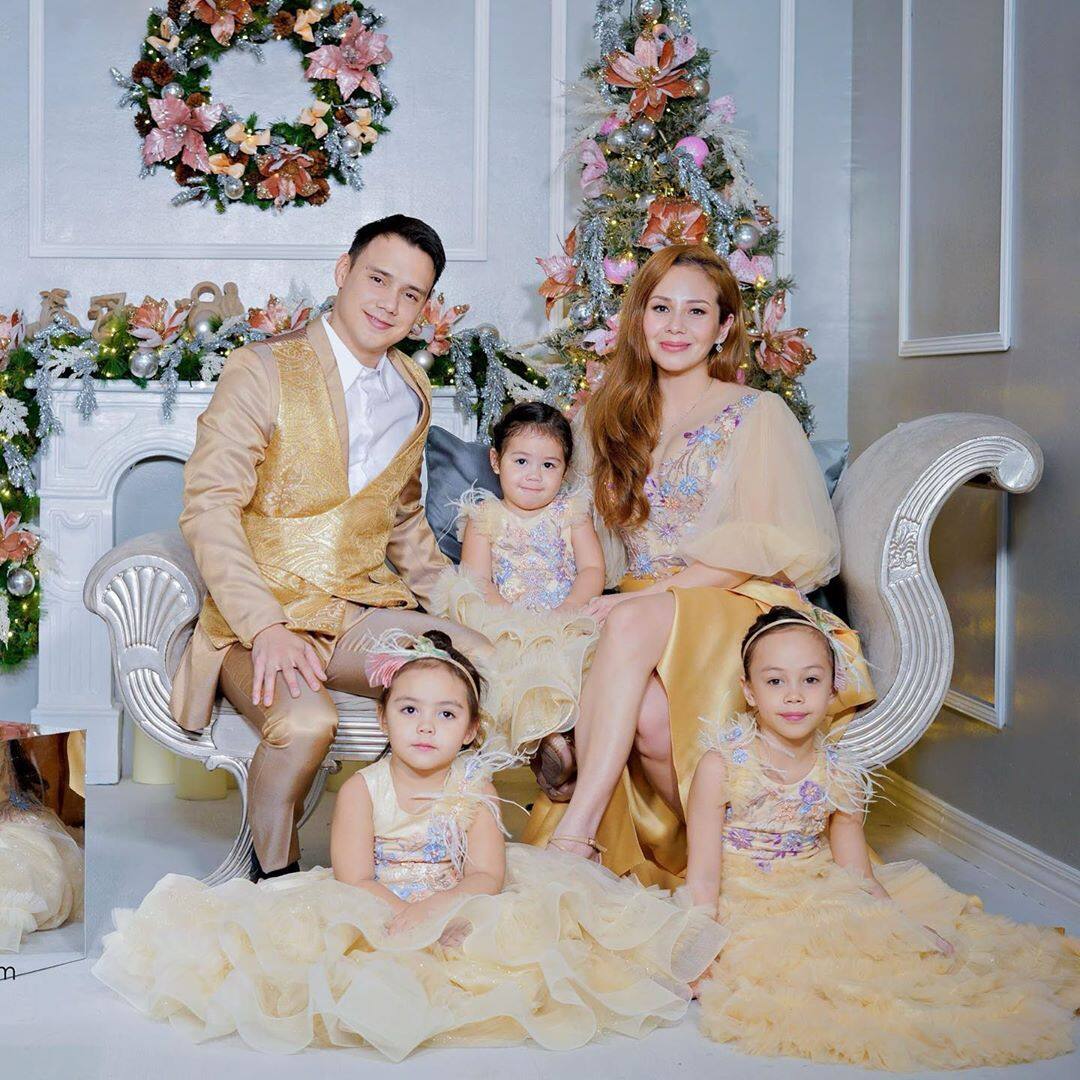 "We believe in palo"
Before you judge Nikka and Patrick, they explained why they spank their kids to discipline them. He said, "Just to clarify about the palo. 'Yung palo namin, it's not to hurt ha, may nabibili sa CCF [Christ's Commission Fellowship], for spanking talaga. A little tap... it's not to inflict pain, it's just for them to remember what they did wrong… it's out of love."
Nikka further said that after they spank their kids, they make sure to talk to them and explain what they did wrong, so they will not do it again. She shared, "We sit them down and explain, 'Okay, do you know why mommy made you palo?' And if you ask them, they'll always answer, 'Because mommy loves me, because mommy wants me to know the right thing to do.' After palo, hindi bahala ka na, no! We always explain and talk to them. Minsan masungit pa rin sila kasi [they'd say], 'you hurt me, you palo me.' I usually give them time but still in the room na they can see and they know na I'm there waiting till they're ready and when they're ready to talk, then let's talk."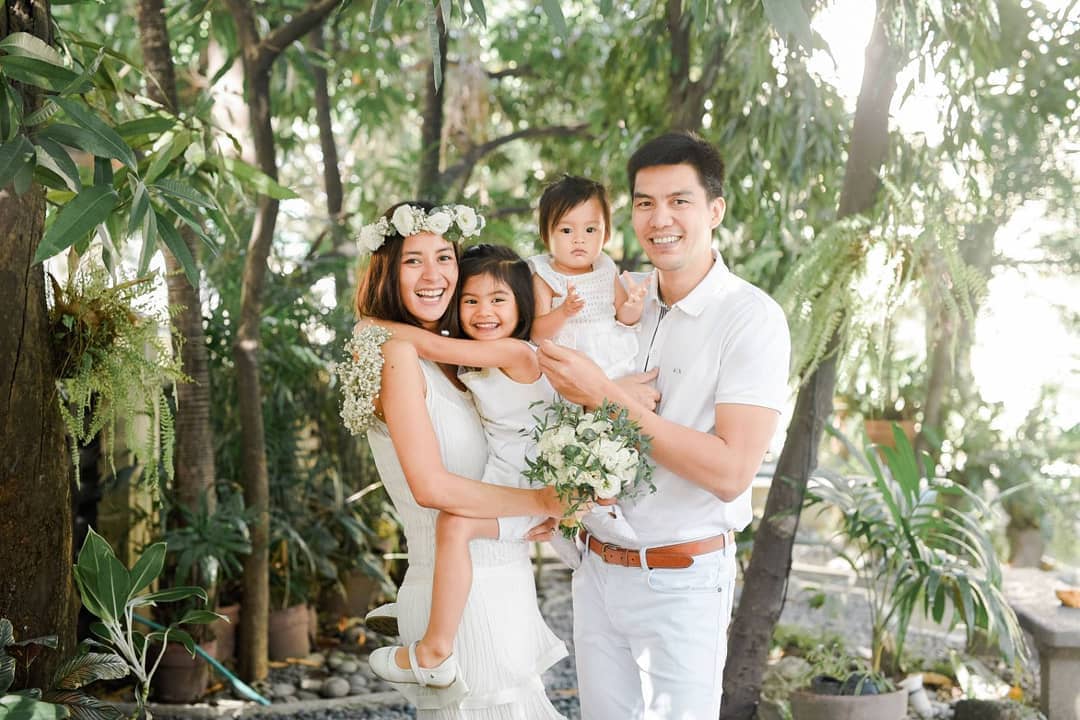 Bianca Gonzalez and JC Intal with kids Lucia and Carmen | Photo from @iamsuperbianca
Bianca Gonzalez & JC Intal
"Even with help, we are extremely hands-on with everything"
Bianca and JC both have full-time jobs so they have helpers who assist them in taking care of their children. This deserves an emphasis, though: having a yaya doesn't make anyone less of a parent. Bianca and JC are proof that it's possible to be responsible parents even when some of their time are devoted to work. Bianca said, "We're so thankful we have help at home, the ones with our kids right now. Even with help, especially in this generation of parents, we're extremely hands-on with everything—what they eat, their schedule. I'm very nazi talaga. Hands-on is still possible even if you have help."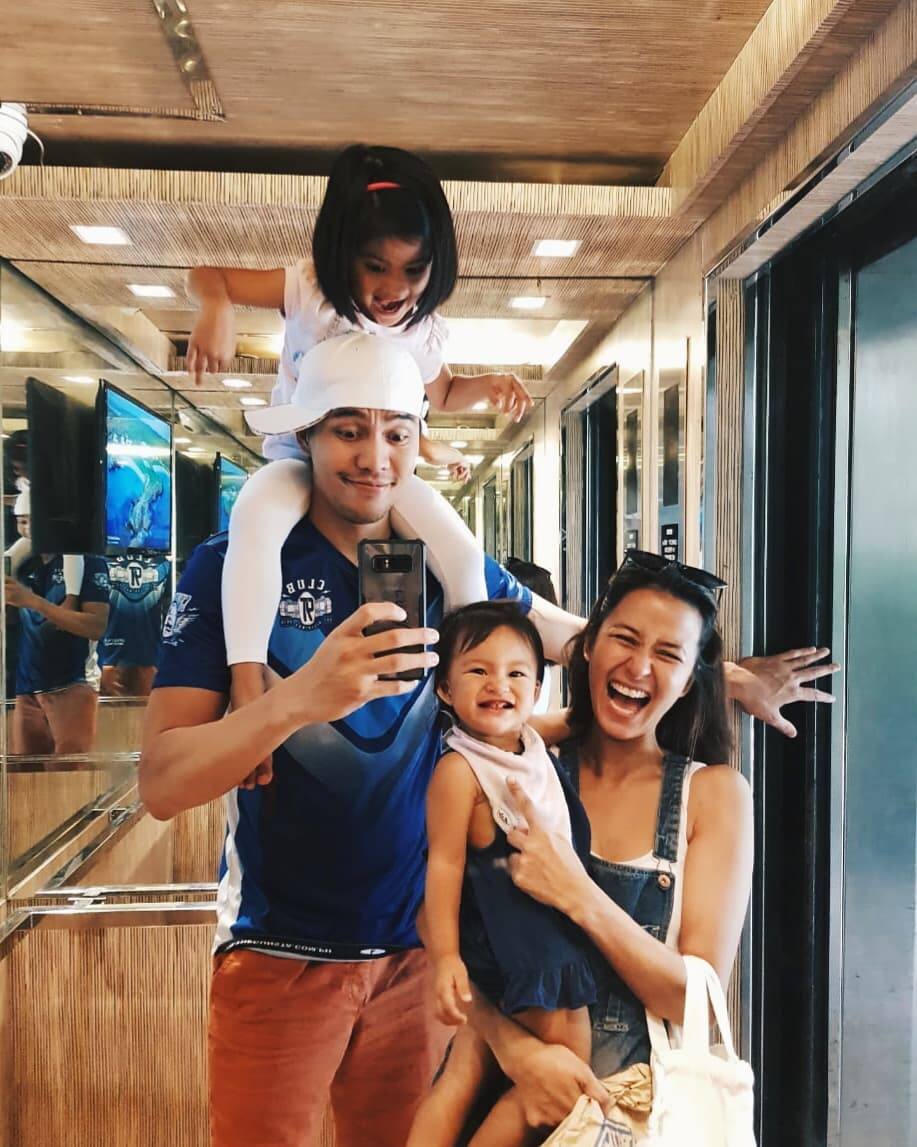 "They have their own communication"
JC acknowledges that he and Bianca don't exactly have the same parenting style, but they make sure their approaches complement each other. He opened up that one of the challenges he experiences as a parent is dealing with kids' sungit or sumpong days.
When this happens, Bianca likes to talk to their toddler Lucia. "A tip I learned that has worked for me that maybe will work on others also [is] 'di ba our toddlers are smaller than us, so when I have to explain to her something, I kneel down so we're eye to eye and explain it to her calmly and she listens. S'yempre minsan may days na nagwawala sila, hindi ka papansinin, bingi-bingihan, you're talking to them and they won't mind you, I'd just say, 'It's okay to cry. When you're ready to talk to mommy, just tell me.' Sure enough, five minutes later, napansin n'ya walang pumapansin sa kanya, she'd go to me [and say], 'Mommy, I'm ready to talk.' Nadadaan din sa usapan, sa mga tingin na malaki ang mata."
When talking to Lucia is not enough to pacify her, JC does the "tampo effect" which Dr. Joseph said is actually effective when it comes to disciplining kids. He shared, "Different approach 'pag kinausap ni Bianca, very calm. They have their own communication. Ako naman, 'Ayaw mo ako pansinin, di rin kita papansinin!' May ganyan kaming drama."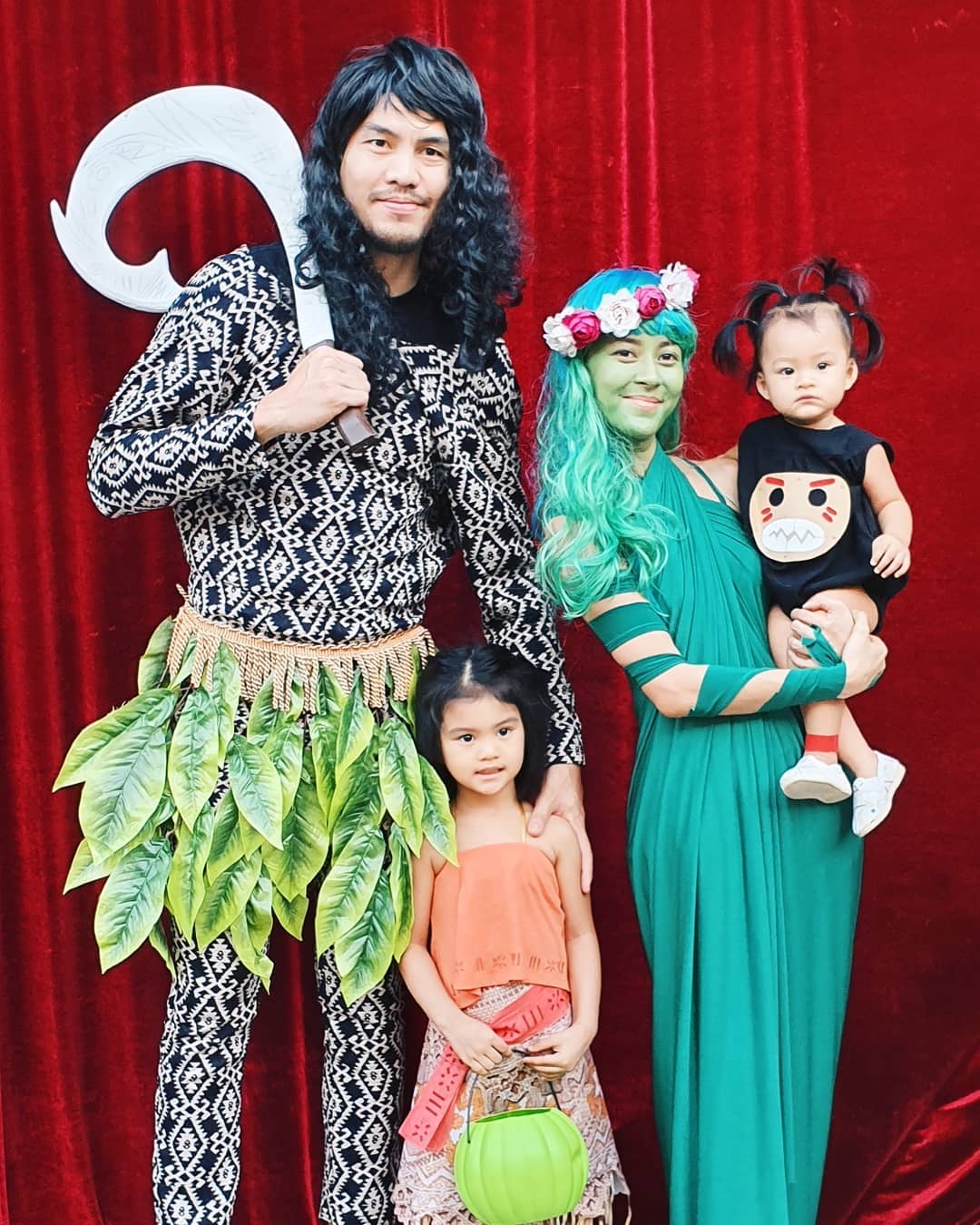 "Stop worrying too much about different parenting styles"
"Teamwork really does make the dream work," Bianca quipped. She opened up that, while she and JC have shared values, she would get worried about how different their approach to parenting is. But later on, she realized that there are ways to go about these differences which could still result to the best for their children.
She said, "I love the team parenting concept. To be honest, before, I would be worried na ibang-iba kami ng style ng parenting. Although we have shared values, 'yung style iba. I would be worried because there are days when I would be out the whole day for work so mas maiiwan sa kanya, so [I would think about] ano na naman 'yung pinayagang gawin?, ano 'yung kinain?, hindi ba natulog?, lumabas ba? But when we were talking to the Similac team and they were explaining, it made so much sense, it made me stop worrying too much about our different parenting styles kasi kung pareho kami, ang boring siguro ng buhay ng anak namin. So it's so colorful that I have a different style from him but at the end of the day, pareho naman kami ng goal, we want her to grow up healthy, happy, good to others, and strong."
Photos by Grace Libero-Cruz (Similac GainSchool event), other photos from @nikkamgarcia and @iamsuperbianca