Last-Minute Christmas Gift Ideas For The Kids In Your Shopping List
It'll be fun to watch them unwrap or unbox these treats!
Christmas is definitely not cancelled! Christmas is for children, and they deserve treats after spending nine months at home under quarantine. By this time, parents must have already bought countless toys and explored many activities just to keep their kids productive and entertained at home. But Christmas gifts will always be special; despite the pandemic, gift-giving this season still must not be skipped, especially for the sake of kids who are looking forward to seeing goodies from Santa Claus under the tree and in the stockings.
The challenge with shopping for Christmas gifts these days, however, is that going to the mall may still be a scary thing to do for some. The great thing is that shopping for anything and just about everything has become so much easier today, thanks to the delivery apps and services that were truly maximized during the quarantine.
One delivery service that we got to try is the #SMCallToDeliver, which makes shopping convenient in just three easy steps. As the famous slogan of SM goes, "We've got it all for you!" Despite the challenges that came with having to quickly adapt to the e-commerce platform due to the pandemic, SM geared up to recreate this shopping experience by putting together a well-rounded The SM Store Catalog website, and offering a selection as wide as possible to include apparel, accessories, and footwear for men and women; home items; beauty products; as well as essentials, apparel, and toys for babies and kids (read: they have a lot of stuff from Baby Company and Toy Kingdom).
So, how does it work? The first thing I did was to dial #143SM (#14376). I spoke to a representative—who got my name, mobile number, and preferred The SM Store branch—and I was told to wait for a personal shopper from The SM Store I specified to reach out to me. In just a few minutes, I got a call from the personal shopper from The SM Store - Megamall, introducing himself to me. I told him I already picked out the specific items I wanted. And so the next thing I did was send him the screenshots of the ones I found on The SM Store Catalog website. (They also accommodate video call ordering, by the way!)
As he already had my contact number, he immediately messaged me on Viber after our phone conversation, and I proceeded with sending him the photos of my choices. He then checked on the availability of the items. He updated me on those that were out of stock and suggested similar products. For those that were available in other colors, he sent me photos of the options and asked me whether I would go with what are available or just replace my picks.
When I was done shopping, he asked me to provide details to process my payment (name, address, contact number, email address, SM Advantage or Prestige card number if available, and mode of payment), and state whether I would pick up the items from The SM Store's designated curbside pick-up point or have them delivered to me. I opted for delivery. There are multiple payment options that include Cash on Delivery, Credit/Debit Card, Contactless Payment Options like GrabPay and Gcash, online payment and even bank transfers; they also accepts SM Gift Cards and SM Sodexo Gift Passes. Then they would either email you a copy of your receipt or send a photo of it through Viber. The last thing for me to do was wait for the items to be delivered to my house the following day.
Just in time for the Christmas season, they also launched their hassle-free 3-Step Call to Deliver Gift-Giving service, which basically works the same as the regular shopping process, only they'll take care of delivering the gifts to your loved ones for certain fees depending on the location. Tell your personal shopper that you're shopping for gifts, and he'll have the the items gift-wrapped for you for free as well!
Check out the gallery below for last-minute Christmas gift ideas for the kids in your shopping list, which we found from both ShopSM and The SM Store Catalog:
*For the #143SM delivery service, use The SM Store Catalog as reference.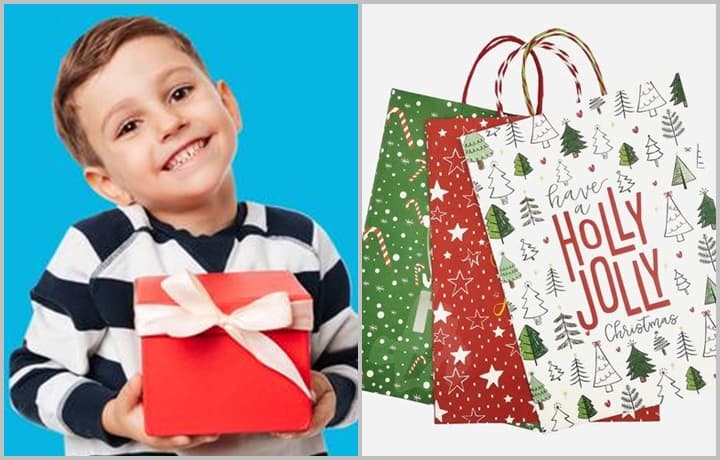 Christmas Gift Ideas for Kids
Christmas Gift Ideas for Kids
Scroll down for more gift ideas for kids:
For kids who love to read, Maricel Laxa-Pangilinan's latest book, "Maya at Laya," will be a great addition to their collection. The story is about two siblings who don't get along with each other; it shares lessons even adults will appreciate! Available for pre-order on National Book Store and bit.ly/AnvilMayaLaya.
These flash cards are not only educational, they look unique too as they feature illustrations whose style is not the typical you see in children's learning materials.
Putting together puzzle pieces is always a fun experience for kids, and the activity itself also has great benefits in their development.
As it turns out, fangirling is an activity that some moms share with their kids as well. If your loved one's kid is into K-pop (we know a lot of kids who are BTS fans aka ARMYs or BLACKPINK fans aka Blinks!), check out this personalized gift set from NY Giftworks; it comes with a mousepad, mug, mask, and cookie. This supplier also has gift boxes especially made for kids!
If you want gifts that will educate kids on relevant topics concerning our society today, Looking for Juan, a Filipino online store for books and art-infused gifts, now carries two new releases from the Center for Art, New Ventures and Sustainable Development (CANVAS): Safe Space: A Kid's Guide to Data Privacy and #YouThink: Fight Fake News. Since a lot of kids spend several hours online daily, it's important for them to be aware of these issues early on, and through these books, the information is presented to them in a manner that's appealing to them. Both books are sold at P300 each at www.lookingforjuan.com.
This cute and educational Ice Cream Soft Toy from Fun Nest is safe to play with, as it's made of canvas and leatherette. Available at Fun Nest's website for P595.
Check out this video for more last-minute gift ideas: