All The Hallyu Stars Spotted At The 2020 Mnet Asian Music Awards, Plus The Full List Of Winners
Wow, it was one star-studded red carpet event! The biggest winner of the night? BTS!
The 2020 Mnet Asian Music Awards (MAMA) was held on December 6, 2020 with an untact (non-face-to-face contact) ceremony in South Korea. The global music festival was star-studded, attended by both K-pop idols and K-drama stars (who were tasked to present the awards). The livestreamed event was hosted by Korean actor Song Joong-ki.
The 2020 Mnet Asian Music Awards, dubbed as "New-Topia," "intended to open a new world of new normal era through [the] power of music;" it explored the possibilities of creating an impact with music and connecting the fans through the virtual world amid the pandemic.
MAMA is organized annually by entertainment company CJ E&M. It has been around since 1999, when it was known as the Mnet Video Music Daesang, airing on TV channel Mnet. It took on different names in the following years: Mnet KM Music Video Festival in 2004 and Mnet KM Music Festival in 2006. It taking on the name Mnet Asian Music Awards in 2009 also meant expanding outside of South Korea and reaching out to more fans around Asia by holding the ceremony in countries like Macau, Singapore, Hong Kong, Japan, and Vietnam in the past. It primarily awards K-pop artists but also recognizes other Asian talents. 2020 MAMA was broadcasted internationally in Hong Kong, Indonesia, Japan, Malaysia, Maldives, Myanmar, Philippines, Singapore, Taiwan, Thailand, USA, and Vietnam.
The biggest winner at 2020 Mnet Asian Music Awards (MAMA) is BTS, as the group won all four Daesangs which includes Artist of the Year, Album of the Year (Map of the Soul: 7), Song of the Year ("Dynamite"), and Worldwide Icon of the Year for the second consecutive year.
Check out the gallery below to see all the K-pop idols and K-drama stars who attended the red carpet event of the 2020 Mnet Asian Music Awards (MAMA):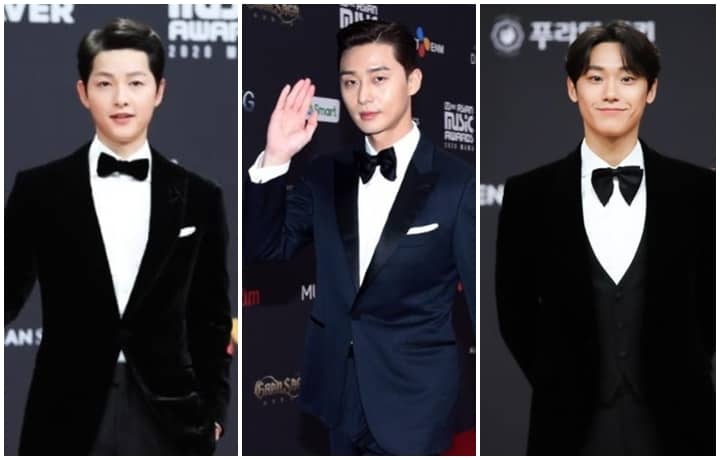 2020 Mnet Asian Music Awards (MAMA)
2020 Mnet Asian Music Awards (MAMA)
Here's the full list of winners:
BTS: Artist of the Year, Song of the Year ("Dynamite"), Album of the Year (Map of the Soul: 7), Worldwide Icon of the Year, Best Male Group, Best Dance Performance Male Group ("Dynamite"), Worldwide Fans' Choice, Best Music Video ("Dynamite")
TREASURE: Best New Male Artist, Worldwide Fans' Choice
WEEEKLY: Best New Female Artist
BLACKPINK: Best Female Group, Best Dance Performance Female Group ("How You Like That"), Worldwide Fans' Choice
EXO'S BAEKHYUN: Best Male Artist
IU: Best Female Artist, Best Vocal Performance Solo ("Blueming"), Best Collaboration (for "eight" - Prod. & Feat. SUGA of BTS)
HWA SA: Best Dance Performance Solo ("Maria")
MAMAMOO: Best Vocal Performance Group ("HIP"), Worldwide Fans' Choice
DAY 6: Best Band Performance ("Zombie")
ZICO: Best Hip Hop & Urban Music ("Any Song")
GAHO: Best OST ("Start" - Itaewon Class)
ATEEZ: Worldwide Fans' Choice, Discovery of the Year
GOT7: Worldwide Fans' Choice
NCT: Worldwide Fans' Choice, Favorite Male Group
TOMORROW X TOGETHER (TXT): Worldwide Fans' Choice, Favorite Dance Performance Group ("Can't You See Me")
TWICE: Worldwide Fans' Choice, The Most Popular Artist
SEVENTEEN: Worldwide Fans' Choice, Notable Achievement Artist, Global Favorite Performer
IZ*ONE: Favorite Female Group
TAEMIN: Favorite Dance Performance Male Solo ("Criminal")
JESSI: Favorite Dance Performance Female Solo ("NUNU NANA")
BoA: Inspired Achievement
MONSTA X: Best Stage
CRAVITY: Best of Next
JO1: Best New Asian Artist
WAYV: Favorite Asian Artist
Asia Music Categories:
OFFICIAL HIGE DANDISM: Best Asian Artist Japan
FUJII KAZE: Best New Asian Artist Japan
G.E.M.: Best Asian Artist Mandarin
CHIH SIOU: Best New Asian Artist Mandarin
INK WARUNTORN: Best Asian Artist Thailand
MILLI: Best New Asian Artist Thailand
RIZKY FEBIAN: Best Asian Artist Indonesia
TIARA ANDINI: Best New Asian Artist Indonesia
BINZ: Best Asian Artist Vietnam
AMEE: Best New Asian Artist Vietnam
Professional Categories:
BANG SI-HYUK: Best Executive Producer of the Year (Artist - BTS)
PDOGG: Best Producer of the Year (Album - Dynamite| Artist - BTS)
YOVIE WIDIANTO: Best Composer of the Year (Maafkan Aku #TerlanjurMencinta by Tiara Andini)
GU JONG-PIL: Best Engineer of the Year (Any song - ZICO)
KWON NAM-WOO: Best Engineer of the Year (Any song - ZICO)
LUMPENS: Best Video Director of the Year ("Dynamite" by BTS)
QUANG ĐĂNG: Best Choreographer of the Year ("Love Note" by BINZ)
MU:E: Best Art Director of the Year ("Dynamite" by BTS)