The Korean Stars Who Attended The 2022 APAN Star Awards
Check out the celebrities and awardees who were present at the annual APAN Star Awards!
The star-studded 8th edition of the APAN Star Awards (or 2022 APAN Star Awards) was an eventful one! Held on September 29, 2022 at the Korea International Exhibition Center (KINTEX), the annual drama awards was hosted by South Korean actor Jung Il Woo and pop artist Kwon Yuri of Girl's Generation (the lead stars of K-dramas Bossam: Steal the Fate and Good Job).
APAN Star Awards celebrates the excellence of K-drama content and deserving recipients who are recognized for their top-tier talent.
The awarding ceremony has again been revived after restrictions on events and gatherings have eased. For the first time in two years, the 2022 APAN Star Awards has yielded its in-person operations due to the onslaught of the pandemic. Spearheaded by the Korea Entertainment Management Association, the celebration gathers the greatest stars in the industry. For this year's edition, the winners included were derived from dramas that aired between March 2021 and July 2022.

Browse the gallery below for the attendees who graced the 2022 APAN Star Awards ceremony and red carpet!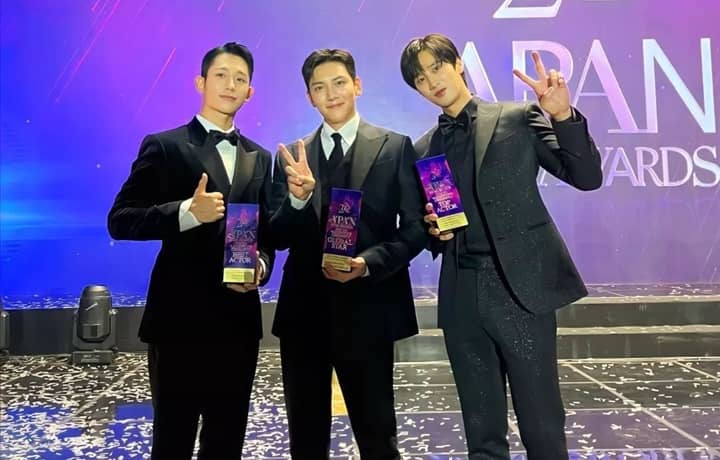 Photo Gallery
Photo Gallery
Here's the list of the winners at the 2022 APAN Star Awards:
Grand Prize: Song Joong-ki
Drama of the Year: MBC's The Red Sleeve
Best Director: Jung Ji-in and Song Yeon-hwa (MBC's The Red Sleeve)
Best Writer: Moon Ji-won (ENA's Extraordinary Attorney Woo)
Web drama: Be My Boyfriend
Short-Form Drama: tvN's Drama Stage 2021 – Deok Gu is Back
Best New Actor: Yoon Chan-young (Netflix's All of Us Are Dead), Tang Jun Sang (Netflix's Move to Heaven, SBS's Racket Boys)
Best New Actress: Park Ji-hu (Netflix's All of Us Are Dead)
Best Supporting Actor: Yoon Byung Hee (tvN's Vincenzo, tvN's Our Blues), Heo Sung Tae (Netflix's Squid Game)
Best Supporting Actress: Kim Shin-rok (Netflix's Hellbound), Baek Ji-won (Coupang Play's Anna, ENA's Extraordinary Attorney Woo)
Excellence Award, Actor in a Serial Drama: Han Sang-jin (KBS1's The All-Round Wife)
Excellence Award, Actress in a Serial Drama: So Yi-hyun (KBS2's Red Shoes)
Top Excellence Award, Actor in a Serial Drama: Joo Sang-wook (KBS1's The King of Tears, Lee Bang Won)
Top Excellence Award, Actress in a Serial Drama: Park Jin-hee (KBS1's The King of Tears, Lee Bang Won)
Excellence Award, Actor in a Miniseries: Jin Sun-kyu (SBS's Through the Darkness)
Excellence Award, Actress in a Miniseries: Yoo Sun (tvN's Eve)
Top Excellence Award, Actor in a Miniseries: 2PM's Lee Junho (MBC's The Red Sleeve)
Top Excellence Award, Actress in a Miniseries: Shin Min-ah (tvN's Hometown Cha-Cha-Cha, tvN's Our Blues)
Excellence Award, Actor in an OTT (over-the-top) Series: Ahn Bo-hyun (TVING's Yumi's Cells, Netflix's My Name)
Excellence Award, Actress in an OTT Series: Han Sun-hwa (TVING's Work Later, Drink Now)
Top Excellence Award, Actor in an OTT Series: Jung Hae-in (Netflix's D.P.)
Top Excellence Award, Actress in an OTT Series: Kim Sung-ryung (wavve's Political Fever)
Global Star Award: Ji Chang-wook
Best Manager Award: BH Entertainment's CEO Son Seok-woo
K-Pop Label Award: KONNECT Entertainment
Idol Champ Best Couple Award: Park Seo-ham and Park Jae-chan (Semantic Error)
Idol Champ Female Popularity Award: Park Eun-bin
Idol Champ Male Popularity Award: Park Jae-chan
Lead photo from @bohyunahn