Celebrities Who Graced The 2022 Seoul International Drama Awards Ceremony
Check out the standout stars who attended the awarding ceremony of the 2022 Seoul International Drama Awards
Seoul International Drama Awards, or simply SDA, is an annual award-giving body that grants acting awards to talents for drama on television. The festival gathers the finest actors and actresses on a global scale to give recognition to deserving recipients.

Organized by Seoul Drama Awards Organizing Committee and Korean Broadcasters Association, SDA seeks to increase interaction among production professionals, advocate cultural diversity, champion the Korean Wave culture across countries in Asia and abroad, and promote healthy participation in festivals and relevant functions.
The 2022 Seoul International Awards, which was held at the KBS Hall of the Korean Broadcasting System headquarters in Seoul, South Korea, was a star-studded event. It is hosted by entertainers Eunji of girl group Apink and award-winning actor Joo Sang-wook.
Top entertainment personalities such as Korean singer-songwriters Kang Daniel, Jang Woo-young, and Son Na-eun, actresses Jeon So-min, Kim Gyu-ri, Jun Hyo-seong, actors Park Hyuk-kwon and Choi Jin-hyuk, French actor Robin Deiana, Indian actor Anupam Tripathi, Japanese actor Yusei Yagi, and Filipina actress Belle Mariano were present.

To celebrate SDA's comeback, the post-pandemic affair also showcased stunning performances by participating idol groups including South Korean boy band The Boyz, girl group STAYC, and singing sensations La Poem and Maytree.
Recognized at the 17th Seoul International Drama Awards were the following recipients from across Asia: Outstanding Asian Stars Belle Mariano, Wallace Chung, Yusei Yagi, Alice Ko, and Krit Amnuaydechkorn; Outstanding Korean Actor Kim Seon-ho; Outstanding Korean Actress Jisoo; and Outstanding K-Pop Idol Actor Kang Daniel.
The red carpet run and awarding ceremony's live coverage aired on KBS2 TV and Seoul International Drama Awards' YouTube channel on September 22, 2022.

Check out this gallery of celebrities who attended the annual awards: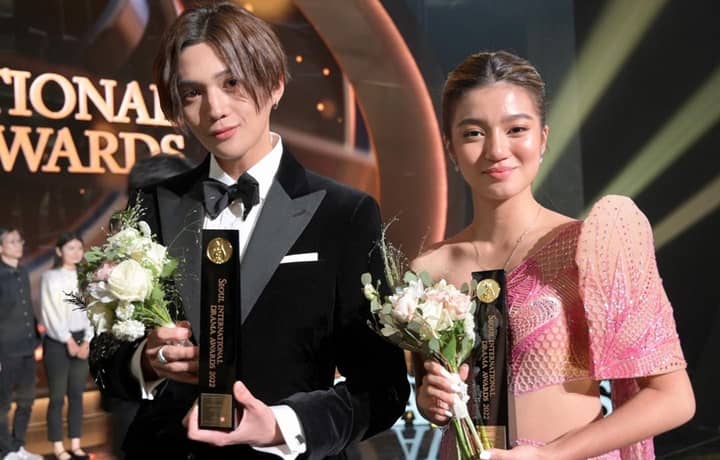 Photo Gallery
Photo Gallery
Lead photos from @yuseiyagi_official and courtesy of KBS