What We Know About Katy Louise Saunders, Song Joong Ki's Wife
Get to know the woman whom Song Joong Ki thanks for making him "a better person"
UPDATED - On January 30, 2023, Song Joong Ki broke the news that he and British actress Katy Louise Saunders are married and even more, expecting their first child.
Previously based in Italy, Katy figured in a dating rumor with the South Korean actor in December 2022. However, upon learning about her pregnancy, she seems to have moved to Korea now with her parents, as Dispatch has revealed photos of Katy shopping for baby clothes with her mother there. Dispatch further reported that the couple has been living together in a villa in the neighborhood of Hannam in Seoul since last spring, reportedly in a house that's worth 20 billion won (or approximately $16 million). Song Joong Ki's agency, however, chooses not to comment on the report as it's about the actor's private life.
Joong Ki's talent management agency HighZium Studio originally announced and confirmed back in December that he is in a relationship. An exclusive report from Sports Chosun also previously stated that he's dating "a non-celebrity from England," but fans were speculating otherwise.
True enough, it turned out that the 38-year-old actress has appeared in a slew of television and film projects, making her a celebrity figure. Although it appears that she is not active in the entertainment scene anymore, as the 2018 movie Welcome Home seems to be her last acting project. Still, having been part of some Hollywood projects and several Italian films, her acting chops are worth taking note of.
During Joong Ki's acceptance speech at the APAN Star Awards 2022 where he won a Daesang award, the actor mentioned and thanked Katy as well, further confirming that the two have been together for quite some time.
In his official fan site, Joong Ki penned a touching message, announcing his marriage to the actress. He also mentioned that they have just "welcomed a precious life." "I wanted to share the happiest and most important promise in my life with you all. I have promised Katy Louise Saunders, who has been supporting me and sharing time together, to spend the rest of my life together," he started. "She is a wise and amazing person, who I admire. Thanks to her, I'm becoming a better person."
Who is Katy Louise Saunders? Get to know her better through the 10 interesting trivia below: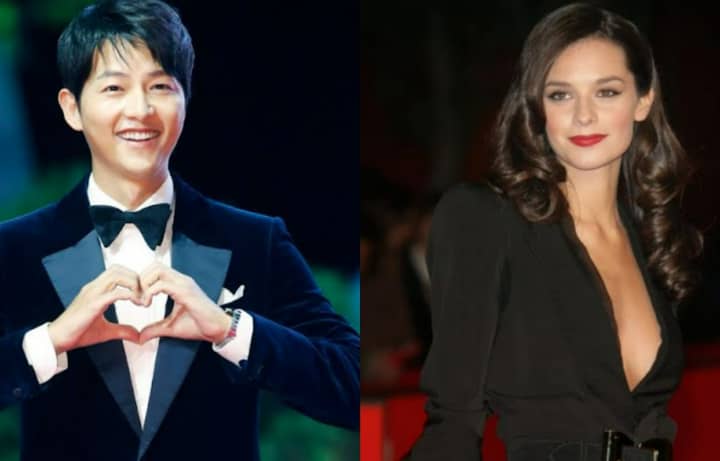 Photo Gallery
SWIPE LEFT OR RIGHT
TO NAVIGATE BETWEEN PAGES
Katy is half-British, half-Columbian.
Photo Credit: www.imdb.com
The British actress is a year older than Song Joong Ki.
Photo Credit: www.zapzee.com
She has a degree in Business Administration.
Photo Credit: www.imdb.com
She debuted in 2002 as an actress.
Photo Credit: www.imdb.com
Her acting portfolio is notable.
Photo Credit: www.popbela.com
She was cast in the film "Third Person," which is top-billed by Hollywood veteran Liam Neeson.
Photo Credit: www.mtvhustle.com
She is said to be working as a Language teacher.
Photo Credit: www.tnasrl.net
She has two dogs that Song Joong Ki mentioned in one of his speeches.
Photo Credit: www.singtao.com
She seems low-key when it comes to social media.
Photo Credit: www.imdb.com
She has snagged an acting award.
Photo Credit: www.imdb.com
Lead photos from www.pinkvilla.com and www.imdb.com