It's Official! Alex Gonzaga And Mikee Morada Are Married
The actress, vlogger, and host is now Mrs. Morada. Check out the scenes from their intimate wedding
Alex Gonzaga and Mikee Morada are married! The wedding announcement was done via a vlog, titled "We're Married!," which coincided with the actress/host/YouTuber's birthday yesterday, January 16. Since it's a special episode, Mikee joined Alex in her vlog, where she declared that she is now a "misis."
Just a minute into her 11-minute-long vlog, Alex mentioned how netizens had been asking her when she and Mikee would tie the knot after getting engaged in December 2019. Alex looked at Mikee, saying, "So, kailan nga ba ang kasal natin?" He let Alex answer her own question. Then she says with a big smile, "Tapos na," while showing off her wedding ring. "Isa na po akong maybahay at isa na po akong wife. Mrs. Morada na ako."
As it turns out, it was in November last year when Alex Gonzaga and Mikee Morada got married. The intimate event was held at the Gonzaga residence in Taytay; the staircase served as her aisle and their living area was where the altar was set up. Their living area is now a special spot for the couple, reason why they purposely shot their vlog at the same location where they said "I do." Only their families and closest friends were present to witness their union.
Alex apologized to the netizens for not sharing this news to them right away, as they wanted to keep this milestone to themselves at first. "We just wanted to keep this for ourselves for a little while to celebrate," the top Filipina vlogger says.
Their decision to get married even amidst the pandemic, according to them, is something they made for their parents to "seal the deal," especially since no one really knows when this global health crisis will be over.
Since the netizens weren't able to witness their wedding, the couple treated them to a reenactment of their exchange of wedding vows. Alex says, "I vow to give you medicine everyday for your vitamins... And I vow to be the best wife I can be. And lastly, I vow to always delete your Call of Duty app." Mikee, on the other hand, tells Alex, "I vow to take care of you always and s'yempre, to always keep you happy. To come home to you. To pick you up from work as much as I can... To love you all the time. I love you."
But towards the latter part of the vlog, Alex shared the same day-edit video from their wedding where the highlights of their special day were shown. In their actual exchange of vows, Alex says, "When I met you I was so used to people always seeing the bad side of me. But when you came into my life, everyday you make me feel like I'm a prized possession, you made me feel like a winner just by being me. Little by little, I'm finding peace within myself." When it was Mikee's turn, he tells her, "Happy na happy ako na ikaw ang ibinigay sa'kin ni Lord. I promise to take care of you gaya nu'ng sinabi ko sa'yo nu'ng una kitang tinanong. I promise to take care of you always and to protect you and thank you for everything also."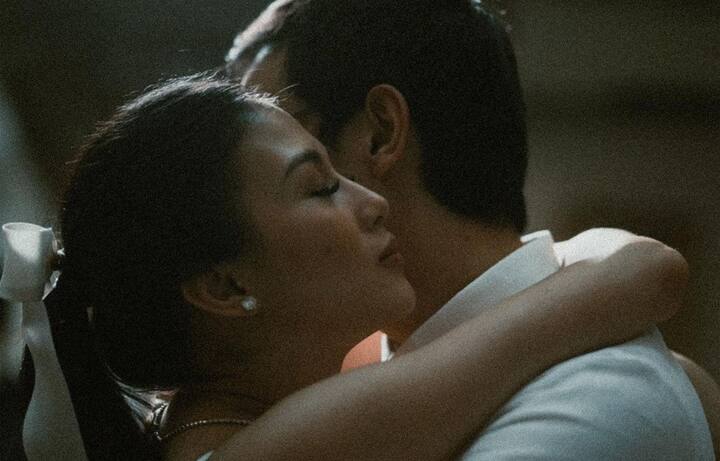 Scenes from Alex Gonzaga and Mikee Morada's Wedding
Scenes from Alex Gonzaga and Mikee Morada's Wedding
Alex wore a white dress with puff sleeves by Rajo Laurel. Their wedding was organized by Christine Ong-Te and her team. The moments from that day were captured by photographer Oly Ruiz of Metrophoto and videographer Bob Nicolas. Event stylist Badang Rueda was in charge of dressing up their home, filling it with white flowers.
At the end of the vlog, Alex tells her family and friends, "We will see you all next year, by God's grace, in a bigger wedding."
Congrats to Alex and Mikee!
Photos from @cathygonzaga | Screenshots from Alex Gonzaga Official on YouTube