All The Leading Men Kim Go-Eun Was Paired With
From Gong Yoo to Jung Hae-in to Park Hae-jin and now, Lee Min-ho, this actress has been showcasing her acting chops opposite these Korean heartthrobs
Without any prior acting experience, she debuted as the female lead in the provocative film A Muse in 2012. Here, she portrays the role of a high school student who takes on a part-time job as the cleaner of a well-known, 70-year-old poet; this literary genius later develops feelings for Kim Go-eun's character and makes her the inspiration for a short story he's penning that explores his sexual fantasies about her.
Despite her remarkable performance in the said film, it wasn't quite the right time yet for Kim Go-eun to pursue this career full-time. So, she took a hiatus to go back to school. Two years later, she starred in the action thriller film Monster which gave viewers a glimpse of this young actress' versatility.
The movies that followed as part of her filmography have further proven her unique onscreen charm that contributes to her extraordinary take on the leading woman mold.
Her television debut was via Cheese in the Trap in 2016, followed by the widely popular Guardian: The Lonely and Great God (Goblin) in the same year.
The 28-year-old actress' popularity soared, thanks to the phenomenal success of Goblin. But while it's a huge blessing for her, it also put a lot of pressure on her when it came to choosing her next projects.
The next movies she did after Goblin—Sunset in my Hometown and Tune in for Love—didn't disappoint. They were just the right projects that Kim Go-eun felt were "less demanding" but are still good.
Her impressive acting skills are part of the reasons why The King: Eternal Monarch is worth looking forward to. After displaying such a great chemistry in her K-Drama with Gong Yoo, it'll be nice to see how she and Lee Min-ho will create magic together on the small screen.
In the gallery below, check out all the leading men Kim Go-eun has worked with: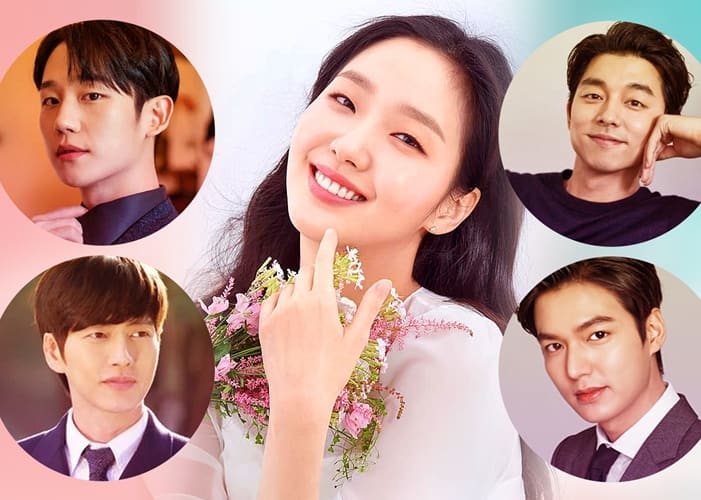 Kim Go-Eun's K-Drama & K-Flicks Partners
Kim Go-Eun's K-Drama & K-Flicks Partners
UPDATE: It's Kim Go-eun's 30th birthday today! Since starring in The King:Eternal Monarch, she also appeared in a short film called Untact with Kim Joo-hun, and she's gearing up for the release of her new tvN K-drama Yumi's Cells with Ahn Bo-hyun.