5 Things We Love About Alodia Gosiengfiao and Christopher Quimbo's Wedding
Welcome to #Quimbodia: This Final Fantasy-themed wedding is out-of-this-world beautiful!
Celebrity cosplayer Alodia Gosiengfiao finally had her forever and "final fantasy" when she tied the knot with Christopher Quimbo. The two celebrated the wedding ceremony at Manila Marriott Hotel's Marriott Grand Ballroom in Newport City on Valentine's, recreating the video game that the vlogger-gamer loves.
Her lifetime partner, businessman Christopher Quimbo, proposed to her last July 2022—not long after asking Alodia out to officially date him. During their supposed "tour" at a vacation villa in Tagaytay City, Cavite, Christopher popped the question, prompting the cosplay queen to come back with a "Yes!"
The newlyweds broke the news to the public in April 2022 that their dating phase had begun, and four months later, Alodia's man finally made an offer of marriage. Alodia Gosiengfiao, as Christopher would describe her, is a woman of depth.
Here are 5 things we love about the Quimbo-Gosiengfiao wedding:

1. The setting
Alodia's wedding is on another world as floral installations, fairy lights, lush plants, and visual projections filled the venue. The fantasy-like event, let alone Gideon Hermosa's artistic set design and styling, is such a sight to see not only for the newlyweds but also for the guests. Based on the adventure game "Final Fantasy",which is Alodia's favorite, the ceremony was a forest full of man-made magic. Gideon tells Metro.Style that the concept is like a "dreamy midnight wedding."
2. Alodia's gown
Alodia was no less than a living nymph as she donned an intricate, dragon-inspired gown designed by the great Mak Tumang. The couturier—who is popular for creations Bulkang Mayon and Ibong Adarna that were worn by Miss Universe 2018 Catriona Gray in the Miss Universe pageant—decided to piece elements together that are expressive of Alodia's limitless imagination. Living up to the bride's wishes, Mak built a multiway masterpiece that can clothe Alodia in three ways, tops. Her groom, Christopher, on the other hand, looked dapper in his stylish black and white tuxedo by Francis Libiran.
3. Alodia's footwear
Created by Shoepatos' founder and chairperson Doreen Odvina, Alodia's custom haute couture mesh boots are made with clear heels and crystals. The embellishments are just as elaborate as her gown, making the two a great match.
4. The cake
Counting is not necessary as the cake's layers in Quimbodia's wedding are a lot to process. Standing tall and strong, the Honey Glaze Cakes piece is coated in classic white and is encrusted with edible flowers, plant forms, and whatnots.
5. Alodia's beauty look
Both the bride's hair and makeup are a huge part of every party, and Alodia's looked stunning. The graceful belle of the ball is brimming with beauty and sophistication as her tresses are squeezed in a low bun by MJ Rone, leaving her a clean-cut appearance. Her makeup artist Thazzia Falek, similarly, applied shades of nude on Alodia's face, framing a natural look. Her lengthy lashes, groomed eyebrows, and winged eyeliner is a great work of art as well.
Check out the wedding ceremony snippets of #Quimbodia through these snaps: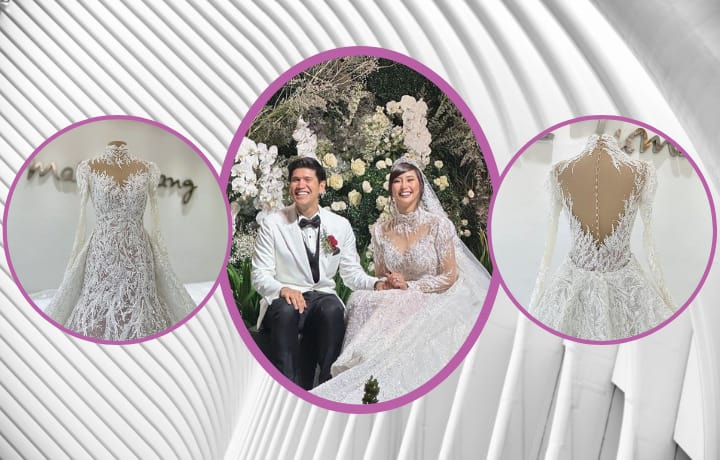 Photo Gallery
Photo Gallery
Bringing this once-in-a-blue moon memory to life is this list of suppliers, who came up with unique concepts and scene-stealing ideas for the Quimbo-Gosiengfiao nuptials: Manila Marriott Hotel, House of Hermosa's Gideon Hermosa, Mak Tumang, Christine Ong Te Events, Trojan Darcen, Always in Motion Live, Forsc Ink Lights and Sounds, Kevin Lapeña, Bob Nicolas, Metrophoto, Shoepatos' Doreen Odvina, Thazzia Falek, MJ Rone, Print Divas, Manila Craft Mixes & Brews, Honey Glaze Cakes, Bella Banquets Rentals, C&L Decor Event Rentals, Forrent, Adrian Ardiente, Michael Jamandre Films, and Manila Philharmonic Orchestra.
Manila Philharmonic Orchestra shared with Metro.Style the lineup of songs they performed at the wedding:
1. "Final Fantasy VII" - the main theme for bridal march
2. "To Zanarkand" (Final Fantasy)
3. "Let the Battles Begin" (Final Fantasy VII)
4.Star Wars medley
5. Highlights from the Wicked
6. "Game of thrones" main theme
7. "Can't Take My Eyes Off You"
8. "[I Love You] More Today Than Yesterday"
9. Harry Potter and the Goblet of Fire
10. Beatles medley
11. "The Arrival of the Queen of Sheba"
Among the notable guests of Mr. and Mrs. Quimbo's wedding are gamers namely Christine Samson, Dexie Diaz, Ann Mateo, Myrtle Sarrosa, and Een Mercado, who are also Alodia's bridesmaids. Drs. Vicki Belo and Hayden Kho, principal sponsors, are present at the event, too. Celebrity couples, entrepreneurs, and content creators were spotted as well such as Mikey Bustos and RJ Garcia, Slater Young and Kryz Uy, Laureen Uy and Miggy Cruz, Tricia Gosingtian and RG Gabunada, Camille Co and Joni Koro, and Nicole Andersson.
Congratulations to the couple!
Lead photos from @alodia and @maktumang