EXCLUSIVE: Andi Eigenmann On The Blessings, Beauty, And Growing Pains Of Motherhood Amidst COVID-19
Though this is one mean wave this Siargao-based mom is going to have to ride, she's confident that she can—and that her daughters can, too!
Certified beach bum Andi Eigenmann has ridden her fair share of mighty waves.
She knows the focus and balance that the biggest and baddest of them require in order for her to make it back to land safely, adrenaline pumping thick in her veins every time she gets it right. Swim, surf, shore, repeat—it's a process she's mastered ever since she moved to Siargao and one she'd gladly go through, day in and day out, should time permit it.
But waves have since taken on a different meaning for Andi since news of the global COVID-19 crisis made headlines earlier this year; the idyllic life she'd made for herself in the teardrop-shaped island is now under threat by the the first—and potentially second—wave of the deadly novel coronavirus that has put much of the world in an unrelenting chokehold.
She not only worries about her own health, either—Andi is a young mom of two. She has two daughters: nine-year-old Ellie and nine-month-old Lilo.
Motherhood is tough enough, so what's a mom to do when the job is made more complicated, more challenging, and definitely more worrisome by an invisible enemy like this merciless disease?
Just as she would before diving into the turquoise waters of her island home, Andi takes a deep breath, prepares her mind for the deep plunge, then says this: be grateful for the good in spite of the bad, and concentrate on the brightness even when darkness abounds.
For Andi, the joys of motherhood are too great to be overshadowed even by the dangers of a pandemic.
Looking at how this experience is shaping her journey of motherhood, Andi divulges what life has been like so far for her, her daughters, and her partner Philmar Alipayo as they collectively ride out the biggest wave they've ever had to come face to face with.
Scroll through the gallery below to read what she shared with us in this exclusive interview: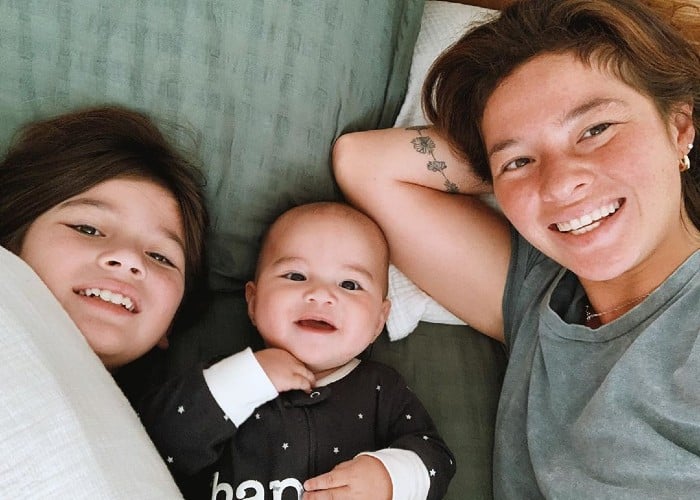 Andi Eigenmann on motherhood under COVID
Andi Eigenmann on motherhood under COVID
Photos from @andiegengirl @chepoxz