Andi Eigenmann Announces She's Pregnant With Her Third Child!
Andi and her partner Philmar Alipayo will welcome another "Happy Islander" soon!
Andi Eigenmann is pregnant with her third child! Andi and her partner Philmar Alipayo announced that they're expecting another baby together through a vlog uploaded on their YouTube channel, "Happy Islanders."
This baby on the way is Andi's third child; she and Philmar have a daughter, Lilo (who turned one-year-old last July 23), and Andi has 8-year-old Ellie from a previous relationship.
Andi's third pregnancy announcement video is actually a special tribute to Philmar, who celebrated his birthday last August 17. In an Instagram post, Andi greeted him, captioning, "I am so grateful to be living life to the fullest with you! I am truly lucky to have you as a partner, and as such an awesome dad to the kids!" They couldn't celebrate this occasion altogether, though, as Andi and Lilo flew to Manila to reunite with Ellie who had been quarantining with her father, Jake Ejercito.
Read our exclusive cover story with Andi Eigenmann, as she talks about her third pregnancy and raising kids with Philmar here!

The radiant soon-to-be mom of three is sharing the news on her third pregnancy away from Philmar, as she's still in Manila with the kids while he is in Siargao.
In Andi's vlog, she gave a heartwarming message to Philmar whom she described as an "all-around funny guy," a "TikTok star," the "best papa in the world," and the best partner she could ever ask for. She tried her best to deliver her message in local dialect Siargaonan, and she did a pretty amazing job with it.
Andi says, "Thank you so much, mahal ko, for everything. Because of you, I'm this happy, and I have a wonderful life. And I hope that you are happy to celebrate another year with us, your family. We can't wait to go back there to the island and be complete again soon with you, me, Ellie, Lilo, and our newest Happy Islander on the way." Then Andi showed her baby bump, confirming that Baby #3 is coming soon!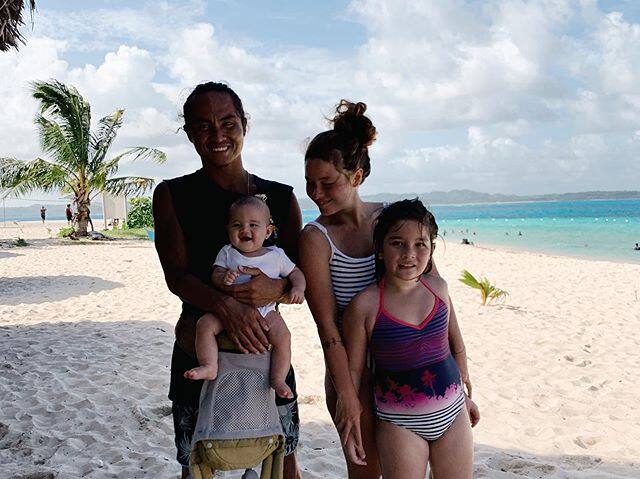 The Happy Island Life
The Happy Island Life
This family of four (five, soon!)—Happy Islanders, as they call themselves—has been based in the beautiful island of Siargao, wherein Andi and Philmar are raising the kids in a fuss-free and, most importantly, happy environment.
Andi's YouTube channel has been around since December 2018, featuring videos of her and her daughter Ellie experimenting with healthy recipes in their Manila condo's rustic kitchen. A year later, her videos got a change in look and feel, as she revamped her channel to suit her life's current mood: fun, casual, full of positive energy, and almost worry-free.
Her first-ever vlog, which now has almost 4 million views, showed her and her kids gearing up for an adventure-filled stay in Siargao while updating their subscribers on the progress of the family home they're building there.
Their YouTube channel has been a favorite since, as they showcase the beauty of their "isla life," the kind of escape many people are looking forward to experiencing after being under quarantine at home in the city for months.
Andi recently trended on social media with her viral photo with Philmar, wherein she's riding a motorcycle while holding a balde. A 10-month-old Lilo captured the hearts of netizens, too, when she was spotted surfing with her dad. And just last month, they shared that they've received their Gold Play Button from YouTube for surpassing 1 million subscribers on the online video-sharing platform.
Now that another baby is joining their adorable family, we can't wait to see more adventures from the Happy Islanders as they celebrate new milestones in their lives.
Congrats, Andi and Philmar!
Lead photos from @andieigengirl