EXCLUSIVE: "Ang Sa Iyo Ay Akin" Star Jodi Sta. Maria On Quarantine Hobbies And The Power To Choose
Jodi shares her meaningful realizations and discoveries while under quarantine at home and shooting on location in a bubble
In case you do not realize it, Jodi Sta. Maria has been in show business for 21 years.
Since appearing in Gimik and Tabing Ilog, making star turns in Be Careful With My Heart and Pangako Sa'Yo, and consistently working and portraying memorable characters, Jodi knows she still has a lot to learn.
With her series Ang Sa Iyo ay Akin now in its second season, and as we head into the tenth month of the quarantine, Jodi has only become more resilient and more persevering, and her faith has only become stronger. "I've learned that it's helpful to be surrounded by people that you trust and people that believe in you and support you," she tells Metro.Style. "Sobrang importante talaga [It is really important], especially in a unique situation like this."
On the show, Jodi plays Marissa, appearing in scenes mostly opposite Iza Calzado, who plays Ellice. Ang Sa Iyo ay Akin tells the story of the once-strong—and, later on, ruined—friendship between the two women, whose fights and tirades are as colorful and dramatic as the clothes they don.
Jodi enjoys the challenge that comes with playing the role of Marissa, a character that she was, at first, hesitant to accept. But after getting to know Marissa better, there was no doubt about it: She was a role Jodi could devote time to, and a role that she continues to learn from.
Thanks to her time in the business, her experiences from life itself, and her faith in God, Jodi has a lot of wisdom to impart—wisdom that she herself tries to apply to her daily life.
Like many of us, the announcement of the lockdown back in March last year also came as a shock to her. "It's something that I personally never thought would happen in my lifetime," she says. "At first it was like, 'Okay, parang vacation [Okay, it is like a vacation].' But then after a week, two weeks, three weeks, and then three months, four months, it started to feel different. I started feeling uneasy. I started feeling anxious and fearful because of the uncertainty of the times."
An actor's life can be different. Unlike many of us working from home, Jodi works from a "bubble"—a lock-in period of about two to three weeks, where she's just with her castmates and their crew. Where she began the quarantine spending a lot of time with her son, Thirdy, who's now turning 15, and her mom, these days she turns to the wonders of technology to connect her to family.
"Nami-miss mo 'yung family mo, so video call na lang kayo or Messenger or Viber," she says. "Du'n mo ipapagpasalamat 'yung may ganu'n tayong klaseng technology. D'un din natin nakikita 'yung beauty ng technology na meron din tayo. Nagkaroon siya ng mas malalim na purpose [You miss your family, so you just do video call or Messenger or Viber. That's where you'll be really thankful that we have technology like that. That's where we see the beauty of the technology that we have. It had a deeper purpose]."
"I'll be inside the bubble, and alam mo 'yung hindi maiiwasan na [you know you can't help but], 'What if something happens?' I began to feel anxious, but then I just really have to trust the process. God allowed this taping to still go on, to continue. There must be a lesson, a purpose why we're still here, why we're still working, why this is still happening. I just have to shift my focus, my anxiety, my fears and worries to the positive side, the outcome, the lessons I could glean from whatever is happening."
No man is an island. You will have to admit that you will need help. You have to admit that you will have to rely on other people for wisdom, skill, knowledge, for so many things. A lot of research siyempre will help. I've also learned that it's helpful to be surrounded by people that you trust and people that believe in you and support you. Sobrang importante talaga, especially in a unique situation like this
- Jodi on what she discovered when she began breathing life into her character in Ang Sa Iyo ay Akin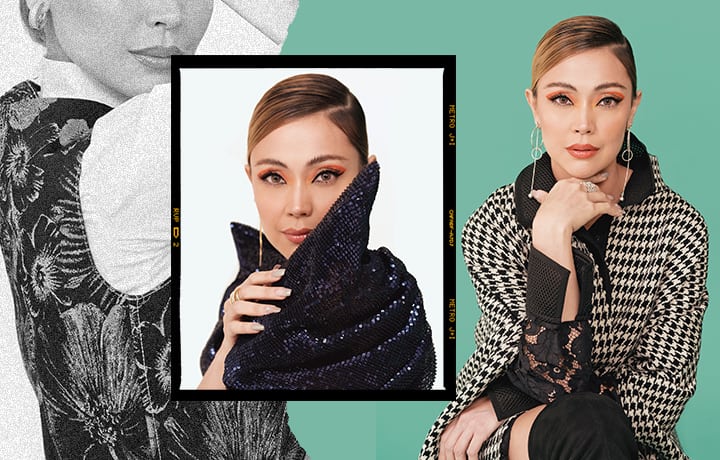 "Ang Sa Iyo ay Akin" Star Jodi Sta. Maria
Jodi is a very optimistic person, always looking at the positive side of things, without veering into toxic positivity. She understands and knows the importance of feeling the negative emotions, of grieving, mourning, and yes—even complaining. But she knows, too, not to dwell on those feelings. "You acknowledge your emotion, but then you don't unpack there, you don't live there," she says. "You stand up and you keep moving. What's important is that we don't get stuck."
She had to remind herself this, especially when the ABS-CBN shutdown happened. In order to take care of herself, she had to remember to ask herself: Why is this happening? What can she learn from this? What is the situation trying to teach her?
Most of all, Jodi acknowledges her privilege—not everyone is blessed to still have a livelihood during the pandemic, and it breaks her heart to know colleagues who have been retrenched because of the shutdown. If anything, she offers what she can: words of encouragement.
"Each time na nakakausap ko sila [Each time that I get to talk to them], I would just tell them that this may be a redirection and that the shutdown doesn't mean it's the end of your destiny or it's the end of you. Look at it as a transition, a redirection. Sometimes kasi diba 'yung setback ng plans natin are actually setups for a great comeback [Sometimes the setbacks in our plans are actually setups for a great comeback]. We have to be hopeful that sooner or later that great comeback will happen. We don't know when, we don't know how, definitely it's not going to be easy, but what we are sure of is it's going to happen. We just have to be hopeful, be faithful, and just keep going."
That's what keeps Jodi going, after all. Faith, and a lot of love from her support system: her family. As a mom to a teen, she sees how Thirdy struggles with the online setup of school, but she's proud to have raised a son who knows how to adapt to the times and who understands what's going on. "I know how challenging it is for him but I had to explain that it's something that's not permanent, it's temporary," Jodi says. "I know that there will be better days, we just have to be resilient. He has to adapt to our current situation because that's the only way for us to survive. And he understood."
Like many of us, too, the quarantine has allowed Jodi to discover new things about herself, including new hobbies. Recently, she's gotten into aromatherapy, concocting all kinds of essential oils and blends, from a lemongrass-based bug spray to one that helps with anxiety and sleep.
As an introvert and travel junkie, the lockdown surely has its ups and downs for her. Being at home for days at a time wasn't a major adjustment for her—she likes her alone time, after all—but she did start getting antsy the moment the lockdown began stretching further. But she also loves to travel; she loves immersing herself in other country's cultures, getting to know a place's heart and people. She says, "For somebody who has been bitten by the travel bug, you get this… parang [it's like] my feet are itching to travel."
Once the pandemic ends, Jodi shares, she'd like to return to Africa. "I've been there a couple of times already but there's something about Africa that really draws me to keep on coming back. It keeps me grounded. Iba 'yung feeling ko when I'm there [I feel different when I'm there]. [I would like to go to] Madagascar and Namibia. I also want to do an expedition to Antarctica."
The year has been difficult and challenging for many, and one can only hope for a better one ahead. For Jodi, one thing is clear: Life is all about choices, and life doesn't stop for anyone.
"We have the power to choose," Jodi says. "What are we going to do with what's presented? We can whine, pero bigyan mo na lang ng deadline 'yung sarili mo [We can whine, but just give yourself a deadline]. There's an expiration date. Give yourself time, if you need to mourn, if you need to grieve because of the losses. Maybe it's a loss of a job, or an opportunity, or maybe a loved one. Just don't get stuck. 'Yun lang talaga [That's really it]. Life will go on and life should go on."
Catch "Ang Sa Iyo Ay Akin" Mondays-Fridays, 8:40 p.m. after "FPJ'S Ang Probinsyano" on Kapamilya Channel, Kapamilya Online Live, and A2Z Channel 11 (free TV and digibox).
Photography by Cha Lico-Santos
Creative direction and production design by Chookie Cruz
Sittings editor: Kat Cruz-Villanueva
Makeup by Ting Duque
Fashion Styling by Patricia Coronado
Hairstyling by Jay Wee
Shoot coordination by Judy Arias and Cara Tirona