Angel Locsin And Neil Arce Are Married! See Scenes From Their Intimate Civil Wedding
Say hello to the new Mr. and Mrs.!
Angel Locsin and Neil Arce are married! The couple tied the knot in an intimate civil wedding ceremony.
On Instagram, Angel announced the happy news on August 7 with a black and white couple photo, captioning, "And just like that."
Angel Locsin and Neil Arce got engaged in June 29, 2019, but they had to postpone their wedding preparations due to the pandemic. The simplicity of their engagement pictorial by Metrophoto noticeably carried over to the look and feel of their wedding, as beautifully captured by NicePrint Photo this time around.
Angel Locsin and Neil Arce's wedding was executed with the help of event planning team La Belle Fête. The couple donned matching black and white ensembles. The bride wore a white inner top and black pants, topped off by a white blazer, and carried a bouquet by event stylist and florist Randy Lazaro. The groom, on the other hand, was clad in a white pullover and black pants.
Our exclusive cover feature on Angel last September was photographed by Neil. In our interview with the couple, they talked about having to redo their wedding plans because of the pandemic. Angel shared in jest that Neil was more of a "bridezilla" because of his take-charge attitude, but that both of them ultimately wanted a wedding that's "chill and relaxed," as Neil himself put it. Since they're a no-frills kind of couple, that was the exact personality that shone on their special day.
Check out the gallery below for more photos from Angel Locsin and Neil Arce's wedding: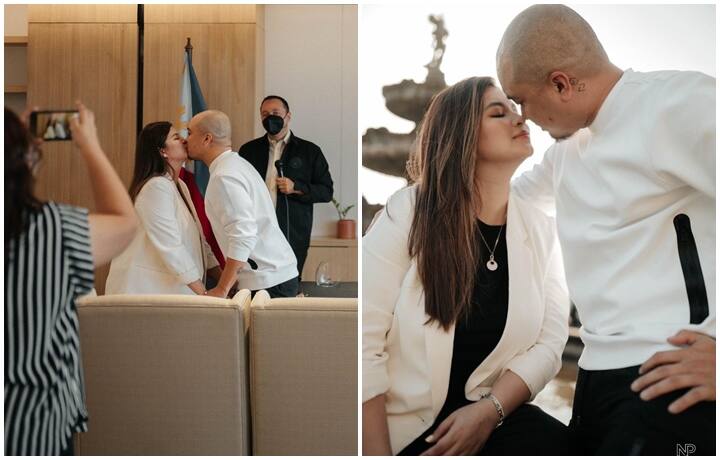 Photo Gallery
Photo Gallery
Congratulations, Angel and Neil!
Photos by @niceprintphoto | Gallery photos from @therealangellocsin @neil_arce @labellefete