Angel and Neil's "Squid Game" Halloween Party
To celebrate one of their favorite holidays, the couple took cues from the phenomenal Korean series which they are both fans of
Angel Locsin and Neil Arce organized a Halloween game for their YouTube channel. The theme? The widely popular, global hit Korean series Squid Game, which is now streaming platform Netflix's most-watched series.
The newly-married couple transformed their house with elements from the game venues featured on the nine-episode series that mixes action, thriller, horror, and drama genres. With the help of event stylist Dave Sandoval, their backyard was dressed up with the pastel maze-like stairways; the Red Light, Green Light robot doll; the playground for the "Honeycomb" game with a slide, colorful fences, and a background of clouds with accents of a circle, triangle, star, and umbrella; black and pink gift-wrapped coffins; as well as statues of the guards. La Belle Fête helped Angel and Neil pull off this Halloween home gathering.
"Hindi man tayo makalabas, we won't let this pandemic dampen our halloween spirit," writes Angel on Instagram.
Check out the gallery below for photos from Angel Locsin and Neil Arce's Squid Game-themed Halloween party: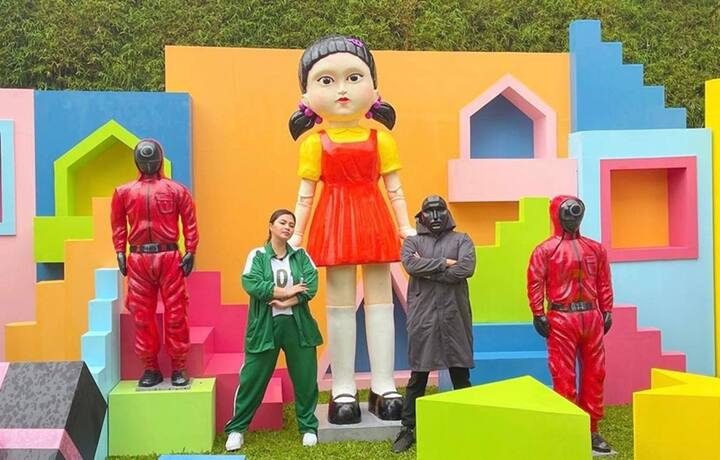 Photo Gallery
Photo Gallery
Of course, this Halloween celebration won't be complete without dressing the part. Angel dressed up as one of the players, clad in a green 001 tracksuit while Neil channeled the masked Front Man. Angel's other friends also joined the fun and gamely wore green tracksuits, and for Bubbles Paraiso, the red-pink suit of the guards.
In the vlog filmed and edited by NicePrint Photo, Angel and Neil talked about their families' Halloween traditions. They also shared that Halloween is their favorite holiday next to Christmas and that it's a "barkada" thing for them. Since it's their first time to spend Halloween at home together, they decided to spice things up with elements from the show they both loved.
They maximized the themed setup not only by doing a photo shoot in it, they tried out the children's games on Squid Game, too, and that's going to be featured on their vlog's Part 2.
Photos from @therealangellocsin @evenstylistdave @niceprintphoto @bubblesparaiso @labellefete