Angelina Cruz's "Picnic At Hanging Rock"-Inspired Pre-Debut Shoot Is A Vintage Dream!
Soft chocolate waves, freckled cheeks, nude lips, angelic white dresses, and fields of sage—need we say more about all the pretty details of this debutante's one-of-a-kind photo shoot?
A young girl has only one moment in life when she transitions from childhood to young adulthood—she has to make it count!
And for Angelina Cruz, a budding recording artist, Metro.Style cover girl and one of Sunshine Cruz's three daughters, she's doing exactly that and more as she prepares for her 18th birthday later this month.
The rising star enlisted the help of Charisse Tinio, owner and founder of celebrity fave NicePrint Photo, to organize pre-debut activities for her including a fully conceptualized photo shoot—and it's one of the most original ones we've seen, too!
The shoot was held at The Henry Hotel Manila and done with the creative talents of one-person glam team Sydney and stylist Patrick Henry who's worked on the looks of reigning queens Miss Intercontinental Karen Gallman and Miss Universe Catriona Gray.
As for the inspiration behind the shoot's entire look, Angelina decided on telling the story of a blossoming of a young girl, her seamless movement from innocence and youth to boldness and confidence.
Putting their heads together, they drew inspiration from 1975's Picnic at Hanging Rock, a film that features a group of similarly aged boarding school girls in angelic white dresses making a nature park trip on Valentine's Day. Angelina borrowed elements from the cult classic to create the mood for her shoot: carefree dressing, makeup-free faces, windblown hair, freshly picked flowers in hand, tranquil meadows as far as the eye can see, beauty just on the brink of ripening.
But that's only one side of the story; Angelina wished to showcase the more grownup side to her that is soon to come, too, one that follows life's natural progression to womanhood.
Changing out of her first outfit, this debutante donned a more daring look for the shoot's second half.
Her loosely done locks were tied up into a tight topknot, her bare face made up with dramatic liner and shadow, her rosy lips done over with high glossiness worthy of a beauty editorial. It was a whole new way to introduce herself in a light she's never been seen before; turning 18 is essentially a second hello to the world after all, a chance for a young girl to reinvent herself and lay down the foundation for who she wishes to be.
Metallic jewels and a strong palette of silver, gold, black and white replaced natural landscapes and soft lights to represent Angelina's claiming of her new identity as a woman.
Keeping her actual debut's theme a secret as of now, we're on the edge of our seats waiting for what Angelina has in store. We're keeping our fingers crossed though for a potential live music performance; what better way for a young woman to claim her place in this world than with the talents she has?
Check out more photos from her pre-debut photo shoot below: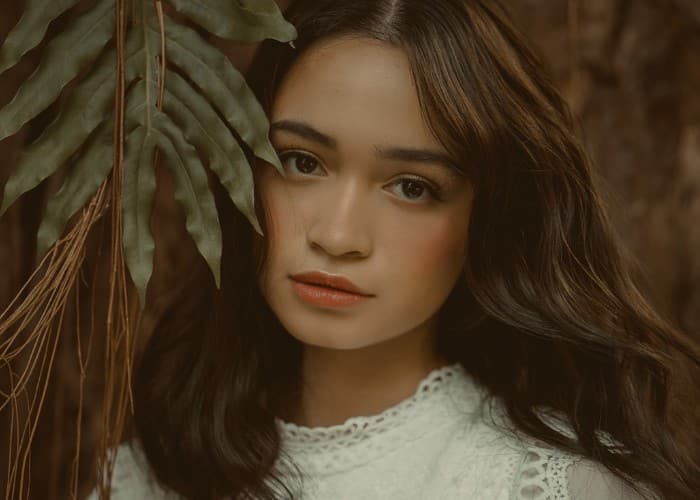 Angeline Cruz's Picnic at Hanging Rock-inspired pre-debut photo shoot
Angeline Cruz's Picnic at Hanging Rock-inspired pre-debut photo shoot
Photos courtesy of
NicePrint Photo
/ Additional images from
@niceprintphoto @angelinaisabele @sydneymakeup_ @styledbypatrickhenry @sunshinecruz718