Look! Anne Curtis And Erwan Heussaff's Baby Dahlia Turns One
Check out all of baby Dahlia's adorable snaps from her monthly photo shoots
Can you believe it? Anne Curtis-Smith and Erwan Heussaff's daughter Dahlia is already celebrating her first birthday!
Where does time go, really?
All moms and dads the world over have asked the question on days when they take a step back and marvel at how their little ones have grown during what feels like a blink and a sneeze, and these celebrity parents feel no differently.
It feels just like yesterday when Anne Curtis-Smith took a leave from showbiz duties to concentrate on life as first-time mom in Australia, where she gave birth to Dahlia and where she, husband Erwan Heussaff, and baby Dahlia spent most of quarantine. Now after a year, this family of three found themselves back in town in February, ready to take root in their Manila home and celebrate their next beautiful milestones surrounded by their nearest and dearest.
Anne Curtis and Erwan Heussaff's daughter Dahlia celebrated her first birthday with a photo shoot in an outdoor venue styled by go-to event stylist Gideon Hermosa. First-time mom Anne Curtis was all praise for his work—sourcing big and bright dahlias to lend color to a background of dainty baby's breath flowers—and for that of cakemaker The Flour Girl, too. Dahlia's birthday cake was topped with white icing, spruced up with edible flowers of all colors from purple and deep orange to sunny yellow and pink. It was perfect for that traditional first birthday cake smash concept!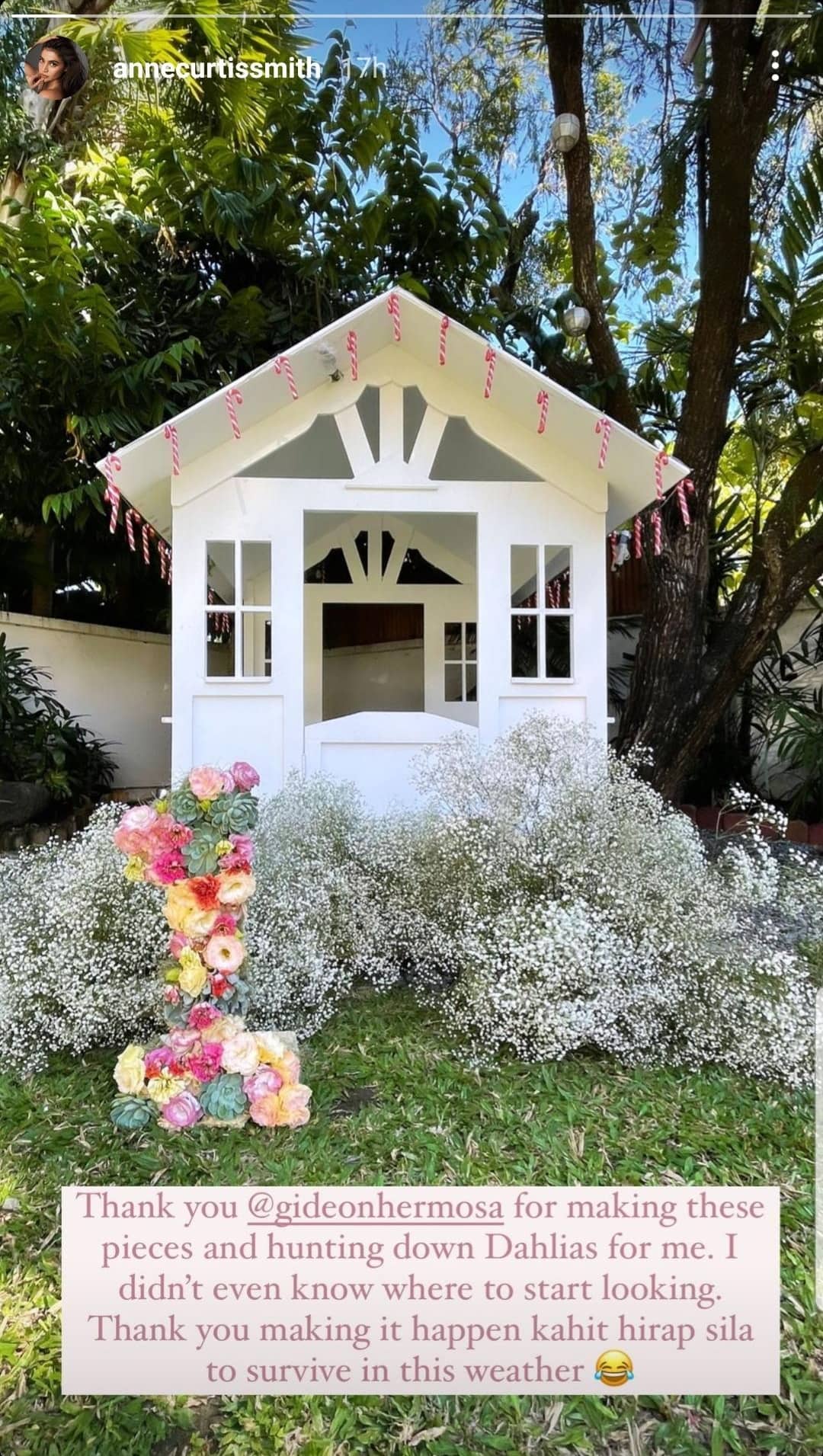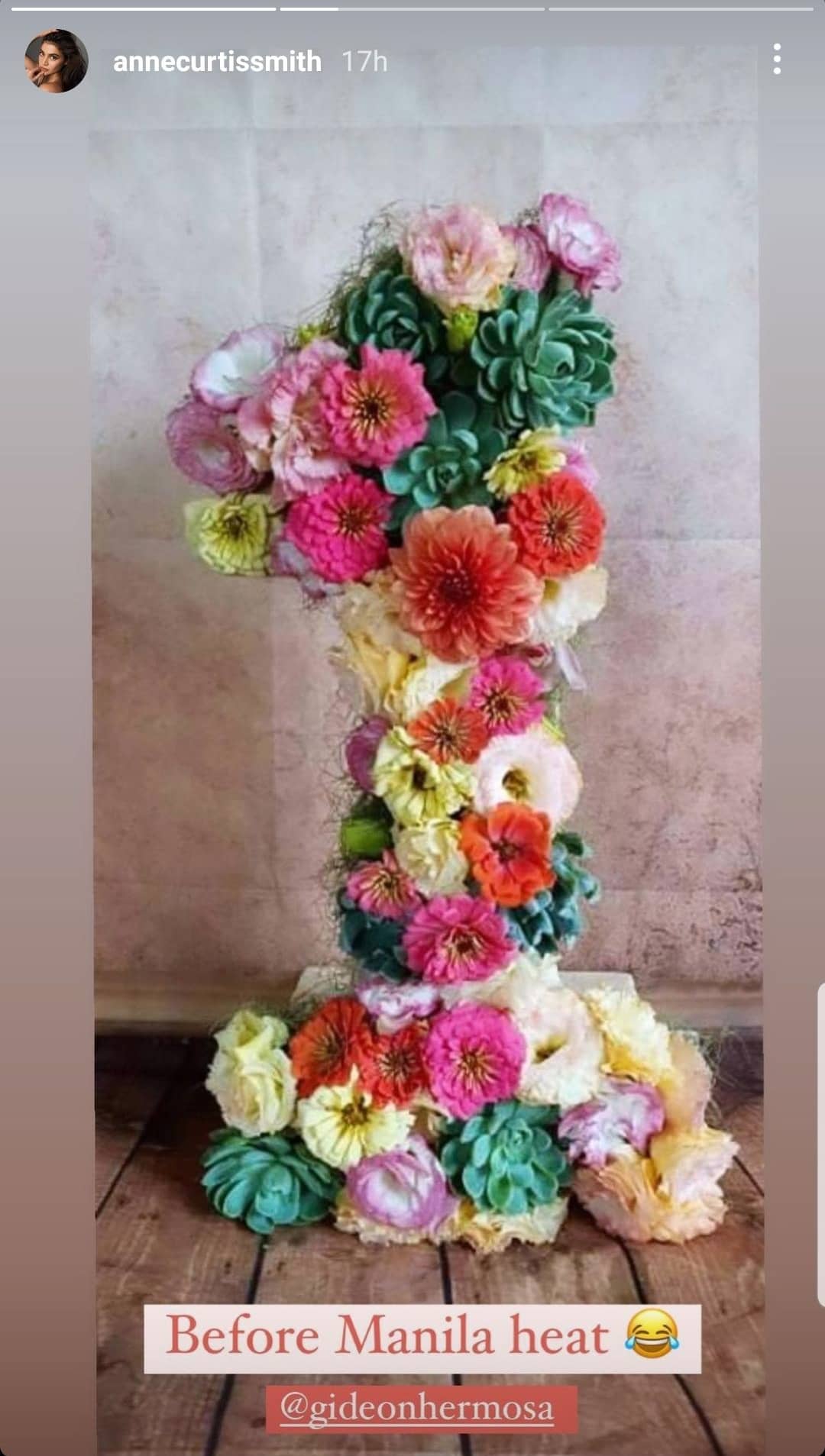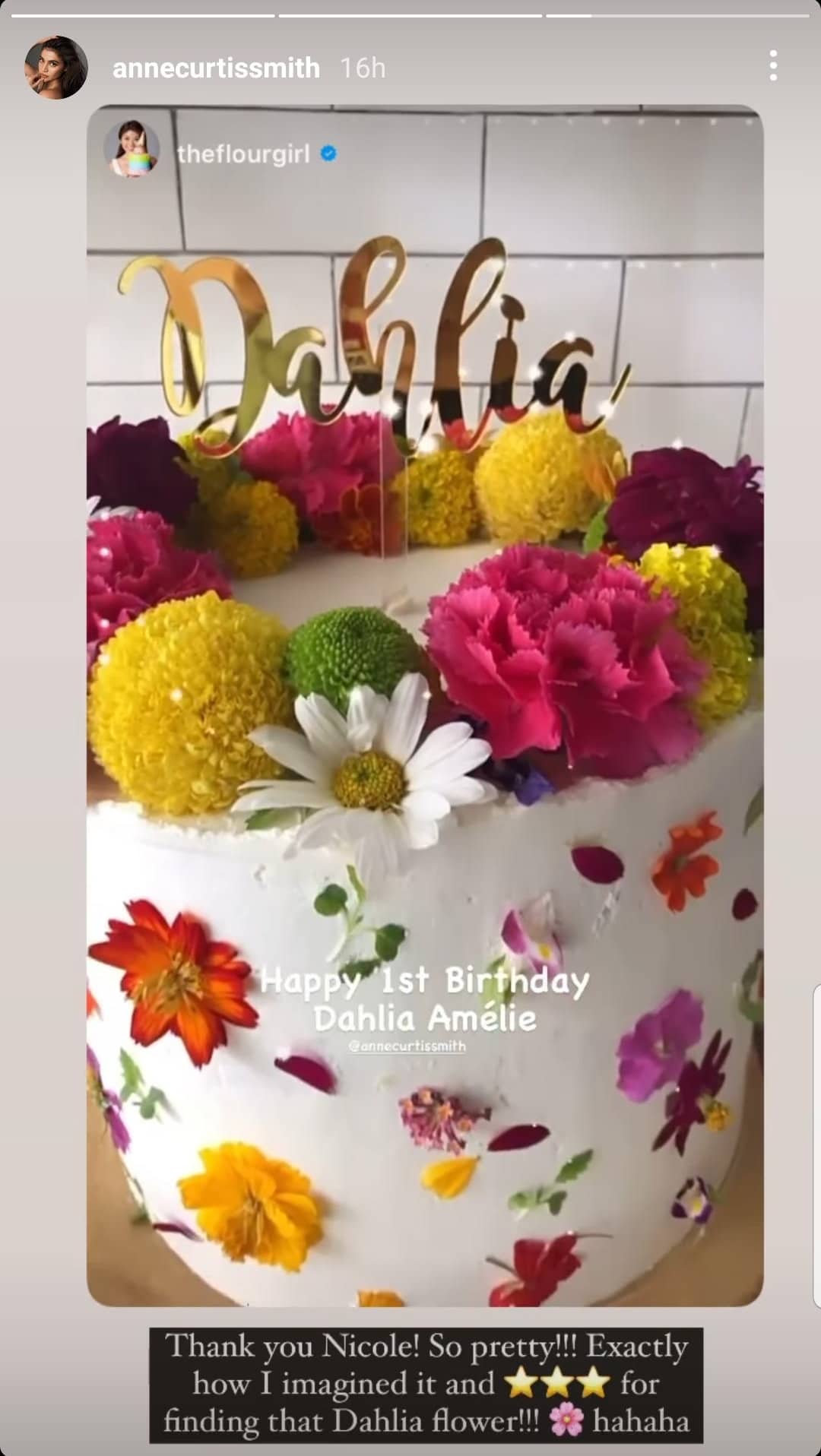 Though they kept the day mostly private, Anne Curtis and Erwan Heussaff each shared their birthday messages for their little girl. Anne quoted lines from Robert Munsch, promising Dahlia that she'll always be her baby, while Erwan described becoming a "student" again when Dahlia was born, and her becoming his teacher.
For many of this mom and dad's friends and family who might have been at the special event, it was the first time they met Dahlia in person. All this time, they've only seen her grow up virtually all thanks to Anne Curtis' adorable monthly shoots of her baby girl staged by herself and the doting dad-slash-personal photographer Erwan. (Their tradition was to arrange colorful flowers, fresh dahlias of course, into numbers and have a dolled up Dahlia pose next to them).
Anne Curtis' younger sister, Jasmine Curtis-Smith, was definitely one of the most eager to meet Dahlia. The proud tita constantly talked about how she couldn't wait to spend time with her first-ever niece and now that she's home in Manila, there's certainly no separating the duo!
Anne Curtis and Erwan Heussaff's daughter Dahlia celebrated her first birthday in the best way possible. Small as she was and unaware of just how loved she is by so many, Dahlia got a generous dose of what it means to have a lovely family that promises to be by her side in this birthday, and all the next ones to come.
Happy birthday to you, Dahlia!
Check out the gallery below to see Dahlia grow over the last year!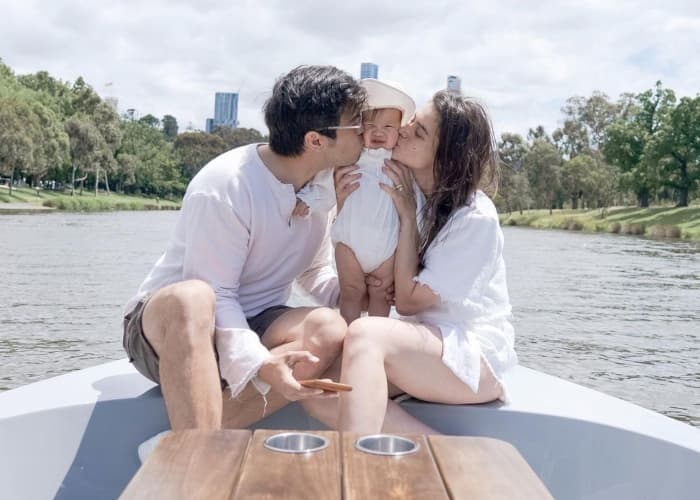 Happy first birthday, Dahlia Amelie!
Happy first birthday, Dahlia Amelie!
Photos from @annecurtissmith