Barbie Imperial Celebrates Her 23rd Birthday With A Series Of Photo Shoots
Ethereal, fierce, and ultra girly—these define the three layouts Barbie did for her 23rd birthday photo shoot
Former Metro.Style cover girl Barbie Imperial turned 23 years old on August 1. And in lieu of a birthday celebration, the young actress did a series of photo shoots instead.
In collaboration with event planning team La Belle Fête, there were three concepts that were executed for the birthday girl, to showcase her different facets. The first one that was launched was a fantasy, fairy tale-like vision with an ethereal-looking, free-spirited Barbie clad in strapless dresses by LightShineWhite and Mara Chua. Surrounded by soft, delicate, and pastel-hued blooms, Barbie looked stunningly radiant in both looks.
Of this set, La Belle Fête shares, "We conceptualized a dream-pop land, framing her innocent features perfectly with a bohemian waif persona. There's something euphoric and psychedelic with the floral structures that also give off a delicate vintage vibe."
From the subdued and romantic, the visual narrative transitioned to an extremely glamorous, gold-drenched set that pushed the fierce side of Barbie to the fore. Her Zodiac sign is Leo, and since its element is fire, it was apt to interpret this with a set design that amplified this intensity and passion. For this layout, she wore dramatic, shiny gold ensembles by AJ Javier and LightShineWhite.
"Behind the innocent facade is a fearless woman who has a firm grip on her identity. She certainly doesn't hold back in lavishing in her pivotal moments—the ups and the downs, because they molded her into who she is now," La Belle Fête explains the story behind this layout's concept.
For the third and last layout, what better way to celebrate Barbie's special day than by channeling her inner Barbie girl? Not only does this young star have doll-like features, she also loves fashion and enjoys dressing up, and this mirrors how Barbie doll is such a style icon.
Photographed in a predominantly pink closet production setup (a dream of every kikay!), Barbie donned a sexy pink and gold dress with a ruched side detailing that's thigh-revealing by LightShineWhite, topped off with a luxurious fur cover-up by Thian Rodriguez; she then changed into a smart and sophisticated PVC ensemble by Mà Cheri. And of course, to complete the look, she also put on a sleek and straight blonde wig.
La Belle Fête describes the final look, "This set is the pinnacle of the birthday shoot as it encapsulates the birthday of a Barbie doll. If the first set is whimsical and the second is fierce, this layout is fun and bubbly. @msbarbieimperial portraying Barbie, she is not only an effervescent memory of childhood but an icon of beauty, a symbol of glamour, and a role model."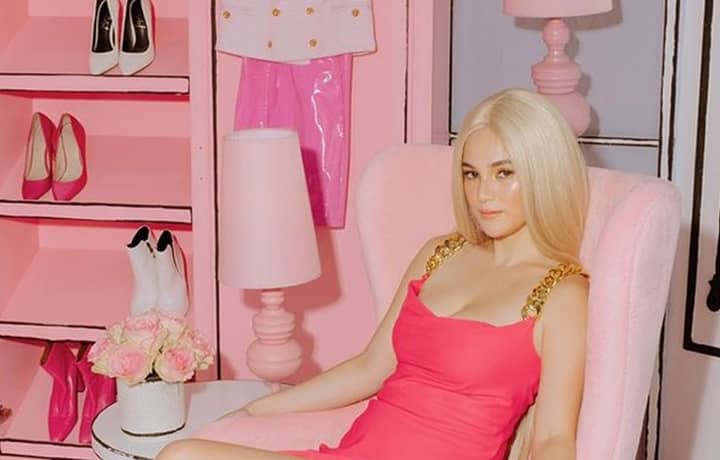 Photo Gallery
Photo Gallery
The venue of Barbie Imperial's birthday photo shoot was Apogee Events & Lifestyle. Aside from La Belle Fête, others who made these amazing shoots happen with such magical outputs include photographer Shaira Luna, fashion stylist Myrrh Lao To, videography team NicePrint Photo, set design team BLOOMS event styling, makeup artist Jelly Eugenio, hairstylist Aries Manal, Extraordinail Salon & Skin Care, and Mere jewelry brand. For the last layout, they even had a surprise tiered cake by Chef Castillo Fuentes—so chic!
Barbie last starred in the teleserye Bagong Umaga, which ended last April.
Happy birthday, Barbie!
Lead photo from @msbarbieimperial | Gallery photos from @labellefete @bloomseventstyling @chef_castillo_fuentes