In Photos: Behind The Scenes With The Cast Members Of "True Beauty"
We're missing them already!
True Beauty has ended, and it left us with a bittersweet feeling.
True Beauty is based on a webtoon by Yaongyi that focuses on Lim Ju-kyung (Moon Ga-young), a high school student who is being bullied for her "ugly" physical appearance. She transfers to a different school. Worried she'd get bullied again, she discovers the transformative power of makeup, learns how to apply it by watching makeup tutorial videos, and finds that having makeup on gives her that much-needed confidence boost. With makeup on, suddenly, people around her are nicer and friendlier to her. While she's thrilled that people adore her for being beautiful, she's also afraid of what would happen to her when she takes off this "mask" and people see her barefaced.
As the series comes to a close, Moon Ga-young says, "Maybe because we filmed nonstop for almost seven months, but it has not hit me yet that True Beauty is ending. As I met great senior actors, teachers, and friends, I was so happy and had an enjoyable time. It's unfortunate that I have to prepare to say goodbye now."
In this new chapter of her life, Lim Ju-kyung meets classmates and friends who helped make her high school life fun and exciting. Lee Su-ho (Cha Eun-woo) is a handsome, top student who has seen Lim Ju-kyung barefaced and likes her just the same; despite being rich and popular in school, he has emotional wounds because of a traumatic incident in the past.
Cha Eun-woo looks back on the experience of working on True Beauty, saying, "It feels like it has been a couple of days since I first met Su Ho last summer, but it is already time to say goodbye. I also grew and experienced a lot while living as Su Ho, and I had a happy time. So many people worked hard together from the summer to winter. I once again thank of course the director and writer but also all of the actors and staff. I was happy to work together with you."
Han Seo-jun (Hwang In-yeop) is also good-looking but he has a bad boy image; he used to be an idol trainee, but the same traumatic incident that haunts his former friend Lee Su-ho leads to him letting go of his dreams of becoming a professional singer.
Hwang In-yeop says playing Han Seo-jun is an "unforgettable valuable memory" to him after receiving so much love from the viewers. He says, "I think I will continue reminiscing about Seo Jun for quite a long time while he lingers with me for a while. As much as I also really liked the character Han Seo Jun and portrayed him sincerely, filming every day was happy and fun... Although 'True Beauty' has come to an end, I hope it is a drama that will still come to mind once in a while far in the future and be remembered as a drama with beautiful memories."
Despite what seems to be a cliché plot and setting, True Beauty was loved for many things, such as the underlying stories of family, friendship, and love for oneself and for others. And definitely a part of the reason why True Beauty got viewers hooked is the solid love triangle between Lim Ju-kyung, Lee Su-ho, and Han Seo-jun; that got people confused and had them forming Team Su-ho vs. Team Seo-jun.
Other characters who made the episodes of True Beauty enjoyable and heartbreaking to watch were Kang Su-jin (Park Yoo-na), Lee Su-ho's childhood friend and Lim Ju-kyung's close friend who is being abused by her father and pressures her to get high grades; Lim Hee-kyung (Im Se-mi), Lim Ju-kyung's sister who works at the entertainment agency owned by Lee Su-ho's father; Lim Ju-young (Kim Min-gi)), Lim Ju-kyung's silly younger brother who has a crush on Han Seo-jun's sister (played by Yeo Joo-ha); and Choi Soo-ah (Kang Min-ah), Lim Ju-kyung's classmate and close friend. Of course, there were Lim Ju-kyung's parents: her mother Hong Hyun-sook (Jang Hye-jin), who owns a beauty salon, and her father Lim Jae-pil (Park Ho-san), who is jobless and is into making scented candles.
We stalked them on Instagram, where they shared fun behind-the-scenes selfies and groufies. Check them out in the gallery below: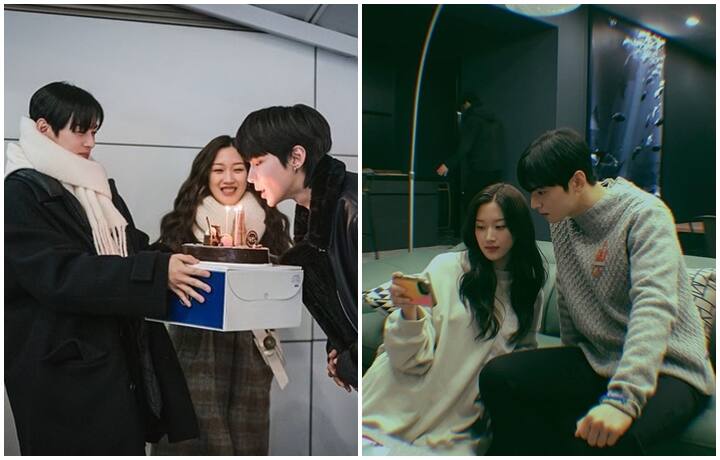 "True Beauty" Behind the Scenes
"True Beauty" Behind the Scenes
True Beauty is available on VIU.
Lead photos from @eunwo.o_c, @m_kayoung, and @minah320_97