Gallery: Newly-Released Photos From Jennifer Lopez and Ben Affleck's Wedding In Georgia
Let's get loud! Here's a new set of snaps from Jennifer Lopez and Ben Affleck's second wedding. Wow!
It was a second take for celebrity couple Ben Affleck and Jennifer Lopez as these lovers celebrated their wedding ceremony in Riceboro, Georgia last August 20 in front of family and friends.
Looking back, Bennifer's love story is defined by turbulent times. "Years ago, we had no idea the road ahead would mean navigating so many labyrinths and hold[ing] so many surprises, blessings, and delights. It all culminated in this moment, one of the most perfect of our lives. We couldn't have been happier," Jennifer penned in her newsletter on On The JLo.
Jennifer Lopez and Ben Affleck initially dated from 2002 to 2004, and reignited their relationship in 2021, sealing it with marriage soon after. At long last, they announced their engagement in April of this year, and eventually tied the knot at A Little White Wedding Chapel in Las Vegas through a midnight matrimony.
Ben and J Lo's second wedding was a showstopper. With an all-white wedding aesthetic, the fine details and set décor of the festivity—let alone Jennifer's lavish form-fitting gown by Ralph Lauren—made for a standout spectacle.
The foliage and flower arrangements were also astounding. The groom, Ben Affleck, looked luxurious and timeless as he wore his black and white tuxedo. Spotted at the function were stars and Hollywood figures Matt Damon, Kevin Smith, Jason Mewes, Pia Miller, and Patrick Whitesell.
Earlier that week before the wedding, according to the singer-actress, unforeseen setbacks and an unfavorable series of mishaps were materializing, but she shared, "The truth is, I never had one doubt. All week, I felt the calm and easy certainty that we were in God's hands."
The couple cannot be anymore content with the life that they have once longed for. With blessings from their beautiful kids, their wedding is the kind that is worth going back to. Beyond youth and until their years of gray hairs, Ben Affleck and Jennifer Lopez have found their hearts a forever home.
In her newsletter on On The JLo, Jennifer took note of how her wedding worked out fine and almost flawless. "At six forty-five, Saturday, August twentieth, the sun broke free and cast its rays like little diamonds dancing across the river behind the makeshift altar in our backyard. The sky was clear blue, and distant clouds of pure white held fast in the sky. As the sun set behind the live oaks draped in Spanish moss, a warm breeze swept over the lawn where our closest family and friends sat and at long last, I started my walk down the stairs that would become the aisle that would lead me toward the rest of my life."
Check out the gallery below for newly-released photos from Jennifer Lopez and Ben Affleck's second wedding: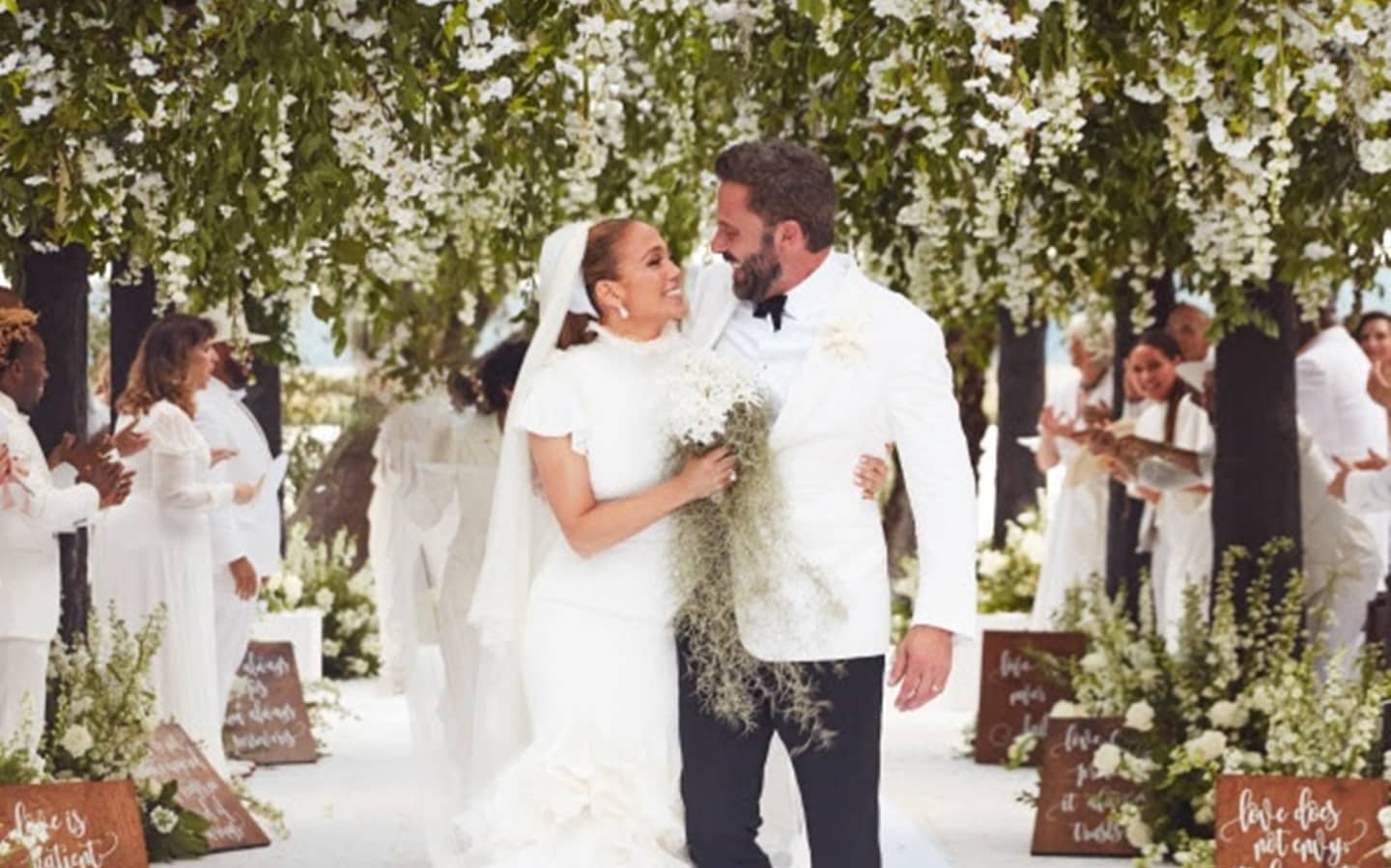 Photo Gallery
Photo Gallery