Bianca King Talks About Her Bond With Sister-In-Law Iza Calzado
As they're about to jump on a similar journey that is motherhood, Bianca King connects more with sister-in-law Iza Calzado
Soon-to-be moms Bianca King and Iza Calzado may not be sisters by blood, but the two are bonded by a timely blessing that is motherhood. At 36 and 40, respectively, the two are now inching nearer to becoming a parent. As Iza rounds it up, their transition to parenthood is indeed a precious gift from above.
On her Instagram account, she shared her sister-in-law Bianca's picture last August with a caption saying, "So thrilled to be on the same journey as my sister-in-law, Bianca, and that Ben and Ralph get to share this experience, too. Though we are miles apart, we are connected by this shared blessing."
"Truly, so much to celebrate for the Wintle family! We are all so grateful!" Iza continues. Currently busying herself with the best prenatal workouts, pregnancy cravings, and a few quality friends, the K-Love star announced her conception in August 2022 on Instagram. This unexpected chapter, according to the actress, is something that she surrenders to God's will.
Another pregnancy news that made headlines around the same time as Iza's statement was that of Bianca King's. In August, she also made an announcement that she and her husband Ralph Wintle are happily expecting their first-ever child. Her baby bump was captured in the photo that she posted, prompting her followers to do the math: "Guess how many weeks?"
In an exclusive interview with Metro.Style, Bianca relived this memorable experience, saying, "I just took a pregnancy test for old time's sake—with no expectation, no pressure. It was positive, so we were obviously in shock because we weren't expecting it!" she narrated. "It took a while to sink in, actually. I was in tears of joy. [I] couldn't believe it! [I] really couldn't believe it."
Bianca revealed how she notified her siblings-in-law. "Ralph and I just called her [Iza] and Ben to tell them that we have news, we're pregnant, and they're also like, 'We have news, too!' Our pregnancies are just about a week apart!" she shares. Brothers and soon-to-be dads Ralph and Ben Wintle were dumbfounded when the news broke, too.
Married in September 2020, Bianca declared how she and Ralph had fathomed her pregnancy at first: "We were both in shock. We didn't know if it was real or not even after the blood test [and] confirmation from the doctor. But then, after the tenth to the twelfth-week mark where it starts to turn into a baby and you see that it's taking its human form—that's when it started to sink in."
Mr. and Mrs. Ralph Wintle had tried to get pregnant several times and IVF was also once an option for the couple, until the universe aligned and made what happened happen. "The risk for miscarriage in the first 12 weeks is still quite high, especially at my age—if you're over 35—so we were just kind of playing it cool," Bianca explains.
Due to this danger, the former actress expels every streak of unsolicited stress that tends to emerge along the way. She ascribes healthy parenting to mindful mothering, so she sorts and handles her problems in the best way possible. "Mindful birthing, also, is one thing. I know I am not there yet but that's one thing that's also important to note," she believes.
The work that Bianca puts into prenatal care is something that she can promise to impart to her sister-in-law Iza. In fact, she loves sharing her bits of birthing knowledge with Iza to keep her informed as well. "I do send her a lot of articles," Bianca interjects. "I think one of the first ones I sent to her, actually, was the role that hormones play in labor and childbirth."
With the little and fragile lives that Bianca and Iza are both bearing, health easily becomes of highest regard. That is why Bianca reserves her energy only for the essentials, and is happy to be experiencing the holy blessing with her friend-turned-family Iza, making their bond more intact. When asked if she pieces out advice for Iza, she says, "A lot, actually. A lot!"
"We definitely talk more often now because we're always checking in on each other—on each other's unique pregnancy journey. Definitely, [we have] more frequent communication now and it is a blessing to be going on a similar journey with somebody that you're so close to," Bianca shares. "It brings you together more. It's like we were able to empathize more."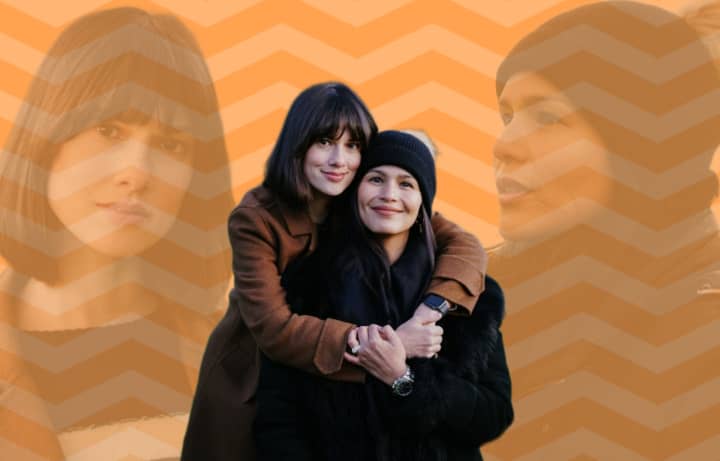 Photo Gallery
Photo Gallery
Lead photos from @bianca_king