Through the Years: BTS and Their Collaborations With Foreign Artists
From Coldplay and Steve Aoki to Ed Sheeran and Nicki Minaj, BTS has created masterpieces with some of the biggest names in the international music scene
Last September 24, BTS and Coldplay released what might as well be the collab of the year!
Sung in both English and Korean, Coldplay collaborated with BTS to come up with "My Universe," the second single released after "Higher Power" ahead of the launch of Coldplay's album, Music of the Spheres.
With the theme "Not alone but together," Coldplay's Chris Martin shares that the song is about how the power of love transcends all things, and nothing can really stop people from loving each other. BTS' RM adds that he co-wrote the lyrics while picturing the day the group can finally reunite with ARMY again.
But how did this iconic collab come about?
BTS recently unveiled a documentary titled "Inside 'My Universe'" on their YouTube channel BangtanTV. The 13-minute behind-the-scenes documentary follows Chris Martin as he travels to Seoul to work together with BTS on the song.
"About 18 months ago, I got a message from somebody. They said, 'BTS want to do a song with you,'" Martin shares at the start of the video. "And I said, 'How would that work?' I didn't understand how that could be possible."
He continued, "My friend said the phrase 'my universe' one day and I wrote down 'my universe'一I thought that's a cool title. Then I took it to my friend and said, 'Okay, let's do this demo for BTS.'"
BTS' J-hope added that it's a song that could be done remotely. However, by doing the song together, it added more sincerity to it. This collaboration was actually a dream come true for both groups. It is known that BTS has been a fan of Coldplay for how many years now. Jungkook even considers Martin as the "king of stadium tours." V says Martin was his "role model" who has had a "great influence" on him.
Martin also has nothing but respect for the Korean superstars. He said, "It's very special to me that the most popular artist in the world [BTS] speaks Korean and is a group of brothers not from the West. It feels very hopeful to me in terms of thinking of the world as one family. Then of course, when you see who they are as people and their songs, it's really a message of togetherness and finding, being yourself... all the stuff I agree with."
BTS and Coldplay also just released the "My Universe" music video last September 30, and we can't get enough of it!
With BTS' 8 years in the industry, the group's discography is wide and impressive!
Aside from their collab with Coldplay, we've listed down some of the other iconic BTS collaborations everyone should have on their playlists. From Steve Aoki, Ed Sheeran, to Halsey, BTS has also created masterpieces with the biggest names in the international music scene. You'll surely be listening to these on repeat in no time!
Check out the gallery below: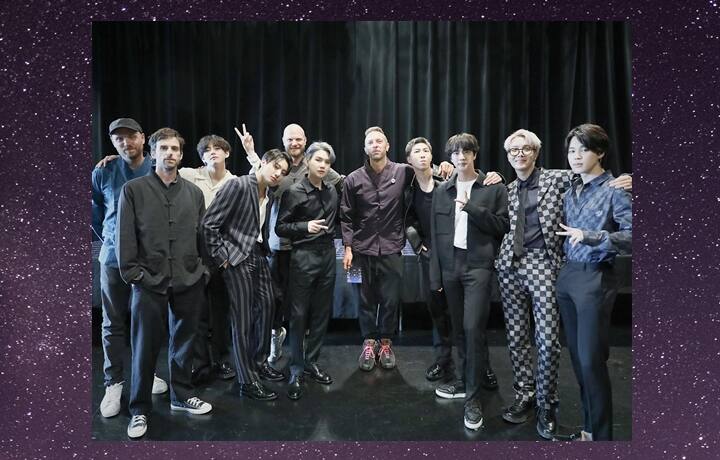 BTS' Collaborators
SWIPE LEFT OR RIGHT
TO NAVIGATE BETWEEN PAGES
BTS x Chainsmokers - "Best of Me" (2017)
Photo Credit: @BTS_twt
BTS x Steve Aoki - "Mic Drop" (2017), "The Truth Untold" (2018), "Waste It On Me" (2018)
Photo Credit: @steveaoki
BTS' RM x Fall Out Boy - "Champion Remix" (2017)
Photo Credit: Fall Out Boy
BTS x Nicki Minaj - "Idol" (2018)
Photo Credit: Hybe Labels
RM x HONNE - "Seoul" (2018)
Photo Credit: @BTS_twt
BTS x Lil Nas X - "Old Town Road" (2019)
Photo Credit: @BTS_twt
BTS x Ed Sheeran - "Make It Right" (2019), "Permission to Dance" (2021)
Photo Credit: MTV
BTS x Lauv - "Make It Right" (2019), "Who" (2020)
Photo Credit: @lauvsongs
BTS x Charli XCX - "Dream Glow" (2019)
Photo Credit: @BTS_twt
BTS x Zara Larsson - "A Brand New Day" (2019)
Photo Credit: People
BTS x Juice WRLD - "All Night" (2019)
Photo Credit: Soompi
BTS' J-Hope x Becky G - "Chicken Noodle Soup" (2019)
Photo Credit: @BTS_twt
BTS x Halsey - "Boy With Luv" (2019), "SUGA's Interlude" (2020)
Photo Credit: @iHeartradio
BTS x Sia - "ON" (2020)
Photo Credit: Koreaboo
BTS x Troye Sivan - "Louder Than Bombs" (2020)
Photo Credit: Soompi
BTS' Suga x MAX - "Burn It" (2020), "Blueberry Eyes" (2020)
Photo Credit: @MAXMusic
BTS x Jason Derulo - "Savage Love" (2020)
Photo Credit: SBS
BTS x Megan Thee Stallion - "Butter" (2021)
Photo Credit: @BTS_twt
Lead photos from @BTS_twt and Pexels