In Photos: Behind the Scenes With Metro Cover Stars Mario Maurer, Nonkul Chanon, and Gulf Kanawut at Their TNT Shoot
We're taking you behind the scenes at this photo shoot with TNT ambassadors and Metro cover stars Mario Maurer, Nonkul Chanon, and Gulf Kanawut
Surprise! Thailand's most popular actors Nonkul Chanon (Bad Genius), Gulf Kanawut (TharnType: The Series), and Thai superstar Mario Maurer (Love of Siam, Crazy Little Thing Called Love, Pee Mak) are on the cover of Metro.Style!
Last May, TNT, the biggest prepaid brand in the Philippines, launched their partnership with these three heartthrobs. The trio headlines TNT's "Kilig Saya" campaign alongside Filipina actress Sue Ramirez and Popstar Royalty Sarah Geronimo. With the popularity of Thai series and films among Filipino viewers, Nonkul, Gulf, and Mario couldn't have been more fitting as the faces of TNT which makes Thai entertainment content more accessible to Filipino fans through its value-packed promos.
"As TNT enables Filipinos to follow their favorite Thai superstars Mario Maurer, Gulf Kanawut, and Nonkul Chanon on their smartphone, we're now bringing these Thai actors even closer to them as the newest TNT KaTropas in our latest campaign," said Jane J. Basas, SVP and Head of Consumer Wireless Business at Smart.
After delighting their Filipino fans with TNT's biggest campaign to date, Nonkul Chanon, Gulf Kanawut, and Mario Maurer returns for more surprises, this time with a cover shoot for Metro.Style.
During the shoot held in Bangkok, Thailand, there was no shortage of fun and good vibes, and there was a generous serving, too, of jaw-dropping visuals and laughter all throughout the day. The Thai superstars effortlessly moved from one layout to another, changing up the mood of the photos from dashing to charming.
"TNT's passion is to bring the youth together through fun and happiness. We recognize their remarkable spirit and perseverance to overcome all odds, wo we're very excited to showcase how they find joy even in the hardest of circumstances in our newest campaign featuring the Thai superstars they admire," said Miriam Z. Choa, FVP and Head of Prepaid Marketing at Smart.
They may be a thousand plus miles away, but TNT has brought them closer to their Filipino fans through this campaign that delivers that kilig and saya when they are needed most.
Check out the gallery below for a behind-the-scenes look into this cover shoot, featuring TNT ambassadors Nonkul Chanon, Gulf Kanawut, and Mario Maurer: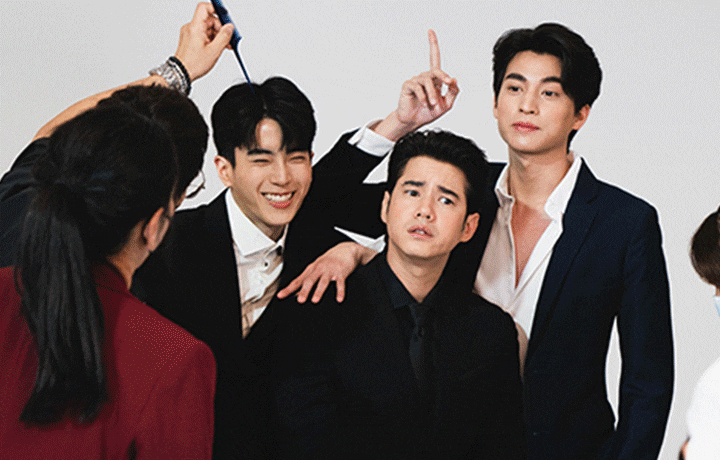 Behind the Scenes With Mario, Nonkul, and Gulf
Behind the Scenes With Mario, Nonkul, and Gulf
Photography by Kachain Wongleamthong
Styling by Tunn Tunvardee
Grooming by Zin Naruchat and Best Jeeravich
Hairstyling by Auddy Paiboon & Team
TH production: Kris Chaovalit, Bow Nunthunyamon, Ploy Siripanich
Executive producer: Joyce A. Ramirez
Agency: PublicityAsia
Client: TNT | Smart Communications Inc.
Location: Bangkok, Thailand
Special thanks: Allen Dawn Jorda, Miriam Choa, Mon Samarista and Ms. Jane Jimenez-Basas