6 Things We Discovered (And Loved!) About Young Entrepreneur Callie Ahmee And Her Cal The Brand
This 17-year-old will impress you with how passionate she is about championing local products, materials, and craftsmanship
The official launch of 17-year-old Callie Ahmee's Cal the Brand was done virtually last weekend. Despite only meeting the members of the press for the first time via Zoom, this young entrepreneur made sure to dress the part. In her beige Glorious Dias reworked vintage barong pinafore, Callie articulately talked about discovering her love for locally-made and sourced pieces. It was the kind of fascination-turned-passion so strong it prompted her to explore her entrepreneurial side as inspired by her business-savvy parents, award-winning actress and endorser Dimples Romana and businessman/vlogger Boyet Ahmee.
Callie Ahmee's Cal the Brand (@calthebrand), a new fashion and lifestyle label, was conceptualized and established with one clear goal: to support local artisans. It's straightforward, like the young lady at its helm. Her mom revealed that Callie isn't the type to talk a lot because she's quite an introvert, but during this press conference, Dimples was so surprised to hear her daughter speak with such brilliance and eloquence. At the Q&A, Callie was quick to think on her feet, giving impressive answers with brevity and clarity.
Callie Ahmee's Cal the Brand debuted with a three-piece collection of handwoven bags made of premium rattan that she designed and developed herself. There are the Pyramid Bag and the Half-Moon Bag which can both be used as either a handbag or a sling bag, and are both priced at P3,560. The last design is the Oversized Tote (P5,999), which makes for a perfect vacation bag.
It's a beautiful coincidence, or perhaps it's destiny, that the shortened version of Callie's name, Cal, rhymes with local. Now, her name (which has a Greek origin and means "beautiful") has taken on a whole new meaning for her with her newly-launched brand that's "made for the modern Filipino and Filipina." "Cal" has also become a significant word she coined to embody her calling.
This bag collection is just the beginning, Callie points out, as she's looking into branching out to home accents, furniture pieces, novelty items, and hopefully, artworks, too. And even when she just launched her brand, she already started working on her next collections.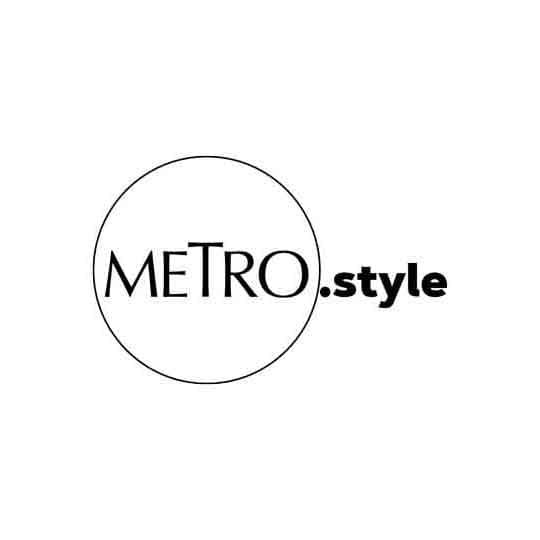 Callie and her Cal the Brand bags (from left): The Oversized Tote, the Pyramid Bag, and the Half-Moon Bag | Photo by Shaira Luna via @calthebrand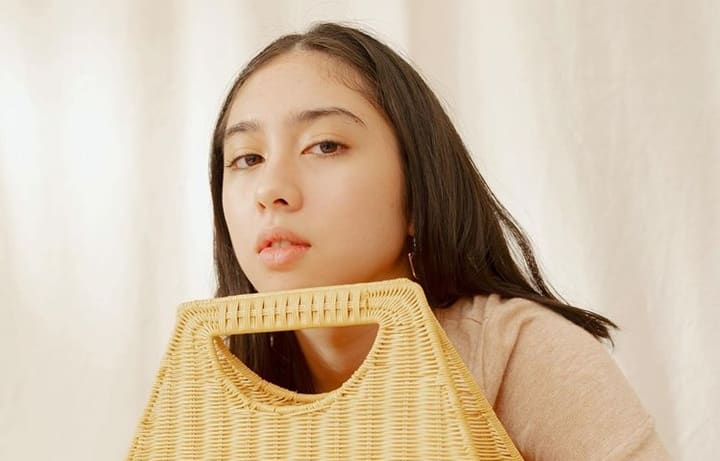 Cal The Brand Lookbook
Cal The Brand Lookbook
At Callie's press conference for Cal the Brand, we got to know her as an up-and-coming entrepreneur and an aspiring pilot with vivid dreams for her future and her brand—as her own (young) woman and not as the daughter of a celebrity. She's flying to Australia next year to study and take up Aviation Management; while she's focusing on her studies, she also hopes to have the chance to bring Cal the Brand there and introduce her creations to an international audience.
Without any conscious effort to veer away from showbiz and step out of her mom's shadow, Callie stands out on her own by simply marching to the beat of her own drum. And no, this drum is not onstage or in the spotlight—it's a drum beat that echoes in her heart.
Below, we list down six things we discovered (and loved!) about Callie Ahmee and Cal the Brand:
1. She discovered her love for all things local by frequenting bazaars or marketplaces.
Callie has her mom Dimples to thank for bringing her to such places and opening her eyes and mind to the beauty of local craftsmanship. They would go to Salcedo Market on weekends, and there she would be constantly in awe of the talent, creativity, and resourcefulness of Filipino artists. She tells Metro.Style, "I wanted to expand that market that was already there and elevate the initiative of some people to support local and bring awareness to the [artists] and their products."
Upon seeing the ubiquitous woven rattan bag that came in a circular shape, she was inspired to reinvent it and put her own modern spin to it. The results are versatile rattan bag designs that can go with both casual and dressed-up looks as well as daytime and nighttime events, and definitely beyond summer.
2. She has a very close relationship with her mom and her dad, and never fails to credit them for giving her wings to fly and soar on her own.
Young as she may be, Callie is responsible and goal-oriented. Although she can't claim to have her dad's sharp business acumen just yet, she's proud to have learned the nitty gritty (i.e. finance and marketing) of running a business early on. That's all thanks to her dad whose flair for entrepreneurship rubbed off on her at an early age. Interestingly, this father-and-daughter tandem worked closely to bring Cal the Brand from conceptualization to execution; it was her dad who connected her to a family friend who's in the business of bag production and, ultimately, led her to meet local weavers in Laguna who are open to collaborating with this promising brand.
As for Dimples, although she doesn't want to take credit for helping her daughter turn this dream into reality, Callie is grateful for how her mom has always been a great role model to her—from fashion to work ethics and professionalism to managing finances. With Dimples being Callie's first style icon, her opinion on what looks good and appealing design-wise also matters.
"When I had this idea, I was very lax then. And for anyone who knows mom, she works a lot and she would always do these things even at the same time. She's just generally good with multitasking and everything," Callie says of the time she thought of starting a business. "At the time, school just finished actually. I kinda felt bad that I wasn't doing anything as much, and I know it was summer, and I just really wanted to do something with my time. And especially then, a lot of good things were coming for our family, with the New Year coming in. I just wanted to acknowledge all the available opportunities that were coming to me. And I wanted to utilize it also and not let it go to waste. So with the help of my mom, I started thinking of business ideas. I went from designing clothes to selling cupcakes (because I love baking, I would sell them in my village, so it wouldn't be much of a big market), and I went to this idea of supporting local."
3. She's a go-getter, someone willing to put in extra time and effort to achieve her goals.
Like many start-up brands, Callie experienced challenges and problems with putting up Cal the Brand. First and foremost, this is a pandemic-born brand, so it came with extraordinary issues. Callie reveals, "I was initially speaking with this weaver in Albay, and they were making my samples already, and then they just said that it would be significantly delayed because of the pandemic. I was completely fine with it because, you know, everyone's suffering during these times and some people more than others, and I was completely fine with it."
With a little help and push from her dad, Callie geared up to move on to another option for a partner, and thankfully, things worked out. This partner is actually a friend of Dimples and Boyet, who used to help the then budding actress sell bags to earn extra money. "My dad remembered this person who used to help my mom earn money. And he gave me the contact details, and then I talked to them and found out they're operating because they're allowed to. From there, they helped me so much. I'm thankful for that, which happened by accident," Callie shares.
Because of her age, it was also hard for this senior high school student to earn the trust of people. "Whenever I would contact suppliers and manufacturers, they would mention some pretty complicated terms that were new to me, and I had to take note of them and learn their definitions," Callie opens up. "Sometimes I would just straightforwardly tell them that I was 16, and I kid you not, at least half of the suppliers I've talked to just didn't respond to me anymore."
But those bumps on the road left her unfazed and, if anything, pushed her to become more driven and motivated to fortify the foundation of her young brand.
4. She's good at handling her finances.
What's even more impressive about Callie is that she put up her own brand using her own money. "That's her money from her past endorsements and even the future ones. That's hers," Dimples reveals. "I always tell her, 'Anak, do you wanna get your money na?' Kasi s'yempre iniipon naman 'yun eh. Si Callie kasi, super tipid n'yan eh. Sobrang sinop n'yang batang 'yan." This could be the effect of having seen her parents really work hard and go from nothing to something; they've showed her how hard it is to earn money so she could see the value of hard work.
For that, Dimples wants to give herself and her husband a pat on the back. "She's very, very good with money... she knows how hard we work," Dimples says of Callie. "I think we really did a good job showing our children the reality of life. 'Okay, ngayong taong ito, wala tayo masyado so adjust tayo. Next year, meron tayo, okay, adjust tayo.'"
5. She not just champions the "Love Local" advocacy, she also supports upcycling and sustainable fashion.
When asked about her style icons, Callie cited Filipino fashion designers and creatives like Gabbie Sarenas, Shaira Luna, and Kim Jones. Gabbie—who's known and well-loved for her statement-making creations that mix traditional fabrics and contemporary styles—was her mentor at SoFA Design Institute. "When I took that SoFA class, I was just so mesmerized by her [and] the stuff that she makes," Callie shares.
As for Shaira, a professional photographer who shot the beautiful photos for Cal the Brand, Callie finds "her uniqueness and creativity with her style endearing." Shaira, who's actually Callie's friend, is known for being an "Ukay Queen," as she has this fabulous way of styling these ukay-ukay finds to look chic and suit her personal aesthetic. Ukay-ukay shopping has become a form of bonding for the two. Lastly, Callie is a fan of Kim and her cool, fashion forward style sensibilities, evident not just in her covetable OOTDs but also in her design brand The Fore.
6. She's an old soul.
At the virtual press conference of Cal the Brand, actress/vlogger Bea Alonzo surprised Callie with a special message to congratulate her in her business endeavor. Bea is good friends with Dimples, as they worked with each other in the TV series Kay Tagal Kang Hinintay back in 2002; Bea is Callie's ninang.
In her recorded video message, Bea said that she's amazed by Callie's "intelligence, wits, and wisdom." "You are wise beyond your years," Bea told her, adding that whenever they're hanging out together, Bea sometimes feels like she's with Dimples because Callie can carry on a conversation. "That is actually a compliment."
Cal the Brand's bags are available via @calthebrand on Instagram. For orders and inquiries, send a direct message.
Photos by Shaira Luna via @calthebrand