EXCLUSIVE: "Sunod" Star Carmina Villarroel-Legaspi Talks About The "Gift Of Family" This Season Of Giving
After this conversation with Carmina, why she ever chose to star in MMFF 2019 film "Sunod" becomes a little clearer. It's not the horror or the frights or the thrills that lured her in, but how it reminded her of life's most precious things
It's late.
Your phone tells you that it's 12:47 in the morning. You're practically half-asleep as you make your way to your bed where the promise of a long, uninterrupted slumber waits.
With a final yawn before sleep takes over, you roll onto your side to get into that just-right position—but what's that? A glow from under your door? Didn't you turn off the hallway light? How careless.
Annoyed, you drag yourself out from under cozy covers. But the second your hand clasps your bedroom doorknob to accomplish the mission of restoring restful darkness, a click.
It's dark now.
But you didn't turn off that switch, did you. You live in a condominium unit alone, too.
It's late.
And it's dark.
And it's cold. Suddenly there's a chill rising from all around you that pierces all the way through to your bones.
Your hand is still on the doorknob that has begun to turn, but it's not you doing the turning...
Before the story can continue, actress Carmina Villarroel-Legaspi will have likely stopped you in your tracks, jokingly (but actually seriously) telling you to stop right now, and to change the subject. She'll engage you in a lively conversation about K-Dramas, probably about her favorite Korean series Mr. Sunshine, in an attempt to derail the building suspense.
See, Carmina isn't big on horror. She's deathly afraid of horror films, which begs the question—why then, in the 2019 edition of the Metro Manila Film Festival (MMFF), is she proud to be the leading lady of Sunod, the scary movie that has gotten horror aficionados all revved up and ready to get their fill of Christmas scares?
She's aware of the irony and laughs as she's asked.
A film she can truly be proud of
"[I love] the story itself," she begins.
"The look of the movie too, and 'yung pagdi-direct ni direk Carlo Ledesma, the cinematography, the location, the twists! Kasi iilan lang 'yung characters dito, so 'yung mga twists and turns ng situations and story, ang galing," she continues.
For Carmina, whose illustrious career spans decades, she has learned to discern a project's potential based on its overall merit regardless of genre. After the hundreds of scripts she has read over the years, she has developed a nose for captivating storytelling and well-written characters, and only with these elements does she give her "yes" to a role.
Any film she's part of is sure to please those seeking stories that dig deep and tickle the minds of moviegoers long after the final credits have rolled and, yes, this applies even when ghouls and ghosts are the main attraction.
"With this film, hindi talaga ako mapapahiya," she declares.
Produced by director Paul Soriano's Ten17P, Sunod focuses on Olivia, a single mother who works late nights as a call center agent. The work is menial, but necessary. She has a daughter in the hospital whose medical condition requires expensive treatment, and because she is a loving mother, there is never a sacrifice too heavy or too much for her child.
"From one to 10, Olivia [and I are 10 on the similarity scale]. We're the same. As a mother, I would do anything and everything for my children. Olivia is like that: very hardworking and, 'di ba, ang mga mommies naman, selfless 'yan," Carmina explains.
"And since I am so motherly, pati 'yung mga ghost, lumalapit sa akin. From there, that's where the journey of Olivia begins," she adds.
And while your eyes are fixed to the screen (assuming, of course, that audiences don't hide behind popcorn buckets, hands, or jackets), take the time to appreciate the movie's set design, too. Its authenticity and details were some of Carmina's favorite things about the movie.
"The film was shot in Quezon Institute. Some parts, binihisan nila. They changed it. The lobby and the call center, gawa 'yun. When you go to our location, ang eerie. Direk wanted a look for the call center and the lobby, tapos paglabas mo ng call center, sa Escolta 'yun. And because of Escolta, I fell in love with Manila again! Ang ganda talaga pala ng Maynila... Ang galing lang talaga, the whole thing," Carmina says, clearly with a tone of admiration for those who worked on Sunod off-camera.
As for the film's plot, Carmina has her lips sealed shut. The curious—and the brave—will simply have to head on over to theaters, where darkness reigns supreme, to get the full experience.
Her one piece of advice? Pay close attention to the red yarn that the film's one-minute-and-30-second trailer focuses on.
Her cheeky expression that accompanies the statement is enough to tell us that Sunod will be more than what even the most fanatic of horror movies bargained for.
A family she's forever grateful for
With just five days before Sunod's official premiere, Carmina is understandably busy with promotions, shoots, and interviews left and right, but at the end of the day, there's one thing that she could never be too tired for: family.
Like Olivia, Carmina's reason for being and breathing are her kids Cassy and Mavy, and her husband, Zoren. But unlike Olivia, there is no paranormal activity hovering over their family, she quips.
"Family is very important. Basta, ang usapan namin ay weekends, especially Sundays, we really have to be together. Especially now that the kids have school and are also working and Zoren has a new show, we hardly see each other. So thank God for technology, we have a group chat with our schedule, bilin, reminders, all of that. 'Pag weekends, it's really our rest day as a family—non-negotiable," Carmina reveals.
Before it's assumed that a rule like this makes it un-fun to be part of the Villarroel-Legaspi brood, think again.
Theirs is a unit that's even much closer than the average Filipino family; the sense of warmth, openness, and reciprocity their fans get from them is a hundred percent authentic.
Carmina grew up with a tight-knit family, and it was a gift she wished to pass on to her own.
A wave of nostalgia washes over her when she's made to think of how her family has grown; she and Zoren celebrated seven years of marriage in November, while Cassy and Mavy turn 19 in a matter of weeks.
"I don't even want to think about it," she half-teases, referring to what the future will be like as her kids inch closer and closer to becoming full-fledged adults.
As strict as she is with them (as a family in the entertainment business, Carmina and Zoren demand professionalism from their children), she will forever be Cassy and Mavy's biggest fan—two budding stars who to her, will always be the four-year-olds that charmed Filipinos with their first TV appearance in a commercial.
They'll always be mommy's babies, but the reality is that they're now young adults who have conversations with her about things like peer pressure, parties, and drinking, and ask for explanations when mom or dad say "no." But that's the thing—Carmina's children actually talk to her. They open up to her about their lives of their own volition, and for Carmina, it's the best thing she could have ever asked for.
Her kids have grown up to become overall great people and it's what she's most proud of, even with hundreds of titles in her filmography and multiple awards to match.
"When I look at them, I feel so old! And at the same time, parang, [I feel super proud], even Zoren. Ang babait ng mga bata. Every time I go out or meet people and they say, 'I met your kids, and they're so nice, they're so respectful...' Every time they praise the kids, ikaw na rin 'yung napra-praise.' I tell Zoren, 'We did something good, look at them!' I'm not saying they're perfect, but they're nice kids,'" Carmina beams.
There are days when she wonders exactly what she did to raise the twins right and to ensure she and Zoren also maintain a happy, well-balanced relationship with them.
She has one answer: presence.
Be there for your children—physically and emotionally. Be available for them when they need you.
For this family, they accomplished this by making sure one parent was always around when the kids were small; when Carmina had projects that required her to be away from them for extended periods, Zoren was at home. When it was Zoren's turn to work, Carmina took over parenting duties.
Cassy and Mavy were not "laking yaya." They had the privilege of having at least one parent around to raise them and because of that, they've maintained their closeness over the years even when they themselves became artistas.
It's also why the first word that comes to Carmina's mind when she thinks of her journey of motherhood is love, no questions asked.
"'Yung love mo for your kids is really unconditional. Akala ko dati, it was just a saying. Feeling ko, masyadong OA 'yung love ng mom for a child. Hindi ko ine-expect na magiging ganu'n ako. It's so true. Lahat pala ng sinabi ng mommy ko dati, totoo. Sabi niya, 'Pag naging mommy ka na, kung ano 'yung dialogue ko sa'yo, magiging dialogue mo rin sa mga anak mo,'" she says.
These days, Carmina mostly lets Cassy and Mavy chart their own paths.
She was in their shoes at one point, after all, and she wants them to experience the best things about being young, too.
They host sleepovers, go to restaurant dinners, and are allowed to enjoy the fun parts about being rising stars—but the last is what Carmina is most careful with.
"Before, I didn't want them to be part of this industry, not because I am ungrateful, but just to shelter them from the intriga. Iba na kasi ngayon. There's social media now. Noon, there were just tabloids and magazines; hindi pa ka-below the belt. Personally, I can really defend myself. Pero pagdating sa mga anak ko, magiging war freak ako. Iba na 'yung usapan 'pag 'yung mga anak ko na," Carmina explains.
More so, as her kids begin to do more and more in the industry, she continues to explain that this is work and that they are now professionals; having any attitude onset is a huge no-no.
"At four years old, sinasabi ko na sa kanila 'pag may commercial, 'Guys, we have to wake up early.' Doon pa lang, naging professional na sila. When we say yes, we want to deliver. We want to perform. Hindi p'wede 'yung may batang natutulog, nagta-tantrums, o may sumpong. Kinausap ko na sila na when it's work, it's work. You saw that at a very early age, the communication was there. When it's serious business, ayaw kong mapahiya," she adds.
And to think that Carmina still considers Zoren the family disciplinarian!
She has a million and one things to look forward to as a mom, but even with all her hopes and ambitions for Cassy and Mavy, all she wants is for them to find happiness—their own happiness.
She refuses to dream for them, but rather, will dream with them and cheer them on as they build their own lives, on their terms.
Sunod is the last thing on her work agenda come Christmastime, and like many of those reading this feature, she's just as excited to take a break and have some much-deserved family time.
The Legaspis stay in Manila for Christmas up until New Year's, mostly to be able to be with Carmina's father who can no longer travel as much as he used to. On Christmas Eve, their table is never without ham, queso de bola, fruit salad, and chicken macaroni salad—a spread every Filipino can vividly visualize.
Her favorite part about this season?
"The lights, fixing the house as early as November. Gusto ko 'yung aside from the décor, malamig, lahat ng tao [masaya] kahit traffic at ang daming gastos, 'yung mga get-together with your high school and college friends, basically getting together with family and friends and really taking the time to meet with them," Carmina shares.
"And the gift of family. Especially in our business, this kind of family like ours where we're very 'together,' very close, intact, bihira na lang," she smiles.
After this conversation with Carmina, why she ever chose to star in Sunod becomes a little clearer.
It's not the horror or the frights or the thrills that lured her in, but how it reminded her of life's most precious things.
With all the scary things that the world can throw at them (there are things scarier than CGI ghosts and monsters, after all), Carmina knows that Cassy, Mavy, and Zoren will always be safe because of the love they share as a family.
Now that's something worth picking up from a horror movie.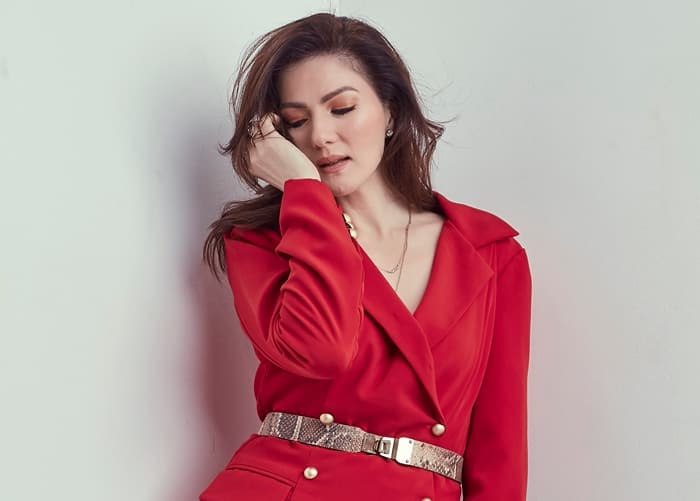 Sunod is an official entry to the 2019 Metro Manila Film Festival, and premieres on December 25.
Produced by Grace Libero-Cruz
Photography by Rxandy Capinpin
Makeup by Mhoy Vistan
Hairstyling by Mark Rosales
Styling by Myrrh Lao To
Videography: Pat Buenaobra
Special thanks to Ten17P and Joshua Roque