EXCLUSIVE: Celebrities Share Their Realizations And Learnings During The Lockdown (Part 1)
This crisis has been an eye-opening, life-changing experience for many—here's what the emotional deep dive is teaching these celebrities
Everyone experiences sadness, fear, grief, worry, and confusion differently. It's what makes us human—this emotional, mental, and psychological uniqueness. However, there is also comfort to be found in realizing that in some of life's highest highs, and especially in its lowest lows, we are all on the same boat, paddling together towards the same life-saving shore.
This couldn't be more true these days, as the COVID-19 crisis brings shockwave after shockwave throughout all corners of the world, upending life as we knew it in a heartbeat.
Now, as Filipinos join the world in the race to save lives, retain our humanity, and still find reasons to smile and feel grateful in the midst of a pandemic, many local celebrities have gone down personal paths of self-reflection and spiritual learning.
Below, Maxene Magalona, Ria Atayde, Liza Soberano, Gretchen Ho, and Yeng Constantino—women representing different aspects of ABS-CBN's slate of female stars—share their thoughts on remaining positive, making personal discoveries, and staying hopeful even during the most bleak of times.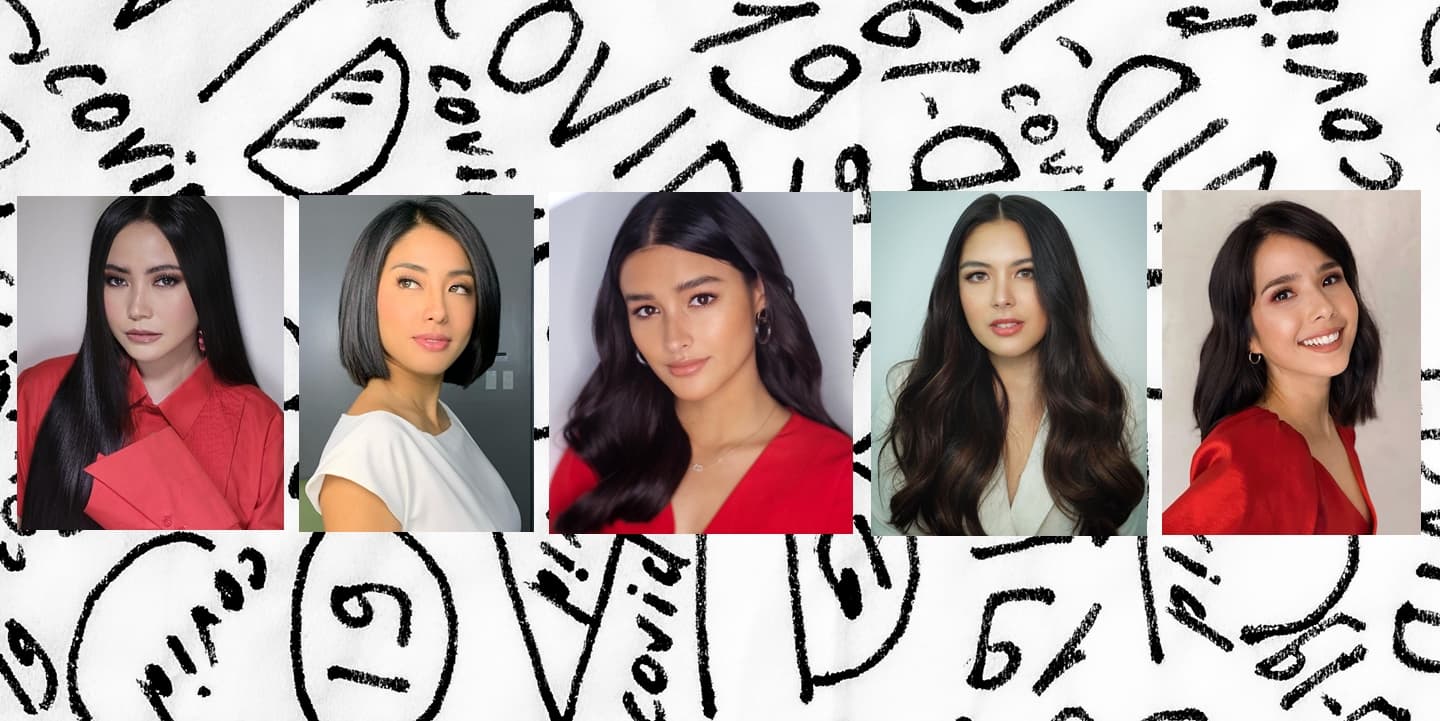 (From left) Yeng Constantino, Gretchen Ho, Liza Soberano, Ria Atayde, and Maxene Magalona | Photos from (from left): @cristinebenoman, @adrianneconcept, @mickeysee, @ria, @maxenemagalona | Background photo by Marjan Blan on Unsplash
What have you been busy with during the lockdown?
Maxene Magalona: "I've been practicing yoga and meditation at least twice a day; reading books that discuss topics that interest me like psychology, spiritual enlightenment, and self-help; writing in my journal every morning; eating a plant-based diet; drinking a lot of water to strengthen my immune system; and watching my new favorite K-Drama shows! I've been using the time mostly to reflect and reconnect with myself to be able to focus on my spiritual growth and mental healing."
Gretchen Ho: "A lot, really. At first, my focus was trying to get used to the lifestyle of staying at home. I'm not really used to spending lots of time at home because I'm always out and about—doing events, shoots, and everything else. I allowed myself some time to adjust. After that, I've been trying to find ways to help from home, as well as do things I've always wanted to do for myself."
Yeng Constantino: "Cooking, TikTok, watching Tiny House Nation and backyard gardening on YouTube, planning for the future, and trying to make music—'trying' kasi honestly mas mahirap magsulat pag na-a-anxious ka. Battle siya right now."
Ria Atayde: "I have been busy spending time with my family, taking online classes, reading and researching on the most random things, and experimenting in the kitchen. As for my extended family, we make it a point to pray the rosary together at 6:30 p.m. everyday via Zoom, so at least I get to see them. I also make it a point to check up on my cousins and friends through video call apps; knowing that everyone I love is safe has helped me maintain calmness in the midst of the chaos that surrounds us. Apart from that, I've also been keeping myself busy by coordinating relief drives with my friends and family. I know it's inevitable for us to feel helpless and hopeless at home, but really, even from the comforts of our homes, there are so many ways you can help uplift others throughout these trying times. Even you staying home is already you doing your part."
Liza Soberano: "Since the lockdown started I've constantly been trying to keep myself busy because I get bored easily. So I've been doing that by cleaning, cooking, exercising, and spending quality time with my family. I have also been keeping myself busy by helping out our frontliners and the less fortunate. We cook meals for the frontliners and we donate relief goods to people in need."
Have you learned anything new about yourself during the lockdown?



Maxene: "Definitely! Because I've been using the time connect to myself, I've been getting to know myself even more. In isolation, some of my worst traits and habits resurfaced which I realized I used to deny because I was too proud to admit them. This was one of the reasons why I began seeking psychiatric therapy a couple of years ago. I had a lot of negative traits and ugly habits which I desperately wanted to unlearn. Thankfully, with the help of my therapist and through consistent daily meditation sessions and yoga classes, I've been able to develop more mindfulness to be able to rewire my way of thinking and control my thoughts and emotions before they have a chance to control me. In a way, isolation has been helping me believe in myself, revitalize my spirit, and develop the resilience I need in life. I've also learned how faith and absolute trust in God can truly strengthen my mind, heart and spirit especially in the midst of a global crisis."
Gretchen: "I can cook! I never thought I would, but I did, and it wasn't so bad! My family finished the kimchi rice I cooked. It's been a whole lot of #adulting for me at home. Never thought I'd enjoy it too."
Yeng: "I got better at cooking!"
Ria: "I have embraced being rationally hopeful. I've come to terms with the fact that the situation we are in is genuinely dark, but I also acknowledge that there are so many signposts leading up and out. I acknowledge that things are likely to get worse but there are contexts in which things are beginning to get better. I've also realized that I actually try to look at both sides and thrive better when I manage my expectations. I also just learned that I have a herniated disc in my spine, so I'm unable to workout for a while."
Liza: "I don't think I really learned something new about myself. It's more of having a realization of how lucky I am and gaining a deeper appreciation for life. I have an amazing family, good health, a roof over my head and more than enough food to eat. I can't complain, I shouldn't."
What are you enjoying most about staying at home?
Maxene: "I enjoy the stillness and silence that solitude brings. Being home and just hanging out with myself through yoga and meditation have helped me develop a sincere friendship with myself. To be completely honest, I used to be very disappointed in myself for a lot of terrible decisions I've made in the past. I couldn't look at myself in the mirror for years because I was living with fear, anxiety, and toxic shame. This was one of the biggest reasons why I used to project my rage and anger towards my loved ones—I was miserable inside. Now, because I've been working on developing more compassion and kindness for myself, I've been learning to communicate with others properly instead of just lashing out at them. Staying home makes me feel grounded and secure because whenever I take the time to connect to myself in isolation, it makes me feel like I am going home to my true self."
Gretchen: "I like the quiet time. It's been a long time since I've had this huge amount of time for reflection, prayer and to just be. The last time I remember was in high school. I'm grateful that time has slowed down, for now."
Yeng: "Oversleeping—I mean resting. Spending time with my husband Yan. Wearing T-shirts and jogging pants everyday. Eating. And I love the quiet."
Ria: "I love the amount of time I'm able to spend with my family. Over the past few years, we have all been too busy to even have dinner together daily. Given the situation now, I'm glad I get to spend a lot of time with them and make up for all the times we've spent apart especially with my brother who moved into his own place last November but moved back with us temporarily for his safety. I love that I'm able to just be in my own little bubble too. And I love the multiple video calls that go on that make me feel connected to everybody despite the fear of contracting the virus keeping us apart."
Liza: "I enjoy spending time with family and sleeping, something I won't get much of when work starts again."
What do you miss about being outside?
Maxene: "I miss going to the beach, running barefoot on the sand, and just enjoying the sun! However, I understand that Mother Earth needs to breathe and heal so I am totally fine with staying indoors for as long as it takes for her to get well."
Gretchen: "I miss people. I miss greeting people in the morning and smiling at them. I miss going to restaurants. I miss meeting friends and workmates in the newsroom. I just really miss people."
Yeng: "Performing. Random hangouts with my friends. My favorite ramen place. Cinemas."
Ria: "I miss being able to spend time with my other family and friends. I miss acting and work in general. And I miss being able to travel and explore."
Liza: "I pretty much just miss seeing the outside world in general—seeing my co-workers, seeing other people, and probably eating food from restaurants."
How do you manage to stay positive during this time of crisis?
Maxene: "I pray as soon as I wake up in the morning and right before I go to bed at night. I also talk to God all throughout the day because I know and trust that He is always with me, guiding my every step. There are times when I would feel fear creeping in so I say a prayer or two and it immediately disappears. Reading self-help books has been very helpful and inspirational for me as well! I highly recommend The Monk Who Sold His Ferrari by Robin Sharma, Eat Pray Love by Elizabeth Gilbert and The Power of Now by Eckhart Tolle which all talk about the path to spiritual enlightenment. I also uplift my mood by listening to my favorite songs and watching my favorite light-hearted shows such as Friends and K-Dramas specifically Crash Landing On You, My Love From the Star and What's Wrong With Secretary Kim, to name a few! My husband Rob has also been a great source of strength and inspiration for me as he is my rock and best friend who continuously inspires me to be the best version of myself. Practicing yoga and meditation with him is always my favorite part of the day."
Gretchen: "It's a struggle, really. When things are uncertain, it's easier to lose hope and be in despair. I've been really self-aware with all the emotions I've been feeling throughout this quarantine, and I can say that you have to let yourself feel all of it. It's normal to feel sad when things aren't the same or you're going through a period of adjustment. But allow yourself to feel happy too. I think in these times, we have to be extra kind to ourselves if we're not as 'productive' as we want to be. How do I manage to stay positive? I pray a lot. I journal and write down my thoughts. It helps in articulating how I feel. I also write down my progress so I know I'm not stagnant. I also practice gratitude everyday; by recognizing the small blessings, it's easier to find hope."
Yeng: "It's very hard for me also; there are days when I feel this heaviness inside of me, but I try to snap myself out of it because I know I cannot change the situation. Worship music helps me. I listen to Bethel Music, and also read the Bible. I finished reading the Book of Matthew in three weeks. Watching funny videos on YouTube and TikTok also helps—favorite ko sa Tiktok si Tyrone Tiaga!"
Ria: "I think my positivity springs from the idea that I know this will all end. Although it is uncertain when, I know it will; I have faith in our frontliners. My positivity also comes from grounding myself by talking to the people who matter to me and constantly knowing that they're doing okay. I think communicating with everyone has made me worry less and has continued to uplift my spirits."
Liza: "Whenever I see great acts of humanity on social media, I'm positive that we will get through this. My faith also keeps me positive."
What has this life-changing experience made you realize about life, relationships, friendships, and self-love?
Maxene: "Self-love and self-care are truly some of the most important tools that we all need in this world. Everything really begins with completely loving and accepting yourself. We suffer because we chase after so many external things around us when we already have everything we will ever need within us. We hold the power of our lives and we can achieve anything we want as long as we believe in ourselves. If we are at war with ourselves, we will never be happy no matter how many friends we hang out with or partners we have relationships with. It all begins with trusting ourselves and knowing that we don't need to do anything to prove that we are worthy of love and happiness because we already are. God put us here on Earth for a purpose and that is to love ourselves fiercely so that we can love and serve others. This crisis has opened my eyes to the realization that fame, money and power are not the most important things in life. Love is the only thing that matters. And God is love."
Gretchen: "It's nice to go back to the basics of life. I think, in some way, the world has been too 'productive,' or moving at a really fast pace. It's so nice to slow down and to notice the things that really matter—time with family, reaching out to friends, having time for prayer and reflection, doing what we can to help those who need it, and taking care of ourselves. I've been thinking about this—if we pass away tomorrow, what kind of legacy would you like to leave upon the world today? We hold the answer to that in our hands. It's what we do—day by day—that leads up to the big answer."
Yeng: "Life: Na kahit gaano kadilim 'yung pakiramdam sa gitna ng problema, kailangan kong patatagin ang sarili ko dahil I am still alive and it means maaaring bukas or paglipas ng panahon magbago din ang lahat 'pag patuloy akong lumaban at kumapit lang. Relationships: Na napaka-importante pala ng salitang 'Kamusta ka?' It is very important to let the people you love know that you care about them, kahit sa simpleng way lang. Ang sarap ng salitang 'kamusta' sa panahong ito. Kailangan natin itong lahat. Friendships: Nakaka-grateful to have friends na super love ka kahit super small lang circle n'yo. Self-love: Na okay lang umiyak, magalit at mag-alala. Bigyan ng time ang sarili to process these feelings and from that place ka mag-heal to pick yourself up, kesa i-conceal lang kasi baka mapuno ka at lalo pa mag-breakdown."
Ria: "Given what my family had to deal with, I've come to realize that prayers move mountains, especially when there are so many people rallying behind you and constantly reassuring you that they are with you as you fight. I've also come to realize that everyone has a different way of dealing with their anxiety and fear of uncertainty; it's okay that we aren't as productive as the other people we see on social media. We are all coping together in different ways. It's okay to have days when you feel off and then days when you feel like you have it all together. I believe that relationships these days are also tested by the distance and circumstances. So I now strongly believe that we can't fault people for not being around or checking up on us because they too are dealing with something. Finally, I've come to realize even more that we are blessed to share our blessings with others. We are fortunate enough to have a roof over our heads and food on our table. This should be enough inspiration for us to share our blessings with others who need our help especially those forgotten by the people who should help them."
Liza: "I realized how valuable life is and how quick it can be taken away from you. I also realized how important it is to be connected with the people you love or value. You never know when you're gonna loose them."
What is your message of inspiration to frontliners and to other Filipinos?
Maxene: "I offer my heartfelt gratitude to all our courageous frontliners who have been tirelessly fighting to help save lives. You are the real heroes and the whole world will never forget your bravery and service. You inspire me to fight my own battles and never give up. Thank you! To my fellow Filipinos, please don't lose hope. Things may be hard now but trust that God will never abandon you. Know that everything happens for a reason and if we just surrender and lift everything up to Him, we will be okay. We will all get through this together. Times like this make us appreciate what truly matters in life so use this much-needed break to connect to your families, yourself and most especially God."
Gretchen: "Para sa ating mga frontliner: maraming, maraming salamat. Alam ko madalas nakakapagod na, pero laban lang, dahil matatapos din ito. Nandito lang kami sa likod ninyo. We'll do what we can to help, support and ease your burdens. Kapag napagod na kayo, huwag kalimutan magpahinga kahit kaunti, pero tayo lang ulit. Ipinagdadasal namin kayong lahat, ang inyong kaligtasan. Maraming salamat, at hindi namin makakalimutan ang sakripisyo ninyo sa ganitong panahon."
Yeng: "Kapit lang po tayo. Mahirap po ang ating pinagdadaanan pero matatapos din po ito. Let us continue to pray, to rest our minds in God. Sa ating frontliners, maraming salamat po sa sakripisyo n'yo. 'Di po matatawaran ang paglilingkod na inaalay n'yo sa panahon ng ating krisis. We are praying for your strength, peace and guidance. Laban po! Laban lang!"
Ria: "I know it seems like there is no end to this but trust that we will get there. I'm sure a lot of us are experiencing anxiety even in the slightest way but I hope you find strength in knowing that although we are grieving our old sense of normalcy, there is a new beginning that awaits us after all of this, perhaps an even better one than the one we have grown accustomed to. Let's stand together because I am certain that it is the power of mutual vulnerability and the strength of community that will propel us to brighter days. Help others if you are able to; trust that it will come back to you tenfold. And apart from that, stay at home, stay safe and drink your vitamins. As for our frontliners, I am sending you my heartfelt gratitude and my sincerest applause. Thank you for continuing to fight like soldiers at war while you try to protect us and flatten the curve. To sacrifice for someone you love is already so admirable but to sacrifice your life for people you don't even know is definitely something that won't be forgotten. I hope you find ways to remain positive and continue to fight in spite of the situation. We are all rooting for each and everyone of you—our doctors, nurses, soldiers, policemen, guards, delivery personnel, garbage collectors, janitors, drivers, essential needs clerks and service providers—you are our heroes."
Liza: "I just want the frontliners to know how deeply appreciated they are. They are our modern-day superheroes and they deserve the recognition. It's no joke going out each day knowing something bad could happen to you but you still pursue it anyway for the greater good. My family and I will be praying for all of them. As for the rest of our kababayans, I just want them to keep following all of the safety precautions and to keep holding on. It may be a difficult time but if we all do our part, this could all possibly end soon. To those who have lost a loved one, my sincerest condolences to all of them."
How do you wish to recover from this?
Maxene: "I hope that when all of this is over, we will all have a newfound sense of hope for a better world—a world where we are kinder to one another, where we help each other out without asking for anything in return, and where we can be more conscious with the way we live. Let's live with love, kindness and compassion not just for ourselves and others but for all living beings on the planet. This planet is our only home so if we learn how to take care of our bodies and our homes during this enhanced community quarantine, we will eventually learn how to genuinely take care of Mother Earth. Let's honor God by truly being grateful for all the blessings He unconditionally gives us. Let's not take life for granted and start truly living and loving."
Gretchen: "I am a flexible person. I'll be willing to do whatever I can to survive this crisis. I think it takes open-mindedness, adaptability, and quick decision-making to adjust to the times. I know it's not going to be easy, but I have God with me and He will protect and carry me wherever I go. Laban!"
Yeng: "Gusto ko, after this I am stronger and that I will be more appreciative and generous, that I will see the world through a different lens, lens of hope and gratitude."
Ria: "I wish that we all settle in a better sense of normalcy, that we learn from this experience and continue to be kinder to others, that we learn to treat our environment and countrymen better. Ultimately, though, I wish to recover from this with as many people saved and away from harm."
Liza: "Honestly, I wish this would just end and go back to normal but the sad reality is it won't, the world will never be the same again. I just hope that all the paranoia will go away once we slowly go back to our daily routines."
Photos from @cristinebenoman (Yeng), @adrianneconcept (Gretchen), @mickeysee (Liza), @ria, @maxenemagalona | Background photo by Marjan Blan on Unsplash