Chie Filomeno: 5 Things That Make Me Happy And Keep Me Inspired These Days
Despite being kept away from the beach, the set, and many of her favorite things, Chie talks about how she's adjusted to life's new normal on Metro Chats, as featured on Kumu's FYE Channel
It's no surprise that celebrities have gotten creative in more ways than one over the quarantine. They've taken on new home-based hobbies, switched out new hairstyles for bold new looks, enjoyed rare downtime to reconnect with themselves, and for some, even explored new ways to keep work going!
Kapamilya star and Star Magic artist Chie Filomeno is no stranger to these exciting quarantine-born experimental projects and for the young actress, her newest pursuit comes in the form of The Four Bad Boys and Me, a podcast under Star Cinema's "Listen to Love" digital series that's based on the Wattpad novel by Tina Lata a.k.a. Blue Maiden.
Chie stars alongside Kaori Oinuma, Rhys Miguel, Jeremiah Lisbo, Aljon Mendoza, Karina Bautista, Mark Rivera, Alora Sasam, and Jenny Jamora, with Maymay Entrata serving as the host or narrator.
In case Wattpad is new to you, it's basically an app/website where amateur and established writers are free to publish original stories while also being a venue for readers to gather and pretty much gush over and discuss their favorite characters, theories, authors, and whatnot. This time, the focus is on Wattpad writer Blue Maiden, and she's insanely popular on Wattpad.
Her title The Four Bad Boys and Me is definitely one of her most, if not the most, beloved of all her stories and as of today, it's up at 308 million views, which made it prime material to bring to life in a whole other media form.
Chie herself is super psyched to be a part of the refreshing take on storytelling in a time when show business has been pushed to break its boundaries. She plays Stacy Chua, a character she describes as a manipulative bad girl, who is conniving and always makes sure to get whatever she wants.
Joining Metro.Style's People section editor Grace Libero-Cruz on Kumu's FYE Channel for Metro Chats, Chie talked more about the project and said about her character Stacy, "For me, she's misunderstood. We all have a Stacy in our life. May kilala tayong Stacy, or baka mamaya tayo si Stacy. Misunderstood lang siya in a way. You have to get to know her more para bumigay 'yung wall na kine-create niya, 'yung facade na meron siya. 'Yung similarities namin, being misunderstood, doon ko siya nage-gets."
Being a part of something new to her fans and ABS-CBN fans overall has definitely raised her happiness meter these days and has given her something to be inspired by! But other than official business, the 24-year-old also talked about five other factors in her life that have kept her optimism intact—even after seven months in quarantine.
1. She talked about being unprepared to hit the breaks...
...And yet embraced the sudden pause because it got her thinking about all that she'd been missing while she was so busy. She misses work and being out and about, that's for sure, but what she should've been missing more was family. "You're used to working, tapos biglang 'Snap!' Wala ka nang ginagawa. Talagang mapapaisip ka... I'm just really happy this quarantine made me and my brother closer and also my parents. S'yempre nawawalan ka ng time. Hindi mo nare-realize na hindi ka na pala nakakapag-bond sa family mo," she shares.
2. She finds happiness from the simplest things like her brother's contagious laugh.
"It's really infectious," she quips. Her brother, Rio, has also been incredibly supportive with her social media content; he knows Chie's angles best! He's creative (and is #FeedGoals himself), so he helps Chie execute her visions. When it's his turn to produce content, Rio can always rely on her big sister, too, to help him get that perfect shot.
3. Her mom's voice perks up her day.
Her mom's voice is the first thing she hears in the morning when it's time to get up for the day, and it's both reassuring and comforting. Also, it's fun to discover that Chie's mom sometimes stands in as her official photographer on some days. "Magaling 'yan si mommy, magaling kumuha. Mga OOTDs ko, siya," she says.
3. She loves her dad's dishes!
Let's not forget her dad's cooking—his phenomenal cooking! She'll never have enough of his adobo recipe that's made extra special with a dash of spice. Chie says, "Sina mommy and daddy nagko-collab sa adobo na gusto ko, 'yung spicy adobo. Tapos 'yung medyo tuyong adobo." Made with chicken and pork ("CPA" or chicken pork adobo as Chie says), and completed with a thick sauce that's made even better when enjoyed with everyone together and complete at the dinner table, it's proof that truly, there's no taste—and place—like home.
4. Her dogs never fail to put a smile on her face.
She's a proud fur mom of six dogs! Seeing them first thing in the morning also brightens up her day. Chie shares, "Every morning when they stare at me, paggising ko nakatingin sila [as if telling me], 'Sure ka ba na talagang gising ka na?'"
5. Having the time to learn new things every day.
It doesn't need to be as big as learning one instrument today, then painting a masterpiece tomorrow. Chie is satisfied broadening her interests to include practical life skills, with an emphasis on learning her way in the kitchen! "Baking. 'Yun 'yung gusto kong mapag-aralan while nasa quarantine. And my brother also—kasi nag-o-online schooling siya, and I didn't finish, hanggang high school lang ako—so sabi nya, 'Gusto mo, turuan na rin kita?' He's so cute! [Sabi ko] 'Sige, makikinig na lang ako," she shares.
Chie's stories about life under quarantine don't stop there. Read more about her in the gallery below!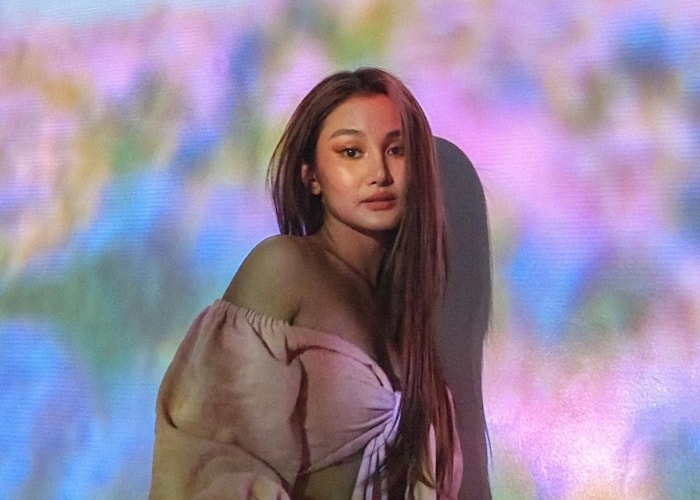 More On Chie
More On Chie
The Four Bad Boys and Me is up on Star Cinema's official Facebook page, YouTube channel, and Spotify. Stream today and enjoy Chie and her cast mates' performances today!
Photos from @chiefilomeno