Claudia Barretto Is A Game Changer With Her Mental Health Awareness Campaign
This young artist struggled with mental health problems, and now, she wants to provide support to others who may also be going through what she experienced
This 20-year-old is gearing up for an eventful 2020. The year is and will be defined by pursuing her greatest passions: her music and her mental health advocacy.
Claudia Barretto just reached the 1 million mark on Instagram. This is just proof that more and more people are not just listening to this showbiz royalty's singing voice but also her speaking voice and her thoughts.
Since she entered the local music scene a few years ago, Claudia has been unstoppable. After the release of her self-titled EP in 2018, she's currently working on new songs which make a rather different lineup of tracks compared to her previous record.
She's deviating from her usual pop entity, and delves into the area of R&B that elevates the sound she's been known and loved for. "I feel like I'm prouder of this project because I'm more of myself with this music that I'm working on now," she says.
For the upcoming record, she has chosen to work with people who truly get her style and personality as an artist, and understand her creative approach to music. Her inspiration comes from a lot of things, but Claudia's style mainly focuses on what's "at the moment." They're a combination of pure, present thoughts and feelings that result to a raw and honest way of expressing herself. "Sometimes, my ideas come from wild imagination, then some are a bit personal. It's a little bit of both," she describes.
She teased her followers on her upcoming music endeavor with the release of her latest single "HEAD/HEART" last September, where she collaborated with young musician Jason Dhakal.
Claudia also collaborated with young artist Joey Tha Boy for his track "Chasing" that came out in the same month. In October, she's one of the featured artists for Visayan Music Tour "Las Islas Music Festival" where the artist performed her latest songs along with an unreleased track in one of the shows. And just before the end of 2019, viewers were treated to the official music video of "HEAD/HEART."
But apart from her musical endeavors, Claudia is passionate about another project. On top of maintaining a music career, thriving in school (she's currently an AB Psychology student), and enjoying much-needed downtime every now and then, she's working on a game-changing scheme that champions mental health. In July of last year, the artist teased this new venture, called Mind Games by Claudia, on her Instagram account.
The online campaign aims to build a community that promotes mental health awareness through different forms of media and art. Claudia has partnered with Mental Health PH, to further help this initiative grow and come to fruition. "It's something that I've really been passionate about, and I felt the need to find a way to involve myself in a cause like it," she tells Metro.Style. The awareness on everyone's struggles, including her own, convinced her that it's high time to get out of her shell and take some action.
"I always told myself that if I didn't do something that is far bigger and greater than music, then I wouldn't survive the industry. So that's really one of my biggest dreams," Claudia shares. She was tapped as one of the speakers for She Talks Asia 2019, alongside mental health advocates Isabelle Daza, Kylie Verzosa, and more. Here, the "Sinking" hitmaker shared her own experience with depression and anxiety and opened up about how she coped with it.
Through Mind Games, Claudia offers the support that some have a hard time finding nowadays. "Beyond everything they're feeling, there's a real world and there are real people out there who care and want to help them in the situation they find themselves in," the singer-songwriter says. This compassionate side of her is something she got from her mom, Marjorie Barretto. "We have the same heart for people," she quips.
There are clearly bigger things to expect from Claudia, and whatever she decides to pursue, you can trust that she'll always stick to her core and stay true to her passions. "Choose to do the things that make you happy and make you, 'you.' Just be yourself—and you'll just naturally find yourself making a name for yourself," Claudia concludes.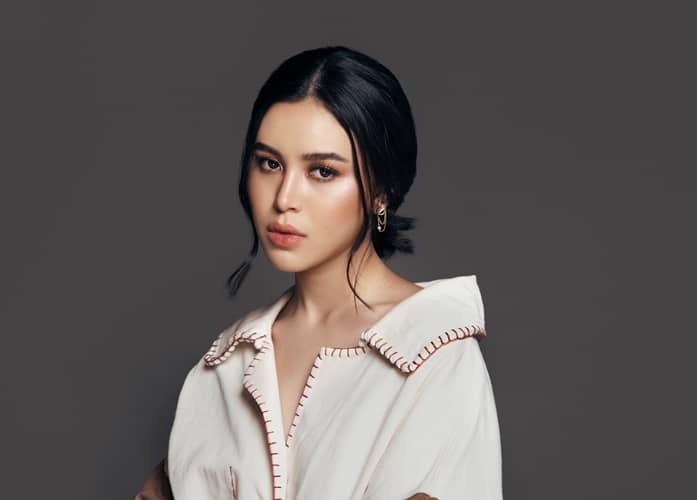 Photography by Ria Regino
Makeup by Memay Francisco
Hairstyling by Boggy Diaz
Styling by Samantha Tidalgo
Shot on location at Axiaa Hotel - 135 West Ave, Project 7, Quezon City